Good Morning, ,
Today is Tuesday, May 2

Have FUN!
DearWebby

Todays Bonehead Award:
SC Woman passed out behind wheel with kid in car.
Had meth, neddles, but no license and no insurance.
Details at  Boneheads
______________________________________________________
Today, May 2 in
1670 The Hudson Bay Company was founded by England's King
Charles II. 
See More of what happened on this
day in history.
______________________________________________________

| | |
| --- | --- |
| If you can help with the cost of the Humor Letter, please donate what you can! | |
______________________________________________________ Where a calculator on the ENIAC is equipped with 18,000 vacuum tubes and weighs 30 tons, computers in the future may have only 1,000 vaccuum tubes and perhaps weigh 1.5 tons. unknown, Popular Mechanics, March 1949 ______________________________________________________ If you like the Humor Letter, please vote!
______________________________________________________ The ninety-five year old woman at the nursing home received a visit from one of her fellow church members. "How are you feeling?" the visitor asked. "Oh," said the lady, "I'm just worried sick!" "What are you worried about, dear?" her friend asked. "You look like you're in good health. They are taking care of you, aren't they?" "Yes, they are taking very good care of me." "Are you in any pain?" she asked. "No, I have never had a pain in my life." "Well, what are you worried about?" her friend asked again. The lady leaned back in her rocking chair and slowly explained her major worry. "Every close friend I ever had has already died and gone on to heaven. I'm afraid they're all wondering where I went." _____________________________________________________
______________________________________________________ The little girl is just chattering on to the dozen or so other people on the elevator about what a GREAT time she had on the Disney Cruise ship. There was this to do and there was that to do. Everyone is smiling at her. Mom kind of shrugs and says, "We went on the cruise a year ago and she's *still* talking about it." The little girl said, "Even mom and dad had a great time on the ship!" To the utter embarrassment of mom, the little girl nods her head to the baby and says, "Mom calls the baby, 'Our little Souvenir' " ______________________________________________________
The Superbloom is happening now further North in the Central Valley area. ______________________________________________________

If you like the Humor Letter, please vote!
Thanks for your votes!

______________________________________________________ Reported by the Bausell Sailor
An INTERNATIONAL BONEHEAD AWARD has been earned by
Brandi Deann Brigman, 31, Chesnee, South Carolina SC Woman passed out behind wheel with kid in car. Had meth, neddles, but no license and no insurance. A mom with meth is accused of passing out behind the wheel of a car with a small child in the backseat, according to Spartanburg County sheriff's deputies. They say it happened Sunday on Highway 357 in Lyman. Deputies say a man on the scene told them he tried to wake up the woman, but she was unresponsive. The woman was slumped over the wheel and the car was still running, while a small child was unbuckled in the backseat, according to an incident report. The deputy says there was no way to buckle the child in with all the clutter in the car. The deputy says they were able to wake the woman up. She was identified as Brandi Deann Brigman, 31, of Chesnee. Brigman told the deputy she drove to the store to buy an alcoholic drink to help with a UTI she thought she had. Meth was found in Brigman's jacket pocket, according to the deputy. Brigman failed a field sobriety test and was arrested for DUI, according to the report. Brigman was read her Miranda rights and reportedly told the deputy she had a bag in her car that had needles and a pipe in it. The deputy found 7 needles with meth inside, a pipe and a spoon with white residue, according to the report. Brigman told the deputy she was going to register her vehicle and get insurance when she could. The report says Brigman was under suspension with a prior driving under suspension charge within five years. Brigman is charged with: DUI 1st offense Child endangerment DUS 2nd offense Uninsured vehicle fee violation 1st Offense Looks like they forgot about the meth and accessories. Or maybe the paper had only room for 4 Offenses. ______________________________________________________ Tech Support Pits From: Moe Re: Caution with Glary Utilities Dear Webby STOP! Don`t use the registry fixer and other utilities in Glary Utilities. They are crap and tend to cause problems. The defragmenter works great, just don`t mess with the other stuff without doing a total back-up! Moe Dear Moe, Right, and never try two fixes at the same time. Do one, and see what works or doesnt. `Have FUN! DearWebby
After preaching, we were invited out for lunch. I casually mentioned to the lady that I was allergic to cats. "That's okay Pastor," the woman said. "I can cook something else."
| | |
| --- | --- |
| If you can help with the cost of the Humor Letter, please donate what you can! | |
Daily tip from Thriftyfun.com Building a Stackable Potato Tower By lalala... [825 Posts, 106 Comments]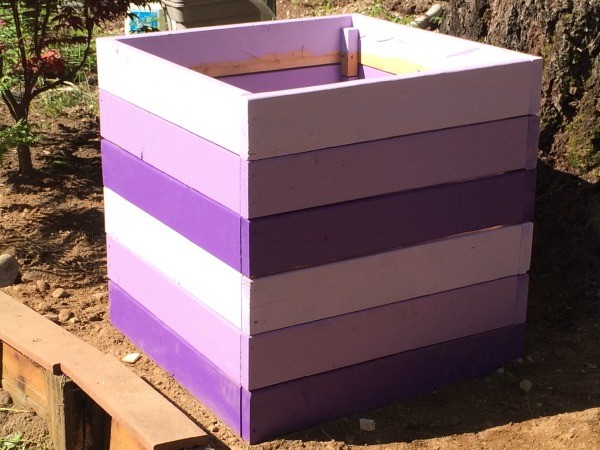 Save gardening space potatoes and grow tons of potatoes by building this stackable potato planter. This page gives you step by step instructions to make a stackable potato planter. Growing potatoes is easy with this stackable planter. As the plants grow, simply add another frame and more soil. Supplies: 8 2x6 boards (10 ft) 2 2x2 boards (8 ft) screws outdoor latex paint paint brushes power screw driver saw tape measure Steps in building the Potato tower I did something similar in the Yukon. I got a bunch of same size car tires from the dump, stacked them, hammered in two pieces of concrete rebar for guides just inside the tires, and then tossed dirt and potato pieces into it. The tires absorbed more heat, and in spring I used a plexiglass lid for a greenhouse roof. Potato harvest was adequate considering the low effort put into it. I learned a much more effective and productive method later. Raised bed for fashionable ease on ones aching back, filled with compost, containing a fair bit of fish heads and tails, and forest dirt. Then I tossed potato pieces onto the dirt, and covered it with an old bed sheet. Then I bent some concrete rebar into tunnel hoops, sleeved them with old garden hose, and covered the tunnel with plastic. After a couple of weeks the bedsheet raised up in spots, where potato plants were growing underneath. So I duck-taped a sharp fish knife onto a rake, reached into the tunnel and stabbed the sheet where plants were raising it. After that they grew fast! Naturally I watered them whenever they looked wilted. From mid summer on I could reach in under the sheet and harvest a meal`s worth of clean potatoes. Those cheater harvests did not slow them down at all. Naturally, you don`t really need a high-bed, if your back is good and you like bending down. The potatoes dont care. Potatoes grow OK in northern climates, but much better with a bit more heat and water. Putting a plastic tunnel over them at least doubles the crop. Have FUN! DearWebby
| | |
| --- | --- |
| | Will Smith - Face Your Fears |
____________________________________________________ Little Johnny went with his mom and dad to his grandmother's house for dinner. When little Johnny received his plate he started eating right away. "Johnny, wait until we say our prayer," said his mother. "I don't have to," the boy replied. "Of course, you do," his mother insisted. "We say a prayer before eating at our house." "That's our house," Johnny explained. "But this is Grandma's house. She KNOWS how to cook!" ___________________________________________________
| | |
| --- | --- |
| | People are awesome! Best of the month. |
Anni was puzzled by the odd messages left on her answering machine. Day after day, friends and family would talk and then say, "Beep." She discovered the reason for the joke when she decided to listen to her greeting. "Hi," it said. "I'm not in right now, so please leave a beep after the message."
Ophelia Dingbatter's News
No sermon and not suitable for church, just jokes and fun for grownups. Read it on-line or subscribe. If you subscribe, look for the double opt-in confirmation request.

____________________________________________________

Today, on May 2
1670 The Hudson Bay Company was founded by England's King
Charles II. 

1776 France and Spain agreed to donate arms to American
rebels fighting the British. 

1797 A mutiny in the British navy spread from Spithead to
the rest of the fleet. 

1798 The black General Toussaint L'ouverture forced British
troops to agree to evacuate the port of Santo Domingo. 

1808 The citizens of Madrid rose up against Napoleon. 

1813 Napoleon defeated a Russian and Prussian army at
Grossgorschen. 

1853 Franconi's Hippodrome opened at Broadway and 23rd
Street in New York City. 

1863 Confederate Gen. Thomas "Stonewall" Jackson was wounded
by his own men in the battle of Chancellorsville, VA. He
died 8 days later. 

1865 U.S. President Andrew Johnson offered $100,000 reward
for the capture of Confederate President Jefferson Davis. 

1885 The Congo Free State was established by King Leopold II
of Belgium. 

1885 The magazine "Good Housekeeping" was first published. 

1887 Hannibal W. Goodwin applied for a patent on celluloid
photographic film. This is the film from which movies are
shown. 

1890 The Oklahoma Territory was organized. 

1902 "A Trip to the Moon," the first science fiction film
was released. It was created by magician George Melies. 

1922 WBAP-AM began broadcasting in north Texas. 

1926 In India, Hindu women gained the right to seek elected
office. 

1926 U.S. Marines landed in Nicaragua to put down a revolt
and to protect U.S. interests. They did not depart until
1933. 

1933 Hitler banned trade unions in Germany. 

1941 Hostilities broke out between British forces in Iraq
and that country's pro-German faction. 

1941 The Federal Communications Commission agreed to let
regular scheduling of TV broadcasts by commercial TV
stations begin on July 1, 1941. This was the start of
network television. 

1945 Russians took Berlin after 12 days of fierce house-to-
house fighting. The Allies announced the surrender of Nazi
troops in Italy and parts of Austria. 

1946 Prisoners revolted at California's Alcatraz prison. 

1960 Caryl Chessman was executed. He was a convicted sex
offender and had become a best selling author while on death
row. 

1965 The "Early Bird" satellite was used to transmit
television pictures across the Atlantic. 

1969 The ocean liner Queen Elizabeth 2 (QE2) made its maiden
voyage. 

1970 Student anti-war protesters at Ohio's Kent State
University burn down the campus ROTC building. The National
Guard took control of the campus. 

1982 The British submarine HMS Conqueror sank Argentina's
only cruiser, the General Belgrano during the Falkland
Islands War. More than 350 people died. 

1994 Nelson Mandela claimed victory after South Africa's
first democratic elections. 

1999 In Panama, Mireya Moscoso de Grubar, of the Armulfista
Party, was elected president. 

2017  smiled.


[ view entry ] ( 11 views ) | permalink | print article |
( 3.1 / 798 )
---
<<First
<Back
| 22 | 23 | 24 | 25 | 26 | 27 | 28 | 29 | 30 | 31 |
Next>
Last>>