Good Morning, ,
Today is Wednesday, May 3

Have FUN!
DearWebby

Todays Bonehead Award:
SC robber threw stolen gun in trash when chased by cops,
while they watched
Details at  Boneheads
______________________________________________________
Today, May 3 in
1921 West Virginia imposed the first state sales tax. 
See More of what happened on this
day in history.
______________________________________________________

| | |
| --- | --- |
| If you can help with the cost of the Humor Letter, please donate what you can! | |
______________________________________________________ Nobody will ever win the Battle of the Sexes. There's just too much fraternizing with the enemy. --- Henry Kissinger (1923 - ) It is a far, far better thing to have a firm anchor in nonsense than to put out on the troubled sea of thought. --- John Kenneth Galbraith ______________________________________________________ If you like the Humor Letter, please vote!
______________________________________________________ My neighbor's mother-in-law is on AOL. I asked her "Why?" She said that all of her friends are there. So I asked her how much time she spends there. "Oh, about 8 hours a day." "What do you do there for all that time?", I asked. "Mostly just bitch and bellyache about AOL." _____________________________________________________
______________________________________________________ Sam and Greg were out deer hunting. Sam was pretty new to this whole deer hunting thing, so Greg had told him all about a clean kill, and field dressing, etc. Well, after an afternoon up in the stand, Sam heard some noise in the woods, he got buck fever and fired. He went over to where he thought his deer should be, and realized he had shot his good friend Greg. Sam rushed him to the hospital. After what seemed like a very long time, the doctor came out shaking his head. He told Sam, "The gunshot wound wasn't too bad, and we could have saved him, if you had not gutted and cleaned him." ______________________________________________________
Warm Water at -40 ______________________________________________________

If you like the Humor Letter, please vote!
Thanks for your votes!

______________________________________________________ Reported by the Bausell Sailor
An INTERNATIONAL BONEHEAD AWARD has been earned by
Brian Edwards, 19, Spartanburg, South Carolina SC robber threw stolen gun in trash when chased by cops Spartanburg police arrested a man Friday night outside of Spring Fling after they say officers watched him throw a gun away in a trash can. After police caught the man, they realized the gun was stolen and that the suspect had outstanding warrants. Brian Edwards, 19, of Spartanburg was arrested on charges of armed robbery, unlawful possession of a weapon, and pointing and presenting a firearm. Officers noticed Edwards walking with a firearm near the library on South Church Street. Officers went to approach Edwards when he ran, to which they say he threw a firearm into a trash can at the corner of Broad and S Church St. Other officers apprehended Edwards while they examined the firearm which came back as stolen. The gun was a 9- millimeter Glock with a fully extended clip with one round in the chamber, according to the report. The weapon was stolen from an armed robbery in March, according to Spartanburg County deputies. A man called deputies on March 26th at a Waffle House on Chesnee Highway, to report being robbed at gunpoint. The victim told deputies that two men robbed him of his Iphone and gun. ______________________________________________________ Tech Support Pits From: Richi Re: Scandisk vs Diskkeeper Dear Webby I have simple question...Are Diskkeeper and scan disk the same thing?and how often do you recommend to run it?tyvm for all of your insite and help.its gr8ly appreciated and which one to use? Richi Dear Richi, Scandisk is an old DOS program. Most likely it won`t work on your computer unless you have Windows 98 or older. Diskeeper is a program you can buy, however, if you have any external USB connected drives, don`t bother. It won`t work on those. You will need something from THIS Millennium. Glary Utilities has a free Defragger included. Don`t try the rest of their utilities without first making a complete backup, but their defragger is excellent! Have FUN! DearWebby
Thanks to Dianne for this one: Father Murphy roared from the pulpit to his parishioners: "The drink has killed millions-- it rots their stomachs and they die in agony. Smoking has killed millions--it coats your lungs and you die in agony. Overeating and consorting with loose women have also killed millions." "Scuse me, Father," hollered O'Reilly from the back, "but what is it that kills the people who live right?"
| | |
| --- | --- |
| If you can help with the cost of the Humor Letter, please donate what you can! | |
Daily tip from Thriftyfun.com Container Gardening on a Deck By Kenneth Schwab [10 Posts]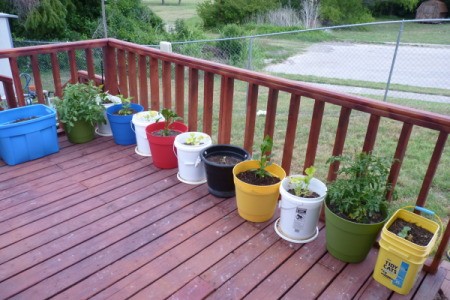 I am getting older and working on my knees to garden is getting harder for me so I studied up on container gardening and added these colorful items to my deck. When the plants flower and ripen, it will add much more color. By Kenneth S. from Copperas Cove, TX You can use extra buckets 3/4 filled with dirt as pedestals for the actual flower or veggie buckets. That raises them to a more comfortable height and is still nice and stable. Don't put them on top of upside down empty buckets or the first good wind might knock them over. Have FUN! DearWebby
| | |
| --- | --- |
| | Part ballet, part art |
____________________________________________________ A man decides to take the opportunity while his wife is away to paint the toilet seat. The wife comes home sooner than expected, sits, and gets the seat stuck to her rear. She is understandably distraught about this and asks her husband to drive her to the doctor. She puts on a large overcoat so as to cover the stuck seat, and they go. When they get to the doctor's, the man lifts his wife's coat to show their predicament. The man asks, "Doctor, have you ever seen anything like this before?" "Well, yes," the doctor replies, "but not framed like that." ___________________________________________________
| | |
| --- | --- |
| | Perfectly timed pictures. |
Wife: I want to know if I have grounds for a divorce. Lawyer: Are you married? Wife: Yes, of course. Lawyer: Can you afford my fees? $5000 down and 39% of the take, ahem awards? Wife: Yes. Lawyer: Then you have grounds.
Ophelia Dingbatter's News
No sermon and not suitable for church, just jokes and fun for grownups. Read it on-line or subscribe. If you subscribe, look for the double opt-in confirmation request.

____________________________________________________

Today, on May 3
1568 French forces in Florida slaughtered hundreds of
Spanish. 

1859 France declared war on Austria. 

1888 Thomas Edison organized the Edison Phonograph Works. 

1916 Irish nationalist Padraic Pearse and two others were
executed by the British for their roles in the Easter
Rising. 

1921 West Virginia imposed the first state sales tax. 

1926 U.S. Marines landed in Nicaragua and stayed until
1933. 

1926 In Britain, trade unions began a general strike. 

1927 Francis E.J. Wilde of Meadowmere Park, NY, patented
the electric sign flasher. 

1944 Wartime rationing of most grades of meats ended in
the U.S. 

1944 Dr. Robert Woodward and Dr. William Doering produced
the first synthetic quinine at Harvard University. 

1945 Indian forces captured Rangoon, Burma, from the
Japanese. 

1948 The U.S. Supreme Court ruled that covenants
prohibiting the sale of real estate to blacks and other
minorities were legally unenforceable. 

1952 The first airplane landed at the geographic North
Pole. 

1968 After three days of battle, the U.S. Marines retook
Dai Do complex in Vietnam. They found that the North
Vietnamese had evacuated the area. 

1971 Anti-war protesters began four days of demonstrations
in Washington, DC. 

1971 National Public Radio broadcast for the first time. 

1986 In NASA's first post-Challenger launch, an unmanned
Delta rocket lost power in its main engine shortly after
liftoff. Safety officers destroyed it by remote control. 

1988 The White House acknowledged that first lady Nancy
Reagan had used astrological advice to help schedule her
husband's activities. 

1992 Five days of rioting and looting ended in Los
Angeles, CA. The riots, that killed 53 people, began after
the acquittal of police officers in the beating of Rodney
King. 

1997 The "Republic of Texas" surrendered to authorities
ending an armed standoff where two people were held
hostage. The group asserts the independence of Texas from
the U.S. 

1999 Mark Manes, at age 22, was arrested for supplying a
gun to Eric Harris and Dylan Kleibold, who later killed 13
people at Columbine High School in Colorado. 

2006 In Alexandria, VA, Al-Quaida conspirator Zacarias
Moussaoui was given a sentence of life in prison for his
role in the terrorist attack on the U.S. on September 11,
2001. 

2017  smiled.


[ view entry ] ( 10 views ) | permalink | print article |
( 3 / 685 )
---
<<First
<Back
| 22 | 23 | 24 | 25 | 26 | 27 | 28 | 29 | 30 | 31 |
Next>
Last>>