Good Morning, ,
Today is Friday, May 12
Time to wear a bit of red to show your support for the troops!


Have FUN!
DearWebby

Todays Bonehead Award:
Texan told police he was kidnapped and 
thata the kidnappers torched his car. Turns out 
he was behind on his car payments and did not 
want a repossesion on his record.
Details at  Boneheads
______________________________________________________
Today, May 12 in
1847 William Clayton invented the odometer. 
See More of what happened on this
day in history.
______________________________________________________

| | |
| --- | --- |
| If you can help with the cost of the Humor Letter, please donate what you can! | |
______________________________________________________ Imitation is the sincerest form of television. --- Fred Allen (1894 - 1956) Look wise, say nothing, and grunt. Speech was given to conceal thought. --- Sir William Osler ______________________________________________________ If you like the Humor Letter, please vote!
______________________________________________________ How is playing the bagpipes like throwing a javelin blindfolded? You don't have to be good to get everyone's attention. ---------------- Personally, I quite like the sound of bagpipes, from about five miles away. _____________________________________________________
______________________________________________________ A man was wandering around a fairground and he happened to see a fortune-tellers tent. Thinking it would be good for a laugh, he went inside and sat down. "Ah....." said the woman as she gazed into her crystal ball. "I see you are the father of two children." "That's what you think", the man laughed. I'm the father of THREE children." The woman grinned and said, "That's what YOU think!" ______________________________________________________
_____________________________________________________

If you like the Humor Letter, please vote!
Thanks for your votes!

______________________________________________________
An INTERNATIONAL BONEHEAD AWARD has been earned by
Oscar Carrillo, Odessa, Texas Oscar Carrillo told police he was kidnapped and thata the kidnappers torched his car. Turns out he was behind on his car payments and did not want a repossesion on his record. Investigators discovered that Carrillo's cell phone records showed that he made a total of five calls during the time he said he was kidnapped. It was also found that Carrillos vehicle had a past due balance of $3,275 and had been authorized for repossession on March 15. Police then determined that Carrillo intentionally set his car on fire and filed a false report to cover up his actions. They threw him in jail. ______________________________________________________ Tech Support Pits From: Christina Re: Where does spam come from? Dear Webby Where does all the spam come from? When I look up the IP numbers, I see Chinese servers, but that does not make sense at all. Christina Dear Garry Dear Christina What you saw were dumb relays in China. Some Chinese servers make money by allowing spammers to send their spam through them to disguise the origin, and some of them are simply so incompetent that they don't even notice it when spammers do that. They don't really care anyway. It's no big deal to them if the US loses a Billion Dollars in productivity every week because people have to waste time on getting rid of spam. There is no point in getting sidetracked with the misdirections. If we block China, then the spammers will just relay through Africa. What you have to look at is who paid the geeks to send the spam through China to you. It's the fake Rollex seller a few houses over from you, and the pill pusher across the street from the church, and that annoying yuppie insurance broker next door to Gramma's house. You have to look at who would benefit if you fell for the spam. Those are the real culprits. The FTC could easily find them, if they wanted to, or if they were encouraged enough. PayPal and the credit card companies will quite cheerfully comply with a subpoena and reveal who the beneficiary of an order was. They don't like spam either. In the meantime, just use
>From Debbie I spent more than two hours in the beauty shop getting my hair permed, cut and styled. Relieved to be done, I went up to the receptionist to pay. "Good afternoon!" she said cheerfully. "And who's your appointment with today?" So I told her I had changed my mind and walked out.
| | |
| --- | --- |
| If you can help with the cost of the Humor Letter, please donate what you can! | |
Daily tip from Thriftyfun.com Ground Turkey Stuffed Mushrooms with Bell Peppers This is a healthy and delicious side dish! I am not a fan of vegetables but when incorporated with turkey and shrimp, it is very good! Prep Time: 30 minutes Cook Time: 25 minutes Total Time: 55 minutes Yield: 4 people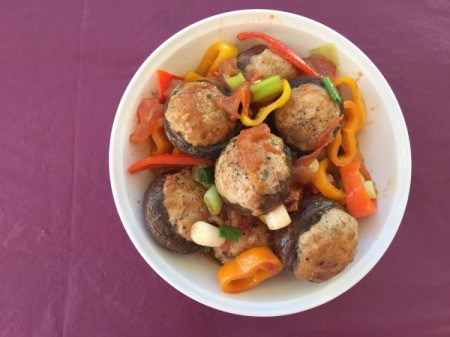 By 15mhhm15 [111 Posts, 357 Comments] Category Main Dishes Vote for this contest contender! 0 Share Pin 0 Save Follow More This is a healthy and delicious side dish! I am not a fan of vegetables but when incorporated with turkey and shrimp, it is very good! Prep Time: 30 minutes Cook Time: 25 minutes Total Time: 55 minutes Yield: 4 people Ground Turkey Stuffed Mushrooms with Bell Peppers Ingredients: 1 lb ground turkey 1 pack mushrooms 1/2 lb shrimp 8 sweet bell peppers 2 tomatoes 1 tsp oyster sauce 2 Tbsp fish sauce 3 stem garlic 3 stem green onions 1/2 tsp salt 1/2 tsp pepper 4 Tbsp vegetable oil 2 cups water Steps: Peel off the shell of the shrimp and mince to a paste. Set aside. Wash and cut mushrooms. Remove the stem. Wash and cut sweet bell peppers, green onion, and tomatoes. Now open the package of ground turkey and mix together with the shrimp paste that you earlier set aside. Add green onions, dash of salt and pepper. Now ready to stuff mushrooms with the mixture of ground turkey and shrimp. Scoop spoonful into the mushrooms. Get a pan, add vegetable oil on medium heat and crush the garlic to fry. Once the garlic is golden brown add the mushroom face the meat down first until meat is brown and flip over. Cook each side for about 5 minutes each. Add fish sauce and water, oyster sauce, and cook for another 5 minutes. Then when the water is boiling, add tomatoes, and bell peppers and cook for another 10 minutes.
| | |
| --- | --- |
| | No parachute sky dive |
____________________________________________________ A prospective juror was being questioned by the District Attorney for a murder trial that had been in all the papers. "If the defendant were to be convicted tomorrow, could you kill him for his crime ?" "Well, no." replied the man. "But I could do it on Saturday, if that would be OK." ___________________________________________________
| | |
| --- | --- |
| | Beautiful hand carved wooden bowls. |
Thanks to Sue for this story: Two medical students were walking along the street when they saw an old man walking with his legs spread apart. One of the students said to his friend: "I'm sure he has Petry Syndrome. Those people walk just like that." The other student says: "No, I don't think so. The old man surely has Zovitzki Syndrome. He walks just as we learned in class." Since they couldn't agree they decided to ask the old man. They approached the old man and one of the students said to him: "We're medical students and couldn't help but notice the way you walk, but we couldn't agree on the syndrome you might have. Could you tell us what it is?" The old man said: "I'll tell you, but first you'll tell me what you think." One of the students said: "I think it's Petry Syndrome." The old man said: "You thought.......... but you're wrong." Then the other student said: "I think you have Zovitzki Syndrome." The old man said: "You thought......... but you're wrong." So they asked him: "Well, what do you have?" And the old man said: "I thought it was a fart........... but I was wrong."
Ophelia Dingbatter's NewsNo sermon and not suitable for church, just jokes and fun for grownups. Read it on-line or subscribe. If you subscribe, look for the double opt-in confirmation request.


Dan married one of a pair of identical twin girls. Less than a year later, he was in court filing for a divorce. "OK," the judge said, "Tell the court why you want a divorce." "Well, your honor," Dan started, "Every once in a while my sister in law would come over for a visit, and because she and my wife are so identical looking, every once in a while I'd end up making love to her by mistake." "Surely there must be some difference between the two women," the judge said. "You'd better believe there is a difference, your honor. That's why I want the divorce." he replied. ____________________________________________________

Today, on May 12
1588 King Henry III fled Paris after Henry of Guise
triumphantly entered the city. 

1780 Charleston, South Carolina fell to British forces. 

1847 William Clayton invented the odometer. 

1870 Manitoba entered the Confederation as a Canadian
province. 

1881 Tunisia, in North Africa became a French protectorate.


1885 In the Battle of Batoche, French Canadians rebelled
against the Canadian government. 

1926 The airship Norge became the first vessel to fly over
the North Pole. 

1926 In Britain, a general strike by trade unions ended.
The strike began on May 3, 1926. 

1937 Britain's King George VI was crowned at Westminster
Abbey. 

1940 The Nazi conquest of France began with the German army
crossing Muese River. 

1942 The Soviet Army launched its first major offensive of
World War II and took Kharkov in the eastern Ukraine from
the German army. 

1943 The Axis forces in North Africa surrendered during
World War II. 

1949 The Soviet Union announced an end to the Berlin
Blockade. 

1957 A.J. Foyt won his first auto racing victory in Kansas
City, MO. 

1965 West Germany and Israel exchanged letters establishing
diplomatic relations. 

1975 U.S. merchant ship Mayaguez was seized by Cambodian
forces in international waters. 

1978 The National Oceanic and Atmospheric Administration
announced that they would no longer exclusively name
hurricanes after women. 

1982 South Africa unveiled a plan that would give voting
rights to citizens of Asian and mixed-race descent, but not
to blacks. 

1984 South African prisoner Nelson Mandela saw his wife for
the first time in 22 years. 

2002 Former U.S. President Carter arrived in Cuba for a
visit with Fidel Castro. It was the first time a U.S. head
of state, in or out of office, had gone to the island since
Castro's 1959 revolution. 

2003 In Texas, fifty-nine Democratic lawmakers went into
hiding over a dispute with Republican's over a
congressional redistricting plan. 

2015 It was announced that Verizon would be acquiring AOL
because their way of dealing with complaints without
getting sued really impressed Verizon. 

2017  smiled.
[ view entry ]
( 6 views ) |
permalink
|
print article
|
( 2.9 / 483 )
---
<<First
<Back
| 21 | 22 | 23 | 24 | 25 | 26 | 27 | 28 | 29 | 30 |
Next>
Last>>