Good Morning, ,
Today is Tuesday, May 16

Have Fun!
Dearwebby

Todays Bonehead Award:
Florida woman steals $300 cash from yard sale 
half mile from where she lives, gives the finger, 
drives off.
Details At  Boneheads
______________________________________________________
Today, May 16 in
1770 Marie Antoinette, at age 14, married the future King
Louis XVI of France, who was 15. She was the last queen of
France, guillotined in the French Revolution 18 years
later.
See More of what happened on this
day in history.
______________________________________________________

| | |
| --- | --- |
| If you can help with the cost of the Humor Letter, please donate what you can! | |
______________________________________________________ Any event, once it has occurred, can be made to appear inevitable by a competent historian. --- Lee Simonson Devotees of grammatical studies have not been distinguished for any very remarkable felicities of expression. --- Amos Bronson Alcott (1799 - 1888) The more things a man is ashamed of, the more respectable he is. --- George Bernard Shaw Would you be more content with six million dollars or six children? Six children, certainly. Because a man with six million dollars will always want more. --- Socratex ______________________________________________________ If you like the Humor Letter, please vote!
______________________________________________________ Little Johnny was rough housing with his dog. His mother said to him, "Now, Johnny, I know you love Wilbur, but you're loving him too much. How would you feel if someone really huge picked you up and squeezed you so hard you couldn't breathe?" Little Johnny thought a moment and then said, "I guess I'd feel like it was my birthday and Aunt Agnes was here!" _____________________________________________________
______________________________________________________ >From Walter, the Stonecarver at http://stonecarver.com The French government announced yesterday that it has raised its terror alert level from Run to Hide. The only two higher levels in France are Surrender and Collaborate. The raising of the alert level was precipitated by a recent fire which destroyed France's white flag factory, effectively paralyzing their military. ______________________________________________________
_____________________________________________________

If you like the Humor Letter, please vote!
Thanks for your votes!

______________________________________________________ Reported by the Bausell Sailor:
An INTERNATIONAL BONEHEAD AWARD has been earned by
Susan Weitzel, 68, Ocala, Florida Florida woman steals $300 cash from yard sale half mile from where she lives, gives the finger, drives off. A Florida woman accused of stealing from a yard sale gave her victims a middle-finger salute as they attempted to chase her down. According to WKMG, Susan Weitzel, 68, of Ocala, went to a yard sale hosted by two sisters and their mother inside The Villages on Saturday. Weitzel asked a woman who was watching a cash box filled with $300 to get a bag because she wanted to buy a china bowl. As the woman left her post, Weitzel opened the cash box and placed the money in her pockets, according to WKMG. When confronted by a witness, Weitzel took off toward her white Ford F-150 and got in. One of the victims reached the truck before it left, and tried to open the door, but it was locked. Weitzel gave the woman the middle finger before driving off, WKMG reported. Authorities later found Weitzel at her home, only a half- mile from the yard sale. Police say she tried to escape through her back door to avoid arrest. She was arrested and charged with grand theft and resisting an officer without violence. ______________________________________________________ Tech Support Pits From: John Re: Open multiple folders Dear Webby Is it possible in Windows 7 home to view the contents of multiple folders in one window? I am converting the format of music files which are organized into folders and it would be helpful to view all of the music files at once. Thanks, John Dear John Just open multiple file Explorer windows. For example one to show the Music folder on the C: drive, one to show the MP3 folder on the E: drive, one to show the MiscMusic folder on the CD and one to show the Music folder on the USB hard drive. Then you can drag stuff back and forth or into a staging folder for assembling a DVD. If you want to view ALL files of a type, for example MP3, on all drives, do a SEARCH and look for *.mp3 , all drives. Have FUN! DearWebby
Mark, took his beat-up pickup truck to the insurance agent for a pre-insurance inspection, the teen-age receptionist was sent to look over the truck. Armed with a checklist and a few simple questions, she breezed through the chore. When she asked, "What are the age and make of the vehicle?" Mark replied, "It's a '65 Ford." Apologetic about its des- perate condition, he added, "It's an old fossil." Inside, the office assistant entered the data into her computer and frowned. "Is there a problem?" asked Mark. "Mr. Evans, I've been in insurance a while," she explained, "but I've never heard of a Ford Fossil."
| | |
| --- | --- |
| If you can help with the cost of the Humor Letter, please donate what you can! | |
Daily tip from Thriftyfun.com Paper Plate Cookie Gift Basket By ShirleyE [169 Posts, 106 Comments]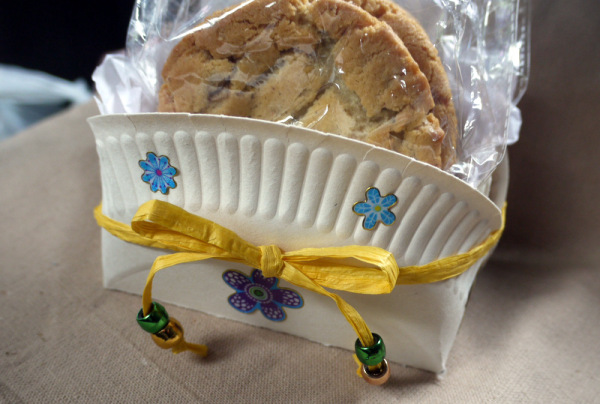 Who doesn't like cookies? And homemade cookies are the best. Here is a simple and super cool way to present your homemade cookies as a gift. Who wouldn't be delighted to receive them? Paper Plate Cookie Gift Basket - cookie gift pack Supplies: 1 paper plate marker pen glue string or ribbon 4 large hole beads ruler pair of scissors decorations, such as stickers tissue paper cellophane Steps: Draw a rectangle in the middle of the plate. extend the two long sides to the edge of the plate Cut along these extensions. Fold the ends in and crease. Fold along the long edges and crease. crease along the fold apply glue Turn up the short sides first and then the long sides. Bend the points around and hold them together until the glue sets. If your glue is slow drying use a peg (clothespin) to hold them in place. turn up short sides and then long sides hold until glue sets decorate with ribbon or string add beads to ends add stickers or other decorations Line the basket with tissue paper. line with tissue paper Wrap your cookies in cellophane before displaying them in the basket. ____________________________________________________ A man returned from Africa feeling very ill. He went to see his doctor, and the doctor has him immediately rushed to the hospital, to undergo a range of tests. The man woke up after the tests in a private room at the hospital, and the phone by his bed was ringing. "This is your doctor. We've had the results back from your tests and we've found you have an extremely nasty virus, which is extremely contagious!" "Oh my gosh," cried the man, "What are you going to do, doctor?" "Well we're going to put you on a diet of pizzas, pancakes, and pita bread." "Will that cure me?" asked the man. The doctor replied, "Well no, but ... it's the only food we can get under the door." ___________________________________________________
| | |
| --- | --- |
| | Ink in motion. |
Tech Support: "How much free space do you have on your hard drive?" Customer: "Well, my wife likes to get up there on that Internet, and she downloaded ten hours of free space. Is that enough?"
Ophelia Dingbatter's NewsNo sermon and not suitable for church, just jokes and fun for grownups. Read it on-line or subscribe. If you subscribe, look for the double opt-in confirmation request.


"Doctor, I'd like you to evaluate my 13 year-old son." "OK: He's suffering from a transient psychosis with an intermittent rage disorder, punctuated by episodic radical mood swings, but his prognosis is good for full recovery." "How can you say all that without even meeting him?" "I thought you said he's 13?"

____________________________________________________

Today, on May 16 
1770 Marie Antoinette, at age 14, married the future King
Louis XVI of France, who was 15. 

1866 The U.S. Congress authorized the first 5-cent piece to
be minted. 

1868 U.S. President Andrew Johnson was acquitted during the
Senate impeachment, by one vote. 

1879 The Treaty of Gandamak between Russia and England set
up the Afghan state. It has been at war ever since.

1881 In Germany, the first electric tram for the public
started service. 

1888 The first demonstration of recording on a flat disc
was demonstrated by Emile Berliner. 

1920 Joan of Arc was canonized in Rome. 

1946 "Annie Get Your Gun" opened on Broadway. 

1946 Jack Mullin showed the world the first magnetic tape
recorder. 

1960 A Big Four summit in Paris collapsed due to the
American U-2 spy plane incident. 

1960 Theodore Maiman, at Hughes Research Laboratory in
California, demonstrated the first working laser. 

1963 After 22 Earth orbits Gordon Cooper returned to Earth,
ending Project Mercury. 

1965 Spaghetti-O's were sold for the first time. 

1969 Venus 5, a Russian spacecraft, landed on the planet
Venus. 

1975 Japanese climber Junko Tabei became the first woman to
reach the summit of Mount Everest. 

1977 Five people were killed when a New York Airways
helicopter, idling on top of the Pan Am Building in
Manhattan, toppled over, sending a huge rotor blade flying.


1987 The Bobro 400 set sail from New York Harbor with 3,200
tons of garbage. The barge travelled 6,000 miles in search
of a place to dump its load. It returned to New York Harbor
after 8 weeks with the same load. 

1988 A report released by Surgeon General C. Everett Koop
declared that nicotine was addictive in similar was as
heroin and cocaine. No kidding, Bubba?

1988 The U.S. Supreme Court ruled that police do not have
to have a search warrant to search discarded garbage. 

1991 Queen Elizabeth II became the first British monarch to
address the U.S. Congress. 

1992 The Endeavour space shuttle landed safely after its
maiden voyage. 

1996 Admiral Jeremy "Mike" Boorda, the nation's top Navy
officer, died from a self-inflicted gunshot wound after
some of his military awards were called into question. 

1997 In Zaire, President Mobutu Sese Seko gave control of
the country to rebel forces ending 32 years of autocratic
rule. 

2000 U.S. First Lady Hillary Rodham Clinton was nominated
to run for U.S. Senator in New York. She was the first U.S.
first lady to run for public office. It was a no-contest
campaign designed to appease her after the Lewisnsky
scandal.

2005 Sony Corp. unveiled three styles of its new
PlayStation 3 video game machine.

2017  smiled.
[ view entry ]
( 13 views ) |
permalink
|
print article
|
( 3 / 627 )
---
<<First
<Back
| 21 | 22 | 23 | 24 | 25 | 26 | 27 | 28 | 29 | 30 |
Next>
Last>>