Good Morning, ,
Today is Sunday, May 21

Thank you all for your birthday greetings 
in email and on FB!

Have Fun!
Dearwebby

Todays Bonehead Award:
Man wore Home Depot apron to 
steal air conditioners
 Boneheads
______________________________________________________
Today, May 21 in
1471 King Henry VI was killed in the tower of London. 
Edward IV took the throne. 
See More of what happened on this
day in history.
______________________________________________________

| | |
| --- | --- |
| If you can help with the cost of the Humor Letter, please donate what you can! | |
______________________________________________________ You can only be young once. But you can always be immature. Dave Barry (1947 - ) Few things are harder to put up with than the annoyance of a good example. --- Mark Twain ______________________________________________________ If you like the Humor Letter, please vote!
______________________________________________________ >From Lyra My boss was complaining in our staff meeting the other day that he wasn't getting any respect. Later that morning he went out and came back with a small sign that read, "I'm the Boss". He taped it to his office door. Later that day when he returned from lunch, he found that someone had taped a note to the sign that said. "Your wife called, she said she did not authorize that sign." _____________________________________________________
______________________________________________________ Computer Bumper Snickers Don't make me use uppercase. Get a Life? Cool! Where can I download one of them from? The truth is out there? Does anyone know the URL? ______________________________________________________
_____________________________________________________

If you like the Humor Letter, please vote!
Thanks for your votes!

______________________________________________________
An INTERNATIONAL BONEHEAD AWARD has been earned by
Bernardo Calana, 53, Haverhill, Massachusetts Man wore Home Depot apron to steal air conditioners Police say a man donned an orange Home Depot apron and posed as an employee to steal air conditioners in New Hampshire. But a manager noticed the name on the garment didn't match that of any worker at the store. Police arrested 53-year-old Bernardo Calana, of Haverhill, Massachusetts, on Saturday. WMUR-TV reports Calana loaded two air conditions into his pickup truck in Plaistow and went back inside. A manager noticed the apron with the name "Shannon" with flowers drawn on it and called police. Calana later told police he didn't know anything about the air conditioners, but a Home Depot apron was found in his back pocket. Calana was released on bail. The voice mailbox for a listed phone number for him was full. ______________________________________________________ Tech Support Pits From: Lupita Re: Hex numbers for colors Dear Webby how do I get those hex numbers for colors on web pages, when I need a color that is in between colors that have proper names? Thanks Lupita Dear Lupita Ther are a few programs that will do that. The one I have been using for about 20 years is called colour.exe. You can download it from http://webby.com/tools.html and save it right onto the desktop. It is a very small program, but works 100% reliably and has no unnecesary confusion. It is free. Have FUN! DearWebby
A little boy got lost at the YMCA and wandered in the women's locker room. When he was spotted, the room burst into shrieks, with ladies grabbing towels and running for cover. The little boy watched in amazement and then asked, "What's the matter? Haven't you ever seen a little boy before?"
| | |
| --- | --- |
| If you can help with the cost of the Humor Letter, please donate what you can! | |
Daily tip from Thriftyfun.com Hairy Monster Paperclip Bookmarks By ShirleyE [170 Posts, 107 Comments] Supplies: paper clips cord or yarn in different colours scissors strong glue small wiggle eyes Steps: Cut some cord into short lengths about 2 to 3 inches long. Fold them in half. Pass the loop end through a paper clip. Pass the cut ends through the loop and pull tight.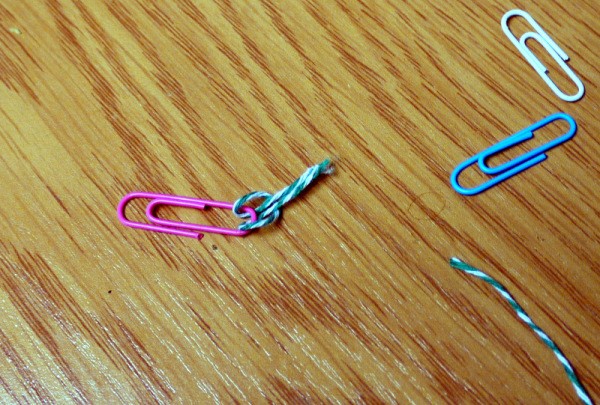 Repeat twice more and trim with scissors. Glue the wiggle eyes in place. You can use pva glue for this, but it will take a long time to dry and won't hold for very long. A strong quick drying glue will work better.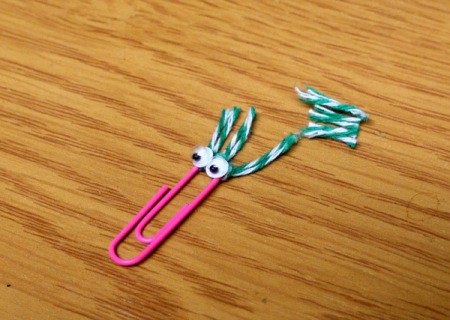 Try different hairstyles. Wait until the glue is properly dry before using to mark a page. You don't want to be sticking the pages together. Some leftover yarn or wool pieces will keep visiting kids busy on a rainy aafternoon. A flexible rubber type glue works best and the collateral mess is easy to clean up. Have FUN! DearWebby
| | |
| --- | --- |
| | mpossible Wheel Climb |
____________________________________________________ When my cousin, Tom, was at the police academy, prior to joining Chicago's finest, one of his instructors asked him during an oral exam, "What would you do if you had to arrest your own mother?" He immediately replied, with conviction, "Call for back-up, LOTS of back-up." ___________________________________________________
| | |
| --- | --- |
| | People are Awesome-Best of the week! |
A man and his wife were having an argument about who should brew the coffee each morning. The wife said, "You should do it, because you get up first, and then we don't have to wait as long to get our coffee." The husband said, " You are in charge of the cooking around here and you should do it, because that is your job, and I can just wait for my coffee." Wife replied, "No you should do it, and besides it is in the Bible that the man should do the coffee." Husband replied, " I can't believe that, show me." So she fetched the Bible, and opened the New Testament and shows him at the top of several pages, that it indeed says "HEBREWS"
Ophelia Dingbatter's NewsNo sermon and not suitable for church, just jokes and fun for grownups. Read it on-line or subscribe. If you subscribe, look for the double opt-in confirmation request.


Once upon a time, the only signs along rural highways were CocaCola billboards and Burma Shave signs nailed to fences. They have long been harvested by collectors. Here are some of the more memorable ones: ***Burma Shave*** BROTHER SPEEDER LET'S REHEARSE, ALL TOGETHER GOOD MORNING NURSE ***Burma Shave*** DON'T LOOSE YOUR HEAD TO GAIN A MINUTE YOU NEED YOUR HEAD YOUR BRAINS ARE IN IT *** Burma Shave*** DROVE TOO LONG DRIVER SNOOZING WHAT HAPPENED NEXT IS NOT AMUSING ***Burma Shave*** HUGGING ON HIGHWAY FAVORITE SPORT TRADE IN YOUR CAR FOR A DAVENPORT ***Burma Shave*** CAUTIOUS RIDER TO HER RECKLESS DEAR LET'S HAVE LESS BULL AND MORE STEER ***Burma Shave*** SPEED WAS HIGH WEATHER WAS NOT TIRES WERE THIN X MARKS THE SPOT ***Burma Shave*** THE MIDNIGHT RIDE OF PAUL FOR BEER LED TO A WARMER HEMISPHERE ***Burma Shave*** AROUND THE CURVE LICKETY-SPLIT IT'S A BEAUTIFUL CAR WASN'T IT? ***Burma shave*** NO MATTER THE PRICE NO MATTER HOW NEW THE BEST SAFETY DEVICE IN THE CAR IS YOU *** Burma Shave*** A GUY WHO DRIVES A CAR WIDE OPEN IS NOT THINKIN' HE'S JUST HOPIN' ***Burma Shave*** AT INTERSECTIONS LOOK EACH WAY A HARP SOUNDS NICE BUT ITS HARD TO PLAY ***Burma Shave*** BOTH HANDS ON THE WHEEL EYES ON THE ROAD THAT'S THE SKILLFUL DRIVER'S CODE ***Burma Shave*** THE ONE WHO DRIVES WHEN HE'S BEEN DRINKING DEPENDS ON YOU TO DO HIS THINKING ***Burma Shave*** CAR IN DITCH DRIVER IN TREE THE MOON WAS FULL AND SO WAS HE. ***Burma Shave*** DRUNKEN DRIVERS HERE'S YOUR CHANCE TO HOBBLE HOME IN AN AMBULANCE ***Burma Shave*** If You Drive While You're Drunk Carry Your Coffin In Your Trunk ***Burma Shave*** She Kissed The Hairbrush By Mistake She Thought It Was Her Husband Jake ***Burma Shave*** The Hero Was Strong And Willin' She Felt His Face And Married The Villain ***Burma Shave*** It Would Be More Fun To Go By Air But We Can't Hang These Signs Up There ***Burma Shave***

____________________________________________________

Today, on May 21
0996 Sixteen year old Otto III was crowned the Roman Emperor. 

1471 King Henry VI was killed in the tower of London. Edward
IV took the throne. 

1536 The Reformation was officially adopted in Geneva,
Switzerland. 

1542 Hernando de Soto died along the Mississippi River while
searching for gold. 

1602 Martha's Vineyard was first sighted by Captain
Bartholomew Gosnold. 

1790 Paris was divided into 48 zones. 

1819 Bicycles were first seen in the U.S. in New York City.
They were originally known as "swift walkers." 

1840 New Zealand was declared a British colony. 

1856 Lawrence, Kansas was captured by pro-slavery forces. 

1863 The siege of the Confederate Port Hudson, LA, began. 

1891 Peter Jackson and Jim Corbett fought for 61 rounds only
to end in a draw. 

1904 Fédération Internationale de Football Association (FIFA)
was founded. 

1906 Louis H. Perlman received his patent for the demountable
tire-carrying rim. 

1924 Fourteen-year-old Bobby Franks was murdered in a "thrill
killing" committed by Nathan Leopold Jr. and Richard Loeb. The
killers were students at the University of Chicago. 

1927 Charles A. Lindberg completed the first solo nonstop
airplane flight across the Atlantic Ocean. The trip began May
20. 

1929 The first automatic electric stock quotation board was
used by Sutro and Company of New York City. 

1934 Oskaloosa, IA, became the first city in the U.S. to
fingerprint all of its citizens. 

1947 Joe DiMaggio and five of his New York Yankee teammates
were fined $100 because they had not fulfilled contract
requirements to do promotional duties for the team. 

1956 The U.S. exploded the first airborne hydrogen bomb in the
Pacific Ocean over Bikini Atoll. 

1961 Governor Patterson declared martial law in Montgomery,
AL. 

1968 The nuclear-powered U.S. submarine Scorpion, with 99 men
aboard, was last heard from. The remains of the sub were later
found on the ocean floor 400 miles southwest of the Azores. 

1970 The National Guard was mobilized to quell disturbances at
Ohio State University. 

1980 The movie "The Empire Strikes Back" was released. 

1982 The British landed in the Falkland Islands and fighting
began. 

1991 In Madras, India, the former prime minister, Rajiv Gandhi
was killed by a bouquet of flowers that contained a bomb. 

1998 An expelled student, Kipland Kinkel, in Springfield, OR,
killed 2 people and wounded 25 others with a semi-automatic
rifle. Police also discovered that the boy had killed his
parents before the rampage. 

1998 Microsoft and Sega announced that they are collaborating
on a home video game system. 

1998 In Miami, FL, five abortion clinics were hit by an
butyric acid-attacker.

2017  smiled.
[ view entry ]
( 10 views ) |
permalink
|
print article
|
( 3 / 439 )
---
<<First
<Back
| 21 | 22 | 23 | 24 | 25 | 26 | 27 | 28 | 29 | 30 |
Next>
Last>>