Good Morning, ,
Today is Thursday, May 25

Today I have to go to Calgary for injections 
into my eyeballs. That means no Friday, Saturday
or Sunday Newsletter.

Have Fun!
Dearwebby

Todays Bonehead Award:
Colorado man arrested after castrating 
transgender woman for pay but without a license.
 Boneheads
______________________________________________________
Today, May 25 in
585 BC The first recorded prediction of a 
solar eclipse was made in Greece. 
See More of what happened on this
day in history.
______________________________________________________

| | |
| --- | --- |
| If you can help with the cost of the Humor Letter, please donate what you can! | |
______________________________________________________ Often it does seem a pity that Noah and his party did not miss the boat. --- Mark Twain (1835 - 1910) ______________________________________________________ If you like the Humor Letter, please vote!
______________________________________________________ A man was in the hospital recovering from an operation when a nun walked into his room. She was there to cheer up the sick and ailing. The man and nun started talking and she asked about his life. He talked about his wife and 13 children. "My, my," said the nun, "13 children....you're a good, proper Catholic family. The Lord is very proud of you!" "I'm sorry, Sister," he said, "I am not Catholic. I'm Jewish." "Jewish!?" she replies. "Hmmm....you're a sex maniac, aren't you?" _____________________________________________________
______________________________________________________ Doctor: "I see you're over a month late for your appointment. Don't you know that nervous disorders require prompt and regular attention? What's your excuse?" Patient: "I was just following your orders, Doc." Doctor: "Following my orders? What are you talking about? I gave you no such order." Patient: "You told me to avoid people who irritate me." ______________________________________________________
_____________________________________________________

If you like the Humor Letter, please vote!
Thanks for your votes!

______________________________________________________ Reported by the Bausell Sailor
An INTERNATIONAL BONEHEAD AWARD has been earned by
James Pennington, 57, Denver, Colorado Colorado man arrested after castrating transgender woman for pay but without a license. A man without a medical license was arrested after allegedly using an Army surgical kit to remove the testicles of a transgender woman at her apartment, the Denver Police Department said. James Pennington, 57 of Denver, is alleged to have removed the testicles and sutured the opening while the woman's wife watched the 90-minute procedure on Wednesday, according to a probable cause statement. Pennington told the victim if any "complications" developed to call 911, according to the probable cause statement. The wife called 911 about 2 p.m. after blood was seeping from the incision. Paramedics said the testicles could not be reattached because of the time between the procedure and the call to 911, police said. A doctor with Medical Center of Aurora said the victim suffered serious bodily injury and "risk of permanent disfigurement," according to the statement. Pennington was interviewed by police on Thursday and, according to the probable cause statement, "confessed to completing this surgical procedure without medical license." Pennington was arrested for investigation of first-degree aggravated assault causing serious bodily injury. He is being held without bond. The Denver District Attorney's Office will make the final determination if charges will be filed. ______________________________________________________ Tech Support Pits From: Wanda Re: img ... pdf Dear Webby I got some emails with img, some numbers and then .pdf in the subject line. Naturally, I did not open them without asking you first. Are they safe? Thanks Wanda Dear Wanda No, they are NOT safe. Dump them, and dump them out of the trash. Nowadays, anything suspicious looking, dump it. There is no need to enclose a normal picture in a PDF If a friend or relative wants to bundle a bunch of pictures in a PDF, they would tell you about it, and not just list ONE picture, with .pdf tacked on. Have FUN! DearWebby
A college professor asked his class a question. "If Philadelphia is 100 miles from New York and Chicago is 1000 miles from Philadelphia and Los Angles is 2000 miles from Chicago, how old am I?" One student in the back of the class raised his hand and when Called upon said, "Professor you're 44.." The Professor said, "You're absolutely correct, but tell me, how did you arrive at the answer so quickly?" The student said, "You see professor, I have a brother; he's 22, and he's half nuts."
| | |
| --- | --- |
| If you can help with the cost of the Humor Letter, please donate what you can! | |
Daily tip from Thriftyfun.com Making Rosemary Napkin Rings By ShirleyE [165 Posts, 104 Comments] For a lovely place setting which will also give off a wonderful herbal aroma to get your guests' taste buds going, use a wrap of rosemary around the serviettes (napkins) instead of a traditional napkin ring. Supplies: rosemary sprigs garden raffia or twine scissors hole punch paper Steps: Print out your guests' names. Alternatively you could write them if you prefer. Cut out each name and round off the corners to neaten them. Add a punched hole. Roll up a serviette (napkin) and wrap a rosemary sprig around it. Overlap the ends of the sprig and tie with raffia or string. Thread the name tag onto the raffia and make a final knot. Trim the ends of the raffia and arrange your setting.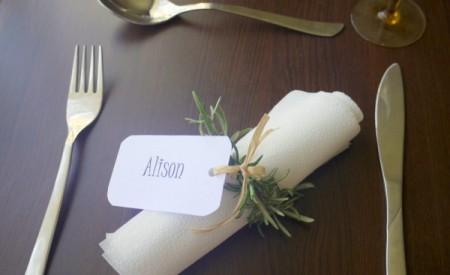 If you dont have raffia, you can use the colorful, beaded pony-tail rubber bands. They are usually 25 / $ at the Dollar store and indefinitely reusable. No panic when grampa cančt open the knots on the raffia. Have FUN! DearWebby
| | |
| --- | --- |
| | Mama bear chases motorists in Yellowstone National Park |
____________________________________________________ >From Wendy A retired older couple returned to a Mercedes dealership where the salesman has just sold the car they had been interested in to a beautiful, leggy, busty blonde in a mini skirt and a halter top. The old man was visibly upset. He spoke to the salesman sharply, "Young man, I thought you said you would hold that car till we raised the $55,000 asking price. Yet I just overheard you close the deal for $45,000 to the lovely young lady there. And if I remember right, you had insisted there was no way you could discount this model." The salesman took a deep breath, cleared his throat and reached for a large glass of water. "Well, what can I tell you? She had the cash ready, didn't need any financing help, and, Sir, just look at her, how could I resist?", replied the grinning salesman sheepishly. Just then the young woman approached the senior couple and gave the car keys to the old man. "There you go," she said. "I told you I could get that schmuck to lower the price. See you later Dad, Happy Father's day." ___________________________________________________
| | |
| --- | --- |
| | A woman breaks into what she thought was an abandoned house only to get the shock of her life. |
A commercial property owner has three shops in a row, all for rent. The first prospective lessee shows up, and says he wants to rent the shop on the left. The owner says, "Fine, what kind of shop do you have?" The guy says, "A menswear shop." The owner tells him he gets free signage, and asks what he wants on the sign. "Menswear," says the man. A second guy comes along and wants to let the right hand shop. When asked he says he wants "Menswear" on his sign. The owner tells him that the lefthand shop will be the same. "No problem," says the man. Finally a third man comes along to rent the middle shop. The owner is most concerned because this guy also has a menswear shop. Rather wearily the owner asks him what he wants on his sign. The guy replies: "Entrance."
Ophelia Dingbatter's NewsNo sermon and not suitable for church, just jokes and fun for grownups. Read it on-line or subscribe. If you subscribe, look for the double opt-in confirmation request.


Thanks to Ross for this story: A Jewish couple is sitting together on an airplane flying to The Far East. Suddenly, over the public address system, the Captain announces, "Ladies and Gentlemen, I am afraid I have some very bad news. Our engines have ceased functioning and this plane will be going down. Luckily, I see an uncharted island below us that should be able to accommodate our landing. A few minutes later the plane lands safely on the island. After touring the island the captain announced to the passengers that the odds are that we will never be rescued and will have to live on the island for the rest of our lives." Morris turns to his wife and asks, "Esther, did we pay our charity pledge to the Yeshiva yet?" "No, Morris," she responds. Morris smiles and then asks, "Esther, did we pay our United Jewish Appeal pledge?" "Oy, no! I haven't sent the check," she says. Now Morris laughs out loud. "One last thing, Esther. Did you remember to send our Temple Building Fund check this month," he asks? "Oy, Morris, I haven't sent that one, either." says Esther. Now, Morris is practically choking with laughter. Esther asks Morris, "So? What are you laughing about?" Morris answers confidently, "They'll find us."

____________________________________________________

Today, on May 25
585 BC The first recorded prediction of a solar eclipse was
made in Greece. 

1085 Alfonso VI took Toledo, Spain from the Moslems. 

1787 The Constitutional convention opened in Philadelphia with
George Washington presiding. 

1810 Argentina declared independence from Napoleonic Spain. 

1844 The gasoline engine was patented by Stuart Perry. 

1844 The first telegraphed news dispatch, sent from
Washington, DC, to Baltimore, MD, appeared in the Baltimore
"Patriot." 

1895 Oscar Wilde, a playwright, poet and novelist, was
convicted of a morals charge and sentenced to prison in
London. 

1925 John Scopes was indicted for teaching the Darwinian
theory in school. 

1927 Ford Motor Company announced that the Model A would
replace the Model T. 

1927 The "Movietone News" was shown for the first time at the
Sam Harris Theatre in New York City. 

1946 Jordan gained independence from Britain. 

1953 In Nevada, the first atomic cannon was fired. 

1961 America was asked by U.S. President Kennedy to work
toward putting a man on the moon before the end of the decade.


1963 The Organization of African Unity was founded, in Addis
Ababa, Ethiopia. 

1968 The Gateway Arch, part of the Jefferson National
Expansion Memorial in St. Louis, MO, was dedicated. 

1970 Boeing Computer Services was founded. 

1977 "Star Wars Episode IV: A New Hope" opened and became the
largest grossing film to date. 

1977 An opinion piece by Vietnam verteran Jan Scruggs appeared
in "The Washington Post." The article called for a national
memorial to "remind an ungrateful nation of what it has done
to its sons" that had served in the Vietnam War. 

1979 An American Airlines DC-10 crashed during takeoff at
Chicago's O'Hare International Airport. 275 people were
killed. 

1981 Daredevil Daniel Goodwin scaled Chicago's Sears Tower,
while wearing a "Spiderman" costume, in 7 1/2 hours. 

1983 "The Return of the Jedi" opened nationwide. It set a new
record in opening day box office sales. The gross was
$6,219,629. 

1985 Bangladesh was hit with a hurricane and tidal wave that
killed more than 11,000 people. 

1989 The Calgary Flames won their first NHL Stanley Cup by
defeating the Montreal Canadiens. 

1996 In Nimes, France, Christina Sanchez became the first
woman to achieve the rank of matadore in Europe. 

1997 In Sierra Leone a military coup overthrew the popularly
elected President Ahmad Tejan Kabbah. He was replaced with
Major Johnny Paul Koromah. 

1997 Poland adopted a constitution that removed all traces of
communism. 

1999 A report by the U.S. House of Representatives Select
Committee on U.S. National Security and Military/Commercial
Concerns with the People's Republic of China concluded that
China had "stolen design information on the U.S. most-advanced
thermonuclear weapons" and that China's penetration of U.S.
weapons laboratories "spans at least the past several decades
and almost certainly continues today." 

2000 The Walt Disney Co. and Time Warner Inc. signed a long-
term deal that ended a dispute over the airing policies of
Time Warner. Time Warner had blacked out Disney programs for a
39 hour period the previous month due to the lack of an
agreement. 

2001 Erik Weihenmayer, 32, of Golden, CO, became the first
blind climber to reach the summit of Mount Everest. 

2001 Sherman Bull, 64, of New Canaan, CT, became the oldest
climber to reach the summit of Mount Everest. 

2006 In Houston, former Enron Corp. chiefs Kenneth Lay and
Jeffrey Skillinng were convicted of conspiracy and fraud for
the downfall of Enron. 

2008 NASA's Phoenix Mars Lander landed in the arctic plains of
Mars. 

2009 North Korea announced that it had conducted a second
successful nuclear test in the province of North Hamgyong. The
United Nations Security Council condemned the reported test. 

2017  smiled.
[ view entry ]
( 7 views ) |
permalink
|
print article
|
( 3 / 678 )
---
<<First
<Back
| 21 | 22 | 23 | 24 | 25 | 26 | 27 | 28 | 29 | 30 |
Next>
Last>>