Good Morning, ,
Today is Monday, May 29
Memorial Day in the USA: 
Honor those, who have died while in the military.

Have Fun!
Dearwebby

Todays Bonehead Award:
PT Cruiser stolen from man after he 
hires prostitute
 Boneheads
______________________________________________________
Today, May 29 in
585 BC The first recorded prediction of a solar eclipse was
made in Greece. 2602 years ago they knew that Earth was round
and the sun was the center of the solar system, and how the
solar system worked. 
See More of what happened on this
day in history.
______________________________________________________

| | |
| --- | --- |
| If you can help with the cost of the Humor Letter, please donate what you can! | |
______________________________________________________ No man ever listened himself out of a job. --- Calvin Coolidge (1872 - 1933) There's no workman, whatsoever he be, that may both work well and hastily. --- Chaucer (c. 1343 - 1400) ______________________________________________________ If you like the Humor Letter, please vote!
______________________________________________________ There were these two guys out hiking when they came upon an old, abandoned mine shaft. Curious about its depth they threw in a pebble and waited for the sound of it striking the bottom, but they heard nothing. They went and got a bigger rock, threw it in and waited. Still nothing. They searched the area for something larger and came upon a railroad tie. With great difficulty , the two men carried it to the opening and threw it in. While waiting for it to hit bottom, a goat suddenly darted between them and leapt into the hole! The guys were still standing there with astonished looks upon their faces from the actions of the goat when a man walked up to them. He asked them if they had seen a goat anywhere in the area and they said that one had just jumped into the mine shaft in front of them! The man replied, 'Oh no. That couldn't be *my* goat, mine was tied to a railroad tie.' _____________________________________________________
______________________________________________________ Thanks to Tsehainesh from Addis Ababa A Kindergarten teacher was observing her classroom of children while they drew. She would occasionally walk around to see each child's work. As she got to one little girl who was working diligently, she asked what the drawing was. The girl replied, "I'm drawing God." The teacher paused and said, "But no one knows what God looks like." Without missing a beat, or looking up from her drawing, the girl replied, "They will in a minute." ______________________________________________________
_____________________________________________________

If you like the Humor Letter, please vote!
Thanks for your votes!

______________________________________________________ Reported by the Bausell Sailor
An INTERNATIONAL BONEHEAD AWARD has been earned by
April Marie Phillips, 36, Jacksonvile, Florida PT Cruiser stolen from man after he hires prostitute A woman faces a charge of car theft after police said a man was assaulted Monday at a Jacksonville hotel. The victim said he met and picked up a suspected prostitute named April Marie Phillips, 36. The two of them went to get a room at the Scottish Inn on Phillips Highway. Once the man and Phillips approached the hotel room, an unknown man met the victim and Phillips outside the room. About five minutes after the three entered the room, the unknown man took the man's car keys, the police report said. The man asked for his keys back, but the unknown man and Phillips refused, police said. Police reported that the unknown man then punched the victim multiple times in the face and Phillips hit the victim in the back of the head. The victim said his cellphone was taken from him and that they tried to take his wallet. The victim said Phillips and the man kicked him several times while he was on the floor. Phillips and the unknown man fled in the victim's PT Cruiser, police said. The victim said called police after he woke up from passing out. The man was taken to St. Vincent's Hospital for possible broken ribs and facial injuries. Police said they found and arrested Phillips, who was standing in the Eagle Inn parking lot. As police questioned Phillips, they said she said that she knew what this was about. She said a guy picked her up for sex and drugs and said she had nothing else to say, police said. ______________________________________________________ Tech Support Pits From: Mario Re: Head Set or separate microphone? Dear Webby What is better for phone over the Internet, a headset or a separate microphone and earphones? Thanks Mario Dear Mario If you want to sound like a DJ or if you are participating in teleconferences, get a wireless lapel mike and a mike pre-amplifier with graphic equalizer, and a set of noise canceling cup type earphones. At the opposite end of the quality spectrum is a headset from the dollar store, complete with boom microphone and a too short 3 foot cord. A good compromise is $30 headset with boom mike, and an additional cord extension. 6 wire cords are often ridiculously overpriced and it pays to shop around for those. Otherwise you could wind up paying more for the extension cord than for the head set. Have FUN! DearWebby
Thanks to Billie for bringing back this classic: Thought you might like this one, Peace, Billie Two dogs were walking down the street. One dog says to the other, "Wait here a minute, I'll be right back." He walks across the street and sniffs this fire hydrant for about a minute, then walks back across the street. The other dog says, "What was that about?" The dog first dog says, "I was just checking my pee-mail."
| | |
| --- | --- |
| If you can help with the cost of the Humor Letter, please donate what you can! | |
Daily tip from Thriftyfun.com Faux Stained Glass Windows By DOROTHY [3 Posts, 2 Comments] This is a new use for old windows. They took about 2 days to make. Paint the window frames and let dry. Be creative and paint the glass with stained glass paint. Once dry, glue the marbles to the glass then let the glue dry.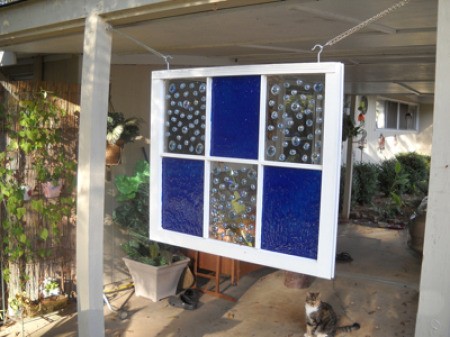 The better craft stores and catalogs have liquid stained glass, and leading in a tube. Draw your design on the glass with a pencil or crayon, then use the leading in a tube to draw the boundaries between the colors. With real stained glass that would be tinned or leaded copper foil. Then you make sure you don`t have any unintended breaks in the leading. After that you decide what colors to use in each field, and pour a few drops of that color into that field. The raised bead of leading will confine the color to that field. Depending on the picture you want to create, you can add a drop of modifier, like starburst, ice crystal, flames, etc. The modifiers don`t change the color, just the apparent texture. Half an hour later it is dry and done. I used to create a lot of those in my Hippy years. You can use liquid stained glass on real glass and on plexiglass. Quite often I sandwiched a plexiglass stained window to a real glass window. My favorite trick was to just do a foot high strip for the top of windows, so as not to obstruct the view, but create beautiful colored projections from the sun shining through. Have FUN! DearWebby
| | |
| --- | --- |
| | Mama bear chases motorists in Yellowstone National Park |
____________________________________________________ Thanks to Dianne for this: The woman was in labor in the delivery room with her husband at her side coaching her just the way he learned in the Lamaze class. It seemed like an eternity before the doctor finally announced, "I've got the head now; just a few more minutes." "Is it a girl or boy?" the husband asked excitedly. The doctor replied, "At this age it's too hard to tell by the ears." ___________________________________________________
| | |
| --- | --- |
| | This is what Memorial Day is about, let us remember them. |
Thanks to Mary F for this story: There were these two elderly people living in a Florida mobile home park. He was a widower and she a widow. They had known one another for a number of years. One evening there was a community supper in the big activity center. These two were at the same table, across from one another. As the meal went on, he made a few admiring glances at her and finally gathered up his courage to ask her, "Will you marry me?" After precisely six seconds of careful consideration, she answered. "Yes, yes, I will." The meal ended and with a few more pleasant exchanges, they went to their respective places. Next morning, he was troubled. "Did she say 'yes' or did she say 'no'?" He couldn't remember. Try as he would, he just could not recall. Not even a faint memory. With trepidation, he went to the telephone and called her. First, he explained to her that he didn't remember as well as he used to. Then he reviewed the lovely evening past. As he gained a little more courage, he then inquired of her, "When I asked if you would marry me, did you say 'Yes' or did you say 'No'?" He was delighted to hear her say, "Why, I said, 'Yes, yes I will' and I meant it with all my heart." Then she continued, "And I am so glad that you called, because I couldn't remember who had asked me.
Ophelia Dingbatter's NewsNo sermon and not suitable for church, just jokes and fun for grownups. Read it on-line or subscribe. If you subscribe, look for the double opt-in confirmation request.


Jill, ever the gracious hostess, was serving drinks at one of her parties. A friend of hers brought his brother who had just been ordained a Priest. She offered the friend a drink from the tray and said, "I'm sorry Father, I'll go right back to the kitchen and bring you a coke." The Priest smiled and said "No need to. I may have alcohol. Priests abstain from sex, not the grape." "Oh !" said Jill blushing, "So that's it. I knew it was one or the other that I wasn't supposed to offer you."

____________________________________________________

Today, on May 29
585 BC The first recorded prediction of a solar eclipse was
made in Greece. 2602 years ago they knew that Earth was round
and the sun was the center of the solar system, and how the
solar system worked.

1453 Constantinople fell to Ottoman Sultan Mehmed II, ending
the Byzantine Empire. 

1660 Charles II was restored to the English throne after the
Puritan Commonwealth. 

1721 South Carolina was formally incorporated as a royal
colony. 

1765 Patrick Henry denounced the Stamp Act before Virginia's
House of Burgesses. 

1827 The first nautical school opened in Nantucket, MA, under
the name Admiral Sir Isaac Coffin's Lancasterian School. 

1849 A patent for lifting vessels was granted to Abraham
Lincoln. 

1910 An airplane raced a train from Albany, NY, to New York
City. The airplane pilot Glenn Curtiss won the $10,000 prize. 

1912 Fifteen women were dismissed from their jobs at the
Curtis Publishing Company in Philadelphia, PA, for dancing the
Turkey Trot while on the job. 

1916 The official flag of the president of the United States
was adopted. 

1916 U.S. forces invaded Dominican Republic and remained until
1924. 

1922 Ecuador became independent. 

1922 The U.S. Supreme Court ruled that organized baseball was
a sport, not subject to antitrust laws. 

1932 World War I veterans began arriving in Washington, DC. to
demand cash bonuses they were not scheduled to receive for
another 13 years. 

1951 C.F. Blair became the first man to fly over the North
Pole in single engine plane. 

1953 Edmund Hillary and Sherpa Tenzing Norgay became first men
to reach the top of Mount Everest and live. 

1973 Tom Bradley was elected the first black mayor of Los
Angeles. 

1974 U.S. President Nixon agreed to turn over 1,200 pages of
edited Watergate transcripts. 

1985 Thirty-nine people were killed and 400 were injured in a
riot at a European Cup soccer match in Brussels, Belgium. 

1986 Colonel Oliver North told National Security Advisor
William McFarlane that profits from weapons sold to Iran were
being diverted to the Contras. 

1988 U.S. President Reagan began his first visit to the Soviet
Union in Moscow. 

1990 Boris Yeltsin was elected president of the Russian
republic by the Russian parliament. 

1997 The ruling party in Indonesia, Golkar, won the Parliament
election by a record margin. There was a boycott movement and
rioting that killed 200 people. 

1999 Space shuttle Discovery completed the first docking with
the International Space Station. 

2000 Fiji's military took control of the nation and declared
martial law following a coup attempt by indigenous Fijians in
mid-May. 

2001 In New York, four followers of Osama bin Laden were
convicted of a global conspiracy to murder Americans. The
crimes included the 1998 bombings of two U.S. embassies in
Africa that killed 224 people. 

2001 The U.S. Supreme Court ruled that disabled golfer Casey
Martin could use a cart to ride in tournaments. 

2015 The Obama adminstration removed Cuba from the U.S.
terrorism blacklist. The two countries had severed diplomatic
relations in January of 1961. 

2017  smiled.
[ view entry ]
( 8 views ) |
permalink
|
print article
|
( 3 / 744 )
---
<<First
<Back
| 21 | 22 | 23 | 24 | 25 | 26 | 27 | 28 | 29 | 30 |
Next>
Last>>