Good Morning, ,
Today is Wednesday, June 14

Have Fun!
Dearwebby

Todays Bonehead Award:
Minnesota Father arrested for rubbing hot sauce 
into eyes of 2-month-old child.
 Boneheads
______________________________________________________
Today, June 14 in
1789 Captain William Bligh of the HMS Bounty arrived 
in Timor in a small boat. 
See More of what happened on this
day in history.
______________________________________________________

| | |
| --- | --- |
| If you can help with the cost of the Humor Letter, please donate what you can! | |
______________________________________________________ I am extraordinarily patient, provided I get my own way in the end. --- Margaret Thatcher (1925 - ) To succeed, jump as quickly at opportunities as you do at conclusions. --- Benjamin Franklin ______________________________________________________ If you like the Humor Letter, please vote!
______________________________________________________ There is a story about a new clerk in a supermarket. A customer asked him if she could buy half a grapefruit. Not knowing what to do, he excused himself to ask the manager. "Some nut out there wants to buy half a grapefruit..." he began, and, suddenly realizing that the customer had entered the office behind him, continued, " ... and this lovely lady would like to buy the other half." The manager was impressed with the way the clerk amicably resolved the problem and they later started chatting. "Where are you from?" asked the store manager. "Fessairton, Pennsylvania," replied the clerk, "home of ugly women and great hockey teams." "Oh, my WIFE is from Fessairton," challenged the manager. Without skipping a beat, the clerk asked, "What team was she on?" _____________________________________________________
______________________________________________________ A man in a hurry taking his 8-year-old son to school, made a turn at a red light where it was prohibited. "Uh-oh, I think I just made an illegal turn!" the man said. "It's okay, Dad" the boy said. "The police car right behind us did the same thing." ______________________________________________________
Alaska is polluting! _____________________________________________________

If you like the Humor Letter, please vote!
Thanks for your votes!

______________________________________________________ Reported by the Bausell Sailor
An INTERNATIONAL BONEHEAD AWARD has been earned by
Shawn Michael Foltz, 31, Moorhead, Minnesota Minnesota Father arrested for rubbing hot sauce into eyes of 2-month-old child. A Minnesota man is accused of abusing his 2-month-old daughter, including rubbing hot sauce and cayenne pepper in her eyes and blocking her airway until she turned blue, the Duluth News Tribune reports. Shawn Michael Foltz, 31, of Moorhead, was charged Friday with neglect of a child, malicious punishment of a child and two counts of third-degree assault. A criminal complaint obtained by the newspaper alleges Foltz also snapped his daughter with a towel, burned her with hot water and threw fireworks in her face. The abuse happened from about April 10 until May 30, according to the complaint. Authorities learned of the abuse after the child's mother brought her to the hospital with visible injuries. When interviewed by police, Foltz admitted to some of the abuse, the newspaper reports, and also said he would think about ways to harm the baby while he was at work. Foltz is being held under a $100,000 bond. ______________________________________________________ Tech Support Pits From: Olga Re: Dialect site Dear Webby, You had a link once for a site, that turned everything into a goofy dialect. Does that site still exist? Olga Dear Olga It sure does! Dialectizer http://rinkworks.com/dialect/ Have FUN! DearWebby
A genie gave three physicians one wish each. The first physician said, "I'm already the smartest pediatrician in the world, but I'd like to be 25% smarter." Poof! The pediatrician became 25% smarter. The second physician said, "I'm already the smartest neurologist in the world, but I'd like to be 50% smarter." Poof! The genie made the neurologist 50% smarter. The third physician told the genie, "I'm not only the smartest surgeon in the world, but I'm also the smartest doctor. But, just to be sure, I'd like you to make me 100% smarter." "This is the third and final wish," the genie said. "If I fulfill your wish, I can't change you back." "Just make me 100% smarter," the surgeon demanded. "Okay," said the genie. Poof! "You're a nurse practitioner!!"
| | |
| --- | --- |
| If you can help with the cost of the Humor Letter, please donate what you can! | |
Daily tip from Thriftyfun.com Steamed Fiddleheads By l_rambou [13 Posts, 2 Comments] Fiddleheads are a fern that are harvested as a vegetable. They are full of vitamin A and C as well as a good source of fibre and omega 3 fatty acids. They are a spring time vegetable that taste very similar to asparagus. I am steaming these but fiddleheads can also be used in soup, salad and pastas. They are usually available fresh at the local markets or they can be found in the frozen food section in most grocery stores. You can also harvest your own. They grow along the river edge in some areas.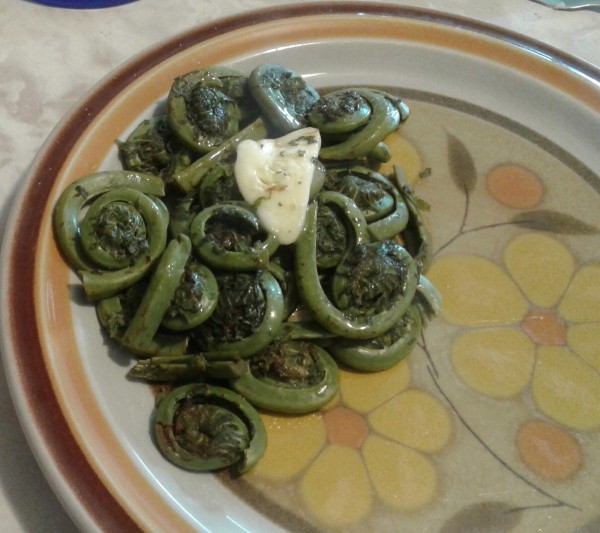 Prep Time: 10 minutes Cook Time: 20 minutes Total Time: 30 minutes Yield: 3-4 Ingredients: 1 lb fresh fiddleheads 6 - 8 cups water salt and pepper lemon butter Steps: Cut of the ends off of fiddleheads. Rinse well under cold water. Put fiddleheads in colander, and place over a pot of water. Cover and bring the water to a boil. Steam the fiddleheads for 20 minutes or until they are cooked to your liking. Add butter, salt and pepper and a squirt of lemon juice if you wish. Serve immediately. Steamed Fiddleheads and tiny potatoes make a nice side dish beside fish on a canoe trip. Have FUN! DearWebby ____________________________________________________
| | |
| --- | --- |
| | Mexican Cheese Mattress - from my sister |
____________________________________________________ "Men are like fine wine. They all start out like grapes, and it's our job to stomp on them and keep them in the dark until they mature into something you'd like to have dinner with." *** "Women are like fine wine. They all start out fresh, fruity and intoxicating to the mind and then turn full-bodied with age until they go all sour and vinegary and give you a head- ache." ___________________________________________________
| | |
| --- | --- |
| | Stunning Portraits from the 2017 Nat Geo Travel Photographer of the Year Contest |
>From Bob The other night, my wife and I were going out for dinner. She put on eyebrow pencil, eye shadow, eyeliner, eyelashes, mascara, toner, blush and lipstick; adjusted the padding, tension, lift and bounce of her bra, then turned to me and asked, "Does this look natural?"
Ophelia Dingbatter's NewsNo sermon and not suitable for church, just jokes and fun for grownups. Read it on-line or subscribe. If you subscribe, look for the double opt-in confirmation request.

____________________________________________________ Dear Webby- My wife and I can't agree on our vacation. -I want to go to the Bahamas, and she wants to go with me!!! Bill C ____________________________________________________

Today, on June 14, in
1775 The Continental Army was founded by the Second
Continental Congress for purposes of common defense. This
event is considered to be the birth of the United States Army.
On June 15, George Washington was appointed commander-in-
chief. 

1789 Captain William Bligh of the HMS Bounty arrived in Timor
in a small boat. 

1834 Cyrus Hall McCormick received a patent for his reaping
machine. 

1834 Isaac Fischer Jr. patented sandpaper. 

1841 The first Canadian parliament opened in Kingston. 

1846 A group of U.S. settlers in Sonoma proclaimed the
Republic of California. 

1900 Hawaii became a U.S. territory. 

1907 Women in Norway won the right to vote. 

1917 General John Pershing arrived in Paris during World War
I. 

1919 The first non-stop trans-Atlantic flight began. Captain
John Alcot and Lt. Arthur Brown flew from Newfoundland to
Ireland. 

1927 Nicaraguan President Adolfo Diaz signed a treaty with the
U.S. allowing American intervention in his country. 

1940 The Nazis opened their concentration camp at Auschwitz in
German-occupied Poland. 

1940 German troops entered Paris. As Paris became occupied
loud speakers announced the implementation of a curfew being
imposed for 8 p.m. 

1943 The U.S. Supreme Court ruled that schoolchildren could
not be made to salute the U.S. flag if doing so conflicted
with their religious beliefs. 

1944 Sixty U.S. B-29 Superfortress' attacked an iron and steel
works factory on Honshu Island. 

1945 Burma was liberated by Britain. 

1949 The state of Vietnam was formed. 

1951 "Univac I" was unveiled. It was a computer designed for
the U.S. Census Bureau and billed as the world's first
commercial computer. 

1952 The Nautilus was dedicated. It was the first nuclear
powered submarine. 

1954 U.S. President Dwight D. Eisenhower signed an order
adding the words "under God" to the Pledge of Allegiance. 

1954 Americans took part in the first nation-wide civil
defense test against atomic attack. 

1965 A military triumvirate took control in Saigon, South
Vietnam. 

1967 Mariner 5 was launched from Cape Kennedy, FL. The space
probe's flight took it past Venus. 

1982 Argentine forces surrendered to British troops on the
Falkland Islands. 

1989 Former U.S. President Reagan received an honorary
knighthood from Britain's Queen Elizabeth II. 

1990 The U.S. Supreme Court upheld police checkpoints that are
used to examine drivers for signs of intoxication. 

1994 The New York Rangers won the Stanley Cup by defeating the
Vancouver Canucks. It was the first time the Rangers had won
the cup in 54 years. 

2017  smiled.
[ view entry ]
( 6 views ) |
permalink
|
print article
|
( 3 / 714 )
---
<<First
<Back
| 20 | 21 | 22 | 23 | 24 | 25 | 26 | 27 | 28 | 29 |
Next>
Last>>