Good Morning, ,
Today is Thursday, June 15

Have Fun!
Dearwebby

Todays Bonehead Award:
Wyoming college student caught shoplifting from 
Walmart said she was studying kleptomania
 Boneheads
______________________________________________________
Today, June 15 in
1381 The English peasant revolt was crushed in London. 
See More of what happened on this
day in history.
______________________________________________________

| | |
| --- | --- |
| If you can help with the cost of the Humor Letter, please donate what you can! | |
______________________________________________________ Everything that irritates us about others can lead us to an understanding of ourselves. --- Carl Jung (1875 - 1961) ______________________________________________________ If you like the Humor Letter, please vote!
______________________________________________________ Two groups of scouts go on a double decker bus for a weekend trip to Atlantic City. One group is all girl scouts and the other is all boy scouts. Once upon the bus, the boy scouts head upstairs and the girl scouts hang out on the bottom level. The girl scouts group has a ball. They're whooping it up and having a great time when one of them realizes she doesn't hear anything from the boys upstairs. She decides to go and check on them. When she gets up to the top deck, she finds all of the boys frozen in fear, staring straight ahead, each clutching the seat in front of them. "Whoa, whoa -- what's going on here? We're having a GREAT time downstairs!" One of the boys replies through chattering, frightened teeth, "Yeah, but you girls have a driver!" _____________________________________________________
______________________________________________________ >From Bonnie: During a visit to a military medical clinic, I was sent to the lab to have blood drawn. The technician there was friendly and mentioned that his mood improved every day because he was due to leave the service in two months. As he applied the tourniquet on my arm, he told me that taking the blood wouldn't hurt much. Then, noticing my Air Force T-shirt he asked me what my husband did. When I replied that he was a recruiter, the technician smiled slyly and said, "This might hurt a little more than I thought." ______________________________________________________ Thanks to dad for this picture.
This one bloomed today Tomorrow I'll have a picture of his Echinopsis, the tall night-bloomer. _____________________________________________________

If you like the Humor Letter, please vote!
Thanks for your votes!

______________________________________________________ Reported by Moe
An INTERNATIONAL BONEHEAD AWARD has been earned by
Lydia Marie Cormaney, 23, Gillette, Wyoming Wyoming college student caught shoplifting from Walmart said she was studying kleptomania A Wyoming college student who told officers she was working on a term paper on kleptomania after she was caught shoplifting faces three felony charges. The Gillette News Record reports 23-year-old Lydia Marie Cormaney was arrested on June 5 after trying to leave Walmart with nearly $1,900 worth of merchandise. Court records say investigators later found thousands of dollars' worth of stolen items in her dorm room at Gillette College. Cormaney told officers she began shoplifting after being forced to move into a new dorm room, away from her roommate who had many of the household items. She said she was caught once when she tried to leave Walmart with three flat-screen televisions. Cormaney made an initial court appearance on June 8 and did not enter a plea. A preliminary hearing is set for Wednesday. ______________________________________________________ Tech Support Pits From: Randall Re: Stuttering video Dear Webby, Hope your eyes are doing better these days. I just got a new computer about a month ago and since that day when i try to play a video, it plays for about 10 or 15 seconds and then it seems to start clocking and then it starts again and about a minute later it does the same thing. iĀ have tried to change the setup for the video but to no avail....i just don't understand. could it be the speed of my internet connection doing this? any assistance will be greatly appreciated. Randall Dear Randall Yes, that is the speed of your connection. There is nothing you can do on your side. You can try stuttering it through once, then playing it again and hope your computer cached it all and is then playing it from the cache. Forget streaming video like online cooking courses or sermons. The stuttering will ruin them. Consider upgrading your connection to DSL, if you can. If you have neighbors close by, you can set up a wifi and sell them a share for half of your connection cost. They won't get into your computer, but will be able to use your DSL as if they were a family member in the next room. Unless they have kids, who download huge movies, you won't notice any slowdown. Have FUN! DearWebby
A man from Edinburgh wrote to an English editor, "If you don't stop printing those derogatory Scottish jokes, most of which imply we're cheap, I'm going to quit stealing your stupid magazine."
| | |
| --- | --- |
| If you can help with the cost of the Humor Letter, please donate what you can! | |
Daily tip from Thriftyfun.com Japanese Style Fried Chicken (Karaage) By attosa [334 Posts, 1,543 Comments] Karaage (pronounced kara-ah-geh) is a super yummy Japanese style fried chicken. It has always been my favourite as far as fried foods. You can have them as an appetizer, but we eat them as one of many little dishes when we make Japanese food. It's delightful with a squeeze of lemon and superfine powdered salt. Total Time: 30 minutes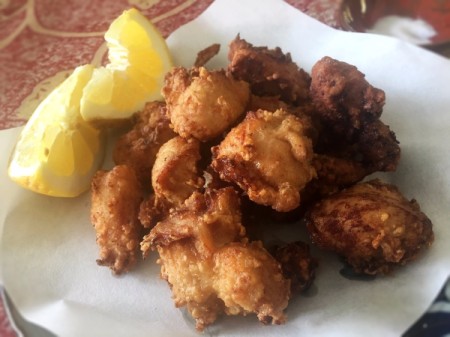 Ingredients: 1 lb boneless skinless chicken thighs cut into 1 inch chunks 2 Tbsp soy sauce 2 tsp grated fresh ginger 2 Tbsp Mirin or Japanese sake (or any rice wine or dry sherry) 1/4 cup corn or potato starch 1/4 cup all purpose flour oil for frying lemon wedges Steps: In a plastic bag or in a bowl, add chicken, soy sauce, and ginger and toss until chicken is thoroughly coated in marinade. Refrigerate for at least 30 minutes and up to 8 hours. Heat oil in a large pot or wok over high heat until it reaches 350F. Whisk cornstarch and flour in a bowl. Add cornstarch and flour mixture to chicken pieces until well coated. Carefully add chicken to oil one at a time, making sure not to crowd the pot. Cook in batches, stirring occasionally, for 5 to 7 minutes each batch. Drain on a paper towel. Serve immediately, garnished with lemon slices and a side of powdered salt. Enjoy! Keep a metal lid handy while the oil is heating, and don't go checking your email in the meantime. Oil fires are harmless if you have a metal lid to put onto the pot, but will destroy your home if you try to use water to put the fire out. Just put the metal lid on the pot, turn off the burner and with electrical stoves, move the pot to a cool area of the stove top. Then go outside for five minutes. Everything will be fine. Any other method to deal with oil fires is stupid and often suicidal. Keep a metal lid handy when using oil for deep frying! I don't want to lose subscribers! Here you can see a brave firefighter demonstrating what happens with different methods of dealing with an oil fire. Have FUN! DearWebby ____________________________________________________
| | |
| --- | --- |
| | Dances with Deer |
____________________________________________________ >From Liz: My husband is wonderful with our baby daughter, but often he turns to me for advice. Recently, I was in the shower when he poked his head in to ask, "What should I feed Lily for lunch?" "That's up to you," I replied. "There's all kinds of food. Why don't you pretend I'm not at home?" A few minutes later, my cell phone rang. I answered it to hear my husband asking, "Yeah, hi, Honey. Uh...what should I feed Lily for lunch?" ___________________________________________________
| | |
| --- | --- |
| | A town where the dead outnumber the living. |
>From Linda While I was shopping in the mall with my three children, a display in the window of a lingerie store caught my eye. "Do you think Daddy would like this?" I asked the kids, as I pointed to the lacy pyjamas with matching robe. "No way," my horrified six-year-old son replied. "Daddy would never wear that!"
Ophelia Dingbatter's NewsNo sermon and not suitable for church, just jokes and fun for grownups. Read it on-line or subscribe. If you subscribe, look for the double opt-in confirmation request.

____________________________________________________ Two little boys in first grade were chosen to be the leads in their first school play. It was to be a Shakespearean play. The first boy was to say "My fair maiden... I have come to snatch a kiss and fill your soul with hope." The second little boy was to reply by saying, "Hark, a pistol shot." Well, on opening night in the school auditorium, the two little boys were a bit nervous, knowing that all the seats were going to be filled with grown ups. The teacher told them to take their places on the stage and to remember to speak very loud as soon as the curtain goes up. The curtain rose and looking out upon the audience the two boys were terrified. They stood there staring out at the audience, frozen. So the teacher whispered for them to begin. The first boy yelled out these unforgettable words: "My fair maiden... I have come to kiss your snatch!! And fill your hole with soap." The second boy yelled..."Hark! A shistol pot! A postle shidd! A shiddle pot!" He turned and while fleeing the stage screamed: "AAAAARGH! I never wanted to be in this stupid play anyway!." The audience was howling.

____________________________________________________

Today, on June 15, in
1215 King John of England put his seal on the Magna Carta. 

1381 The English peasant revolt was crushed in London. 

1389 Ottoman Turks crushed Serbia in the Battle of Kosovo. 

1607 Colonists in North America completed James Fort in
Jamestown, VA. 

1667 Jean-Baptiste Denys administered the first fully-
documented human blood transfusion. He successfully transfused
the blood of a sheep to a 15-year old boy. 

1752 Benjamin Franklin experimented by flying a kite during a
thunderstorm. The result was a little spark that showed the
relationship between lightning and electricity. 

1775 George Washington was appointed head of the Continental
Army by the Second Continental Congress. 

1844 Charles Goodyear was granted a patent for the process
that strengthens rubber. 

1846 The United States and Britain settled a boundary dispute
concerning the boundary between the U.S. and Canada, by
signing a treaty. 

1864 An order to establish a military burial ground was signed
by Secretary of War Edwin M. Stanton. The location later
became known as Arlington National Cemetery. 

1866 Prussia attacked Austria. 

1877 Henry O. Flipper became the first African American to
graduate from the U.S. Military Academy at West Point. 

1898 The U.S. House of representatives approved the annexation
of Hawaii. 

1909 Benjamin Shibe patented the cork center baseball. 

1911 The Computing-Tabulating-Recording Co. was incorporated
in the state of New York. The company was later renamed
International Business Machines (IBM) Corp. 

1917 Great Britain pledged the release of all the Irish
captured during the Easter Rebellion of 1916. 

1919 Captain John Alcock and Lt. Arthur W. Brown won $50,000
for successfully completing the first, non-stop trans-Atlantic
plane flight. 

1938 Johnny Vandemeer (Cincinnati Reds) pitched his second
straight no-hitter. 

1940 The French fortress of Verdun was captured by Germans. 

1944 American forces began their successful invasion of Saipan
during World War II. 

1947 The All-Indian Congress accepted a British plan for the
partition of India. 

1948 Soviet authorities announced that the Autobahn would be
closed indefinitely "for repairs", cutting off Berlin.

1958 Greece severed military ties to Turkey because of the
Cypress issue. 

1964 The last French troops left Algeria. 

1978 King Hussein of Jordan married 26-year-old American Lisa
Halaby, who became Queen Noor. 

1981 The U.S. agreed to provide Pakistan with $3 billion in
military and economic aid from October 1982 to October 1987. 

1982 In the capital city of Stanley, the Falklands war ended
as Argentine troops surrendered to the British. 

1983 The U.S. Supreme Court reinforced its position on
abortion by striking down state and local restriction on
abortions. 

1986 Pravda, the Communist Party newspaper, reported that the
chief engineer of the Chernobyl nuclear plant was dismissed
for mishandling the incident at the plant. 

1992 It was ruled by the U.S. Supreme Court that the
government could kidnap criminal suspects from foreign
countries for prosecution. 

1992 U.S. Vice President Dan Quayle instructed a student to
spell "potato" with an "e" on the end during a spelling bee.
He had relied on a faulty flash card that had been written by
the student's teacher. 

1994 Israel and the Vatican established full diplomatic
relations. 

1999 South Korean naval forces sank a North Korean torpedo
boat during an exchange in the disputed Yellow Sea. 

2017  smiled.
[ view entry ]
( 7 views ) |
permalink
|
print article
|
( 3 / 711 )
---
<<First
<Back
| 20 | 21 | 22 | 23 | 24 | 25 | 26 | 27 | 28 | 29 |
Next>
Last>>