Good Morning, ,
Today is Tuesday, June 20

If you are wondering how Eratosthenes calculated the 
circumference of the Earth so exactly, check out Noella's
video today.

Have Fun!
Dearwebby

Todays Bonehead Award:
100-pound Jacksonville man slips out of handcuffs,
climbs through car divider window, steals police car
 Boneheads
______________________________________________________
Today, June 20 in
1977 The Trans-Alaska Pipeline began operation. Still works just fine.
See More of what happened on this
day in history.
______________________________________________________

| | |
| --- | --- |
| If you can help with the cost of the Humor Letter, please donate what you can! | |
______________________________________________________ Ask yourself whether you are happy and you cease to be so. --- John Stuart Mill (1806 - 1873) If only we'd stop trying to be happy we could have a pretty good time. --- Edith Wharton (1862 - 1937) Imagination is more important than knowledge... --- Albert Einstein (1879 - 1955) ______________________________________________________ If you like the Humor Letter, please vote!
______________________________________________________ An elderly gentlemen went in for his annual physical exam. The doctor said, "You're in incredible shape. How old are you again?" The man replied, "I am 78." The doctor exclaimed, "Wow, 78. How do you stay so healthy? You look like a 60 year old." The man explained, "Well, my wife and I made a pact when we got married that whenever she got mad she would go into the kitchen and cool off and I would go outside to settle down." "What does that have to do with it?" asked the doctor. The man sighed, "I've pretty much lived an outdoor lifestyle." _____________________________________________________
______________________________________________________ Catherine, a RN, was unhappy with her job, so she submitted her resignation. She was sure she'd have no trouble finding a new position, because of the nursing shortage in her area. She e-mailed cover letters to dozens of potential employers and attached her resume to each one. Two weeks later, Catherine was dismayed and bewildered that she had not received even one request for an interview. Finally she received a message from a prospective employer that explained the reason she hadn't heard from anyone else. It read: "Your resume was not attached as stated. I do, how- ever, want to thank you for the vegetable lasagna recipe." ______________________________________________________
_____________________________________________________

If you like the Humor Letter, please vote!
Thanks for your votes!

______________________________________________________
An INTERNATIONAL BONEHEAD AWARD has been earned by
Shawn Tippins, 32, Listed sex offender, (Lewd or Lascivious Battery; Sex With Victim 12 To 15) Jacksonville, Floriduh 100-pound Jacksonville man slips out of handcuffs, climbs through car divider window, steals police car A Camden County Sheriff's Office patrol car was wrecked Friday night after a suspect, seated in the back seat of the vehicle in handcuffs, managed to steal the vehicle. According to the arrest report, Shawn Tippins of Jacksonville, was stopped by officers at Bedell Ave and West Fourth Street in Camden County for driving under the influence. The Camden County Sheriff's Office arrest report said the deputy questioned Tippins and asked him to perform a walk-and- turn test, which Tippins wasn't able to complete. Tippins refused a breath test from the deputy who then placed him under arrest. According to the report, Tippins began yelling at another deputy. so he was led to the back of a patrol vehicle, still handcuffed, and placed in the back seat. The deputy said he cracked the center divider in the patrol car in order to allow air conditioning to reach Tippins. The arrest report said that Tippins, listed as 5-foot-2 and 100 pounds, slipped the handcuffs, climbed through the center divider and drove away in the patrol car at a high rate of speed. Tippins wrecked multiple cars and caused significant damage to the patrol car he stole, deputies said. After a chase, Tippins was recaptured and transported to jail. Tippins faces 19 charges including theft of a police vehicle, improper driving, reckless driving, aggressive driving, and unlawful use of a vehicle. ______________________________________________________ Tech Support Pits From: Joy Re: Commie Icons Dear Webby, I let Gramma send some postcards from my computer, and now it's haunted! I had all my work icons arranged just right along the left margin, nice and tight in clusters for different projects, some of them slightly overlapping to save space but still accessible. Now they are all in rigid formation, all apart, like North Korean soldiers, and when I drag them to where they shold be, they jump back! HELP! Joy Dear Joy Gramma seems to have accidentally turned on "Auto-Arrange", one of the least useful features as far as power users are concerned. Just right-click on any blank area on the desktop, choose ARRANGE ICONS, and take the checkmark off "Auto-Arrange". Done. Now they will stay where you put them. Unfortunately, that won't put the icons back where they belong, but at least now they will stay where you put them. Have FUN! DearWebby
Judge to convict: "The prisons are all full,so I'm sentencing you to five years in the waiting room at the department of motor vehicles."
| | |
| --- | --- |
| If you can help with the cost of the Humor Letter, please donate what you can! | |
Daily tip from Thriftyfun.com Guide Growing Feverfew By ShirleyE [182 Posts, 107 Comments]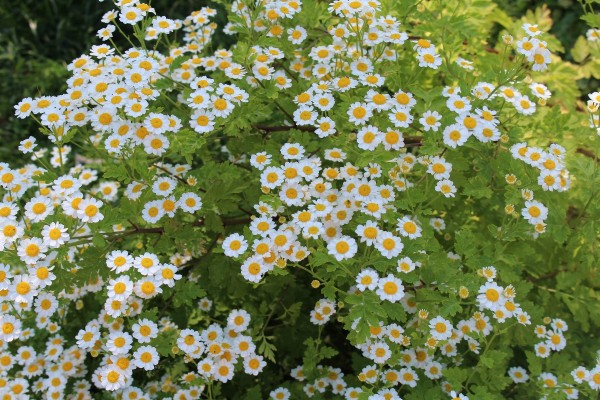 Feverfew is a type of chrysanthemum and spreads like wildfire in our garden and we have to weed some of it out, but it is a very pretty plant. It is also medicinal, containing salicylic acid (the stuff aspirin is made of) and therefore said to be good for headaches. Not that I am sure I would take it because the salicylic acid makes it taste exceedingly bitter. Maybe best keep to manufactured aspirin so you know the dose you are taking. ____________________________________________________
| | |
| --- | --- |
| | How Eratosthenes estimated the circumference of the Earth |
____________________________________________________ The weather was very hot and pastor Fred wanted desperately to take a dive in a nearby lake. Having forgotten to pack a swimming suit, he chose to skinny dip. After some delightful minutes of cool swimming, a pair of middle-aged ladies walked onto the shore in his direction. He panicked, got out of the water and grabbed a bucket lying in the sand nearby. He strategically positioned the bucket and sighed with relief. The ladies got nearby and looked at him. He felt awkward and wanted to move. Then one of the ladies said: "You know, I have a special gift, I can read minds." "Impossible," said the embarrassed pastor. "You can't really know what I think!" She said: "Yes, I do know. Right now I bet you think that the bucket you're holding has a bottom." ___________________________________________________
| | |
| --- | --- |
| | I don't think I want one of these as a pet! |
A little girl was wearing one of those Medical Alert bracelets. Someone asked her what the bracelet was for. She replied, "I'm allergic to nuts and eggs." The person asked, "Are you allergic to cats?" The girl said, "I don't know....I don't eat cats."
Ophelia Dingbatter's NewsNo sermon and not suitable for church, just jokes and fun for grownups. Read it on-line or subscribe. If you subscribe, look for the double opt-in confirmation request.

____________________________________________________ BASIC LAWS OF EMPLOYMENT 1. If you're unable to get your work done in the first 24 hours, work nights. 2. Never become irreplaceable. If you can't be replaced, you can't be promoted. 3. After any salary increase, you will have less money at the end of the month than you did before. 4. You can go anywhere you want if you look serious and carry a clipboard. 5. Whenever bosses talk about productivity improvements, they're never talking about themselves. 6. To err is human, to forgive is not our policy. 7. If at first you don't succeed, try again. Then quit. There's no use being a damn fool about it. 8. A pat on the back is only a few inches from a kick in the ass. 9. If you're good, you'll be assigned all the work. If you're really good, you'll know how to get out of it. 10. When you aren't sure what to do, walk fast and look worried. 11. No matter how much you do, you never do enough. 12. Consume one live toad first thing in the morning and nothing worse will happen to you the rest of the day. 13. If it wasn't for the last minute, nothing would get done.

____________________________________________________

Today, on June 20, in
0451 Roman and Barbarian warriors brought Attila's army to a
halt at the Catalaunian Plains in eastern France. 

1397 The Union of Kalmar united Denmark, Sweden, and Norway
under one monarch. 

1756 In India, 150 British soldiers were imprisoned in a cell
that became known as the "Black Hole of Calcutta." 

1791 King Louis XVI of France was captured while attempting to
flee the country in the so-called Flight to Varennes. 

1793 Eli Whitney applied for a cotton gin patent. He received
the patent on March 14. The cotton gin initiated the American
mass-production concept. 

1837 Queen Victoria ascended the British throne following the
death of her uncle, King William IV. 

1898 The U.S. Navy seized the island of Guam enroute to the
Phillipines to fight the Spanish. 

1910 Mexican President Porfirio Diaz proclaimed martial law
and arrested hundreds. 

1923 France announced it would seize the Rhineland to assist
Germany in paying its war debts. It did not go over well.

1941 The U.S. Army Air Forces was established, replacing the
Army Air Corps. The Army Air Forces were abolished with the
creation of the United States Air Force in 1947. 

1943 Race-related rioting erupted in Detroit. Federal troops
were sent in two days later to end the violence that left more
than 30 dead. 

1947 Benjamin "Bugsy" Siegel was murdered in Beverly Hills,
CA, at the order of mob associates angered over the soaring
costs of his project, the Flamingo resort in Las Vegas, NV. 

1963 The United States and Soviet Union signed an agreement to
set up a hot line communication link between the two
countries, the famous "Red Phone".

1966 The U.S. Open golf tournament was broadcast in color for
the first time. 

1967 Muhammad Ali was convicted in Houston of violating
Selective Service laws by refusing to be drafted. The U.S.
Supreme Court later overturned the conviction. 

1977 The Trans-Alaska Pipeline began operation. Still works
just fine.

1979 ABC News correspondent Bill Stewart was shot to death in
Managua, Nicaragua, by a member of President Anastasio
Somoza's national guard. 

1983 The U.S. Supreme Court ruled that employers must treat
male and female workers equally in providing health benefits
for their spouses. 

1997 The tobacco industry agreed to a massive settlement in
exchange for major relief from mounting lawsuits and legal
bills. 

2002 The U.S. Supreme Court ruled that the execution of
mentally retarded murderers was unconstitutionally cruel. The
vote was 6 in favor and 3 against. 

2017  smiled.
[ view entry ]
( 7 views ) |
permalink
|
print article
|
( 2.9 / 515 )
---
<<First
<Back
| 20 | 21 | 22 | 23 | 24 | 25 | 26 | 27 | 28 | 29 |
Next>
Last>>