Good Morning, ,
Today is Sunday, June 25

Have Fun!
Dearwebby

Todays Bonehead Award:
Florida woman got 20 years for trying to hire a 
killer for ex husband
 Boneheads
______________________________________________________
Today, June 25 in
1867 Lucien B. Smith patented the first barbed wire. 
That opened the West for cattle farming.
See More of what happened on this
day in history.
______________________________________________________

| | |
| --- | --- |
| If you can help with the cost of the Humor Letter, please donate what you can! | |
______________________________________________________ If a dog jumps in your lap, it is because he is fond of you; but if a cat does the same thing, it is because your lap is warmer. --- Alfred North Whitehead (1861 1947) We confess our little faults to persuade people that we have no large ones. --- Francois de La Rochefoucauld ______________________________________________________ If you like the Humor Letter, please vote!
______________________________________________________ The mother of three notoriously unruly youngsters was asked whether or not she'd have children if she had it to do over again. "Sure," she replied, "but not the same ones." _____________________________________________________
______________________________________________________ A preacher was completing a temperance sermon with great expression he said, "If I had all the beer in the world, I'd take it and throw it into the river." With even greater emphasis he said, "And if I had all the wine in the world, I'd take it and throw it into the river." And then finally, he said, "And if I had all the whiskey in he world, I'd take it and throw it into the river." He sat down. The head elder then stood and announced, "For our closching schong, let usch sching h-ick, ahem Hymn 365, "Schall We Gather at the Rrrriverrrrr!" ______________________________________________________ Find the cat!
_____________________________________________________

If you like the Humor Letter, please vote!
Thanks for your votes!

______________________________________________________ Reported by the Bausell Sailor
An INTERNATIONAL BONEHEAD AWARD has been earned by
Rachael Leahy, 35, in jail, Florida Florida woman gets 20 years for plotting to have ex-husband killed A Florida woman has been sentenced to 20 years in prison for trying to hire someone to kill her ex-husband. Rachael Leahy, 35, was sentenced Monday. She pleaded no contest last month to criminal solicitation to commit murder. Leahy spoke with an undercover sheriff's detective whom she believed was a hit man in August 2016. She told the detective that her ex-husband could be kidnapped and taken to another country and made into a sex slave. She also suggested that he could die in an apparent accident, like a fire or drowning. Authorities said Leahy wanted her ex-husband gone so she could have custody of their children. She told the detective she could pay him $5,000 after collecting on her ex-husband's life insurance policy. ______________________________________________________ Tech Support Pits From: Cookie Re: Stop automatic updates Dear Webby, Good Morning 'Great Guru' of computers! Can you please explain to me how I stop Microsoft from automatically sending the little shield to my taskbar to download updates. I would like to decide myself when & if I want to update. (Bet you thought I was smart enough to figure this out on my own, huh? ;}) Thanks Webby...I sure look forward to and enjoy your great site. Wish there were more like yours to enjoy but.... we all know there is only one Webby!! Have a wonderful day, Cookie Dear Cookie Apparently you have not been cussing at Microsoft and threaten them with dire consequences, so they shuffled around the user interface, for no reason other than to annoy you. (And a few Million other people too!) Click on START Control Panel System and Security Windows Update And in there set your options. Have FUN! DearWebby
A man sued his wife for divorce. He told the judge, "Your honor, my wife is so immature, she barges in while I'm taking a bath and sinks all my boats!"
| | |
| --- | --- |
| If you can help with the cost of the Humor Letter, please donate what you can! | |
Daily tip from Thriftyfun.com Chicken Spring Rolls with Peanut Dipping Sauce By attosa [339 Posts, 1,593 Comments]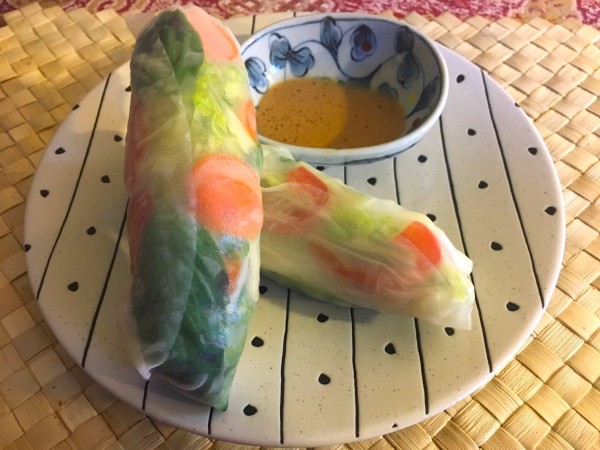 I love making Vietnamese spring rolls, especially for summertime picnics and potlucks. They look pretty fancy but they are so easy to make. You can use any number of fillings for yours. Just like any recipe, it's fun to stray from the usual to suit your tastes! Total Time: 30 minutes Yield: 10 spring rolls Ingredients: 10 rice wrappers 1 cup cooked shredded chicken 1 Persian cucumber, julienned 1 medium tomato, sliced 1/4 carrot, sliced thin 3 whole green onions, julienned 1 cup lettuce, shredded 1/2 cup cilantro, chopped 1/2 cup Thai basil leaves 1 cup bean sprouts 1/3 cup smooth peanut butter 1 garlic clove, grated 2 Tbsp fresh lime juice 1 Tbsp soy sauce 1 Tbsp fish sauce (or more soy sauce) 1 tsp sugar 1/3 cup water Steps: Fill a large bowl with warm water. Dip one rice wrapper into the water for 1 second to soften. Lay rice wrapper flat on a work surface. Start laying down your more colourful fillings in the center in a row. I started with carrot, tomato and basil. Add a little bit of each one of the other fillings, leaving about 1.5 inches uncovered on each side. Fold sides inward, then tightly roll the wrapper. It will stick to itself to seal. Repeat with the rest of the wrappers and fillings. To make the dipping sauce, in a bowl, mix together the peanut butter, garlic, lime juice, soy sauce, sugar, and water until it's smooth. Add salt and pepper to taste. Serve with the rolls as a dip and enjoy! Don`t get spooked by her huge number of ingredients! You can think of it as a fridge-cleaner. Use whatever you got handy. The game is reverse fortune cookie. Make everyone guess what is in the rolls and slide their guess ballot into a fortune cookie and pass it on to the person on their right. If nobody guesses it, the cook wins. There are no limits to what you can use. Leftover Macaroni and cheese with ham and pickle bits added, and fine chopped onion and colorful sweet mini peppers is one example. Egg salad with very fine cut spicy, colorful peppers is another example. Tuna salad, if you have more salad than bread, cottage cheese and well drained peach cubes, anything! The only rules are that it is finger food, can be eaten while driving, and does not run or drip into your sleeve. Any suitable chip dip works fine. In a pinch, hand mix almond butter and cream cheese and a pinch of salt. Have FUN! DearWebby ____________________________________________________
| | |
| --- | --- |
| | What spooked the deer? |
____________________________________________________ A group of senior citizens were exchanging notes about their ailments. "My arm is so weak I can hardly hold this coffee cup." "Yes, I know. My cataracts are so bad I can't see to pour the coffee." "I can't turn my head because of the arthritis in my neck." "My blood pressure pills make my dizzy." "I guess that's the price we pay for getting old." "Well, it's not all bad. We should be thankful that we can still drive!" ___________________________________________________
| | |
| --- | --- |
| | Standing above the clouds. |
A man sued his wife for divorce. He told the judge, "Your honor, my wife is so immature, she barges in while I'm taking a bath and sinks all my boats!"
Ophelia Dingbatter's NewsNo sermon and not suitable for church, just jokes and fun for grownups. Read it on-line or subscribe. If you subscribe, look for the double opt-in confirmation request.

____________________________________________________ Little was eating breakfast one morning and got to thinking about things. "Mommy, mommy, why has daddy got so few hairs on his head?" asked his mother. "He thinks a lot," replied his mother, pleased with herself for coming up with a good answer to her husband's baldness. Or she was until thought for a second and said, "Mom, I`m sure glad you don`t do any thinking. You would look silly without hair."

____________________________________________________

Today, on June 25, in
0841 Charles the Bald and Louis the German defeated Lothar at
Fontenay. 

1080 At Brixen, a council of bishops declared Pope Gregory to
be deposed and Archbishop Guibert as antipope Clement III. 

1658 Aurangzeb proclaimed himself emperor of the Moghuls in
India. 

1767 Mexican Indians rioted as Jesuit priests were ordered
home. 

1864 Union troops surrounding Petersburg, VA, began building a
mine tunnel underneath the Confederate lines. 

1867 Lucien B. Smith patented the first barbed wire. 

1868 The U.S. Congress enacted legislation granting an eight-
hour day to workers employed by the Federal government. 

1870 In Spain, Queen Isabella abdicated in favor of Alfonso
XII. 

1876 Lt. Col. Custer and the 210 men of U.S. 7th Cavalry were
killed by Sioux and Cheyenne Indians at Little Big Horn in
Montana. The event is known as "Custer's Last Stand." 

1876 In Philadelphia, PA, Alexander Graham Bell demonstrated
the telephone for Sir William Thomson (Baron Kelvin) and
Emperor Pedro II of Brazil at the Centennial Exhibition. 

1906 Pittsburgh millionaire Harry Kendall Thaw, the son of
coal and railroad baron William Thaw, shot and killed Stanford
White.

1910 The U.S. Congress authorized the use of postal savings
stamps. 

1917 The first American fighting troops landed in France. 

1920 The Greeks took 8,000 Turkish prisoners in Smyrna. 

1921 Samuel Gompers was elected head of the AFL for the 40th
time. 

1938 Gaelic scholar Douglas Hyde was inaugurated as the first
president of the Irish Republic. 

1941 Finland declared war on the Soviet Union after asking
Germany for help.

1946 Ho Chi Minh traveled to France for talks on Vietnamese
independence. 

1948 The Soviet Union tightened its blockade of Berlin by
intercepting river barges heading for the city. 

1950 North Korea invaded South Korea initiating the Korean
War. 

1951 In New York, the first regular commercial color TV
transmissions were presented on CBS using the FCC-approved CBS
Color System. The public did not own color TV's at the time. 

1959 The Cuban government seized 2.35 million acres under a
new agrarian reform law. 

1962 The U.S. Supreme Court ruled that the use of unofficial
non-denominational prayer in public schools was
unconstitutional. 

1964 U.S. President Lyndon Johnson ordered 200 naval personnel
to Mississippi to assist in finding three missing civil
rights
workers. 

1970 The U.S. Federal Communications Commission handed down a
ruling (35 FR 7732), making it illegal for radio stations to
put telephone calls on the air without the permission of the
person being called. 

1973 White House Counsel John Dean admitted that U.S.
President Nixon took part in the Watergate cover-up. 

1975 Mozambique became independent. Samora Machel was sworn in
as president after 477 years of Portuguese rule. 

1981 The U.S. Supreme Court decided that male-only draft
registration was constitutional. 

1985 New York Yankees officials enacted the rule that mandated
that the team's bat boys were to wear protective helmets
during all games. 

1986 The U.S. Congress approved $100 million in aid to the
Contras fighting in Nicaragua. 

1987 Austrian President Kurt Waldheim visited Pope John Paul
II at the Vatican. The meeting was controversial due to
allegations that Waldheim had hidden his Nazi past. 

1990 The U.S. Supreme Court upheld the right of an individual,
whose wishes are clearly made, to refuse life-sustaining
medical treatment. "The right to die" decision was made in the
Curzan vs. Missouri case. 

1991 The last Soviet troops left Czechoslovakia 23 years after
the Warsaw Pact invasion. 

1991 The Yugoslav republics of Slovenia and Croatia declared
their independence from Yugoslavia. 

1993 Kim Campbell took office as Canada's first woman prime
minister. She assumed power upon the resignation of Brian
Mulroney. 

1997 The Russian space station Mir was hit by an unmanned
cargo vessel. Much of the power supply was knocked out and the
station's Spektr module was severely damaged. 

1997 U.S. air pollution standards were significantly tightened
by U.S. President Clinton. 

1998 The U.S. Supreme Court rejected the line-item veto
thereby striking down presidential power to cancel specific
items in tax and spending legislation. 

1998 The U.S. Supreme Court ruled that those infected with HIV
are protected by the Americans With Disabilities Act. 

1998 Microsoft's "Windows 98" was released to the public. 

1999 Germany's parliament approved a national Holocaust
memorial to be built in Berlin. 

2000 U.S. and British researchers announced that they had
completed a rough draft of a map of the genetic makeup of
human beings. The project was 10 years old at the time of the
announcement. 

2000 A Florida judge approved a class-action lawsuit to be
filed against American Online (AOL) on behalf of hourly
subscribers who were forced to view "pop-up" advertisements. 

2017  smiled.
[ view entry ]
( 10 views ) |
permalink
|
print article
|
( 2.9 / 543 )
---
<<First
<Back
| 20 | 21 | 22 | 23 | 24 | 25 | 26 | 27 | 28 | 29 |
Next>
Last>>