Good Morning, ,
Today is Tuesday, June 27

Have Fun!
Dearwebby

Todays Bonehead Award:
Robber falls on head off van roof after tasered at 
end of police chase, now faces felony charges
 Boneheads
______________________________________________________
Today, June 27 in
1954 The world's first atomic power station opened at 
Obninsk, near Moscow. 
See More of what happened on this
day in history.
______________________________________________________

| | |
| --- | --- |
| If you can help with the cost of the Humor Letter, please donate what you can! | |
______________________________________________________ For three days after death hair and fingernails continue to grow but phone calls taper off. --- Johnny Carson (1925 - 2005) My mother had a great deal of trouble with me, but I think she enjoyed it. --- Mark Twain (1835 - 1910) ______________________________________________________ If you like the Humor Letter, please vote!
______________________________________________________ A couple trying to break into society hosted a dinner party. As the guests were enjoying their soup, the maid called the hostess from the table. The maid informed her that the wine had been enjoyed more than anticipated and a lot earlier than planned. So she jumped in the car and raced to the liquor store to get more and was in such a hurry on the way back that when she drove over the edge of the curb at the entrance or something near it, that she didn't even take the time to check what it was. Just before the maid was supposed to serve the main course, the maid again called the hostess to the kitchen. This time she told her that some time in the afternoon the cat had must have climbed on the kitchen table and eaten a large portion of the salmon's midsection. The hostess decided to fill the eaten portion with some canned salmon and other camouflage. As the guests were enjoying the fish, the maid called the hostess into the kitchen again, and announced while wringing her hands, "Madam, the cat is dead." The hostess and her husband informed the guests and suggested it might be best if everyone went to the hospital and had their stomachs pumped. Returning home, the couple asked the maid where she had put the cat. "It is still out on the driveway, where you ran over it on the way back from the liquor store." _____________________________________________________
______________________________________________________ Jeff went to the eye doctor. The receptionist asked him why he is there. Jeff complained, "I keep seeing spots in front of my eyes." The receptionist asks, "Have you ever seen a doctor?" and the man replies, "No, just spots." ______________________________________________________
_____________________________________________________

If you like the Humor Letter, please vote!
Thanks for your votes!

______________________________________________________ Reported by the Bausell Sailor
An INTERNATIONAL BONEHEAD AWARD has been earned by
Jameson McCarthy, Greenwood, Indiana Robber falls on head off van roof after tasered at end of police chase, now faces felony charges An armed robbery suspect fell off the top of a stolen van after police struck him with a Taser. Police were first called to the Greenwood Discount Tobacco store at U.S. 31 and Fry Rd., just south of the Greenwood Park Mall around 7:30 p.m. Thursday evening. A worker at the store said the business was robbed at gunpoint. Police said during the robbery, the clerk was pistol-whipped and the robbery suspect stole a customer's van. Police said they located the stolen van and chased it into the Whispering Trails neighborhood where the suspect drove through yards and almost hit other cars and houses. Police said the chase turned back onto Fry Road where the driver, later identified as Jameson McCarthy, revealed a gun to police. At the intersection of U.S. 31, the suspect hit another vehicle and then crashed into a pole. McCarthy then climbed out of the window and onto the roof of the van where he was confronted by police. Police shocked McCarthy with a Taser which resulted in a head- first fall off the van onto the ground below. McCarthy was treated at Eskenazi Hospital and was then taken to the Marion County jail on an unrelated charge. He was charged Friday in Johnson County on these new counts: 1. Robbery Resulting in Serious Bodily Injury Injury to someone other than a defendant 2. Robbery Taking property by force or threatening the use of force while armed 3. Criminal Confinement while armed with a deadly weapon 4. Unlawful Possession of a Firearm by Serious Violent Felon 5. Resisting Law Enforcement using a vehicle to commit the offense ______________________________________________________ Tech Support Pits From: Brad Re: File Types Dear Webby, I have a problem telling different files apart because I usually give them the same name if they belong to the same project. At one time they used to have different last names after the decimal point, but with the current version of Windows those are gone and I can't tell if a file is a picture or the text describing it. Help! Brad Dear Brad In Explorer click on TOOLS, FOLDER OPTIONS, VIEW and in there take the checkmark off "Hide extentions of known file types". Click on APPLY and OK. That will do the trick and show the extensions again. Have FUN! DearWebby
Steven confronted his boss and told him: "I think I deserve a raise. You know...there are three companies after me." "Is that so?" asked the manager. "What other companies are after you?" "Well...the electric company, the phone company, and the gas company."
| | |
| --- | --- |
| If you can help with the cost of the Humor Letter, please donate what you can! | |
Daily tip from Thriftyfun.com Mini Raspberry Cheesecakes By lalala... [827 Posts, 105 Comments]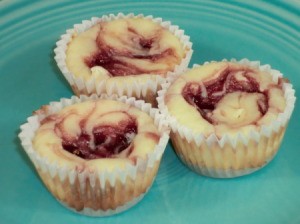 Ingredients: For the crust: 1 1/2 cups graham cracker crumbs 4 Tbsp. butter, melted 3 Tbsp. sugar For the filling: 2 lbs. cream cheese, room temperature 4 large eggs, room temperature 1 1/2 cups sugar pinch of salt 1 tsp. vanilla extract For the raspberry swirl: 6 oz. fresh raspberries 2 tbsp. sugar OR: raspberry jam, heated Directions: Preheat the oven to 325 degrees F. Line cupcake pans with paper liners. Place graham crackers in a large measuring cup and smash with your hand. (I put a baggie over my hand so that the crackers wouldn't poke me.) To ensure that all of the crumbs were small, I poured the crumbs into the baggie and smashed them more with the glass measuring cup. In a small bowl, combine the graham cracker crumbs, melted butter, and sugar. Using a fork, stir until well blended and all the dry ingredients are moistened. Put 1/2 Tbsp. of the mixture into each cupcake liner. Press firmly into the bottom. (I used a small medicine cup to evenly press the crumbs down.) Bake crusts for 5 minutes. Place on a cooling rack and allow to cool completely. To make the filling, place cream cheese in a bowl and beat on medium-high speed until fluffy. Add sugar and beat until smooth. Mix in the salt and vanilla. Add eggs one at a time, mixing well after each addition. Return the crusts to the muffin tin. Put 1 Tbsp. of filling into each muffin liner. To make puree filling: Combine raspberries and sugar in a blender or food processor. Process until smooth, then pour through a fine mesh sieve to remove the seeds. To use raspberry jam: Place approx. 1 cup of jam into a microwave-safe bowl and heat until runny. Drop 1/2 tsp. of warm jam into the center of each and using a toothpick swirl the jam into the filling. Bake 18 minutes, or until filling is set, rotating the pan halfway through baking. Check frequently at the end of the cook time and check with a toothpick. They will appear puffed up at first but will settle down as they cool. Transfer the cheesecakes to a wire cooling rack and let cool to room temperature. Transfer them to the refrigerator and chill for at least 4 hours before serving. This recipe makes A LOT of mini cheesecakes. You can freeze them and defrost to serve. Or you can make some minis and a batch of full-sized cupcake ones too (that's what I did!). To make cupcake sized cheesecakes: Prepare the crust mixture and cheesecake mixture using the same instructions as above. Use 1 Tbsp. crust mixture for each crust. Use 3 Tbsp. cheesecake filling per cheesecake. Use 1 1/2 tsp. jam (dropped in 3 spots) for each cheesecake. Bake for 32 minutes, or until filling is set, rotating pan halfway through. Check frequently at the end of cook time and check with a toothpick. Servings:approx. 96 minis, 32 full-size Prep Time:20 Minutes Cooking Time:approx. 18 Minutes By Laurel from Port Orchard, WA ____________________________________________________
| | |
| --- | --- |
| | Building a cedar strip canoe by hand |
____________________________________________________ One Sunday a priest announced he was passing out minature crosses made of palm leaves. "Put this cross in the room where your family argues most," he advised. "When you look at it, the cross will remind you that God is watching." When the parishoners were leaving church, a woman walked up to the priest, shook his hand and said, "I'll take five." ___________________________________________________
| | |
| --- | --- |
| | Why Knights fought snails in the margins of medieval books. |
A little girl was playing quietly while her mom and another lady friend were talking. The little girl let out a big fart. Her mother said "What do you say Suzy?", expecting the reply, "Excuse me." What the little girl said instead was: "Watch out, here comes another one!"
Ophelia Dingbatter's NewsNo sermon and not suitable for church, just jokes and fun for grownups. Read it on-line or subscribe. If you subscribe, look for the double opt-in confirmation request.

____________________________________________________ The Miracle Toddler Diet People are always on the lookout for a new diet. The trouble with most diets is that you don't get enough to eat (the starvation diet), you don't get enough variation (the liquid diet) or you go broke (the all-meat diet). Consequently, people tend to cheat of their diets, or quit after 3 days. Well, now there's the new Toddler Miracle Diet. Over the years you may have noticed that most two year olds are trim. Now the formula to their success is available to all in this new diet. You may want to consult your doctor before embarking on this diet, otherwise, you may be seeing him afterwards. Good Luck !!! DAY ONE Breakfast: One scrambled egg, one piece of toast with grape jelly. Eat 2 bites of egg, using your fingers; dump the rest on the floor. Take 1 bite of toast, then smear the jelly over your face and clothes. Lunch: Four crayons (any color), a handful of potato chips, and a glass of milk (3 sips only, then spill the rest). Dinner: A dry stick, two pennies and a nickel, 4 sips of flat Pepsi. Bedtime snack: Throw a piece of toast on the kitchen floor. DAY TWO Breakfast: Pick up stale toast from kitchen floor and eat it. Drink half bottle of vanilla extract or one vial of vegetable dye. Lunch: Eat a half tube of "Pulsating Pink" lipstick and a handful of Purina Dog Chow (any flavor). One ice cube, if desired. Afternoon snack: Lick an all-day sucker until sticky, take outside, drop in dirt. Retrieve and continue slurping until it is clean again. Then bring inside and drop on rug. Dinner: A rock or an uncooked bean, which should be thrust up your left nostril. Pour Grape Kool-Aid over mashed potatoes; eat with spoon. DAY THREE Breakfast: Two pancakes with plenty of syrup, eat one with fingers, rub in hair. Glass of milk; drink half, stuff other pancake in glass. After breakfast, pick up yesterdays sucker from rug, lick off fuzz, put it on the cushion of best chair. Lunch: Three matches, peanut butter and jelly sandwich. Spit several bites onto the floor. Pour glass of milk on table and slurp up. Dinner: Dish of ice cream, handful of potato chips, some red punch. Try to laugh some punch through your nose, if possible. FINAL DAY Breakfast: A quarter tube of toothpaste (any flavor), bit of soap, an olive. Pour a glass of milk over bowl of cornflakes, add half a cup of sugar. Once cereal is soggy, drink milk and feed cereal to dog. Lunch: Eat bread crumbs off kitchen floor and dining room carpet. Find that sucker and finish eating it. Dinner: A glass of spaghetti and chocolate milk. Leave meatball on plate. Stick of mascara for dessert. ____________________________________________________

Today, on June 27, in
0363 The death of Roman Emperor Julian brought an end to the
Pagan Revival. 

1693 "The Ladies' Mercury" was published by John Dunton in
London. It was the first women's magazine and contained a
"question and answer" column that became known as a "problem
page." 

1743 King George II of England defeated the French at
Dettingen, Bavaria, in the War of the Austrian Succession. 

1787 Edward Gibbon completed "The Decline and Fall of the
Roman Empire." It was published the following May. 

1801 British forces defeated the French and took control of
Cairo, Egypt. 

1847 New York and Boston were linked by telegraph wires. 

1871 The yen became the new form of currency in Japan. 

1885 Chichester Bell and Charles S. Tainter applied for a
patent for the gramophone. It was granted on May 4, 1886. 

1893 The New York stock market crashed. By the end of the year
600 banks and 74 railroads had gone out of business. 

1905 The battleship Potemkin succumbed to a mutiny on the
Black Sea. 

1918 Two German pilots were saved by parachutes for the first
time. 

1923 Yugoslav Premier Nikola Pachitch was wounded by Serb
attackers in Belgrade. 

1927 The U.S. Marines adopted the English bulldog as their
mascot. 

1929 Scientists at Bell Laboratories in New York revealed a
system for transmitting television pictures. 

1931 Igor Sikorsky filed U.S. Patent 1,994,488, which marked a
breakthrough in helicopter technology. 

1940 Robert Pershing Wadlow was measured by Dr. Cyril MacBryde
and Dr. C. M. Charles. They recorded his height at 8' 11.1."
He was only 22 at the time of his death on July 15, 1940. 

1942 The FBI announced the capture of eight Nazi saboteurs who
had been put ashore from a submarine on New York's Long
Island.

1944 During World War II, American forces completed their
capture of the French port of Cherbourg from the German army. 

1949 "Captain Video and His Video Rangers" premiered on the
Dumont Television Network. 

1950 Two days after North Korea invaded South Korea, U.S.
President Truman ordered the Air Force and Navy into the
Korean conflict. The United Nations Security Council had asked
for member nations to help South Korea repel an invasion from
the North. 

1954 The world's first atomic power station opened at Obninsk,
near Moscow. 

1955 The state of Illinois enacted the first automobile seat
belt legislation. 

1964 Ernest Borgnine and Ethel Merman were married. It only
lasted 38 days. 

1967 The world's first cash dispenser was installed at
Barclays Bank in Enfield, England. The device was invented by
John Sheppard-Barron. The machine operated on a voucher system
and the maximum withdrawal was $28. 

1967 Two hundred people were arrested during a race riot in
Buffalo, NY. 

1969 Patrons at the Stonewall Inn, a gay bar in New York
City's Greenwich Village, clashed with police. This incident
is considered to be the birth of the homosexual rights
movement. 

1972 Bobby Hull signed a 10-year hockey contract for
$2,500,000. He became a player and coach of the Winnipeg Jets
of the World Hockey Association. 

1973 Nixon vetoed a Senate ban on bombing Cambodia. 

1980 U.S. President Carter signed legislation reviving draft
registration. 

1984 The U.S. Supreme Court ruled that individual colleges
could make their own TV package deals. 

1985 Route 66 was officially removed from the United States
Highway System. 

1985 The U.S. House of Representatives voted to limit the use
of combat troops in Nicaragua. 

1986 The World Court ruled that the U.S. had broken
international law by aiding Nicaraguan rebels. 

1995 Qatar's Crown Prince Sheik Hamad bin Khalifa al-Thani
ousted his father in a bloodless palace coup. 

1998 An English woman was impregnated with her dead husband's
sperm after two-year legal battle over her right to the sperm.


2002 In the U.S., the Securities and Exchange Commission
required companies with annual sales of more than $1.2 billion
to submit sworn statements backing up the accuracy of their
financial reports. 

2005 In Alaska's Denali National Park, a roughly 70-million
year old dinosaur track was discovered. The track was form a
three-toed Cretaceous period dinosaur.

2017  smiled.
[ view entry ]
( 8 views ) |
permalink
|
print article
|
( 3 / 640 )
---
<<First
<Back
| 20 | 21 | 22 | 23 | 24 | 25 | 26 | 27 | 28 | 29 |
Next>
Last>>