Good Morning, ,
Today is Thursday, June 29

Thank you, Moe!!!
Thank you, Allene!

Have Fun!
Dearwebby

Todays Bonehead Award:


 Boneheads
______________________________________________________
Today, June 29 in
1917 The Ukraine proclaimed independence from Russia.
See More of what happened on this
day in history.
______________________________________________________

| | |
| --- | --- |
| If you can help with the cost of the Humor Letter, please donate what you can! | |
______________________________________________________ You get fifteen democrats in a room, and you get twenty opinions. --- Senator Patrick Leahy (1940 - ) I won't take my religion from any man who never works xcept with his mouth. --- Carl Sandburg (1878 - 1967) There are more important things in life than money, but they won't go out with you if you're broke. --- Hemingway ______________________________________________________ If you like the Humor Letter, please vote!
______________________________________________________ Thanks to Diana for this story: I had just moved into a new apartment and was having prob- lems with the mailman, who was delivering the previous tenant's mail to my address. Hoping to resolve the situation, I enlarged my name on the mailbox, but he still kept giving me the wrong letters. Finally, I left a note saying that he was delivering the mail incorrectly. The next day I went to the box to find this addition to my message: "Sir, I am delivering the mail correctly. You're just living at the wrong address." _____________________________________________________
______________________________________________________ At our local funeral home families are given the chance to chose the music they would like to enter the service to. One family asked to enter to Elvis Presley's hit, "Love me Tender." The day of the funeral arrived and the music was started ready for the family to walk in to the service. Unfortunately the wrong track number was entered into the CD player, and the family found themselves walking in to, "Return to Sender." ______________________________________________________ Thanks to Jo Requillas Bagadiong from "We Love Lighthouses"
Oryukdo Lighthouse in South Korea _____________________________________________________

If you like the Humor Letter, please vote!
Thanks for your votes!

______________________________________________________ Reported by the Bausell Sailor
An INTERNATIONAL BONEHEAD AWARD has been earned by
Alexander Shae Johnson, 22, Orlando, Florida TSA worker caught stealing cash from bag at Orlando airport Most of us have had valuables stolen by TSA employees, and of course they always stick together and deny it. Here finally one got caught. Let's hope he gets a judge, from whom TSA employees have stolen a camera or other valuables. A Transportation Security Administration employee has been arrested after video showed him stealing cash at a Florida airport. The Orlando Sentinel reports 22-year-old Alexander Shae Johnson was arrested on Thursday and records say he faces a third- degree felony grand theft charge. A passenger selected for a pat-down search while going through security at Orlando International Airport saw Johnson standing near her bag. Orlando police say she went through her bag afterward and realized cash was missing before noticing a bulge in Johnson's shirt pocket that turned out to be money. Johnson was arrested despite saying the cash was his, as video showed otherwise. The TSA said in a statement that Johnson was fired. Johnson was released on bail from the Orange County jail. ______________________________________________________ Tech Support Pits From: Glen Re: Lightning protection for DSL Dear Webby, We are moving to a hilltop and are going to be hit with lightning proabbly as often as the previous owner. I am isolating the power with an electric motor driven generator, so I am not worried about power, just data. What do you recommend to use for lightning protection for the phone and DSL line? Glen Dear Glen Hyperlink Tech makes heavy industrial grade phone line lightning protectors http://www.hyperlinktech.com/web/hgln_dsl.php That will take care of lightning strikes onto phone towers and phone lines. However, I would also add active lightning strike prevention to the building. First, get perfect grounding through metal water and gas lines, plus ground rods. Then put lightning brushes or fans (bundles of sharpened metal rods) every two feet on your roof top. Connect them to ground. They ionize the air and repell and divert lightning. Next put up a metal ham radio tower or any similar metal tower six to 12 feet from the house and 50% higher than the house. Ground that to a separate ground rod system that is not directly connected to the house grounding system. If you set it up like that, even if lightning is headed for your house, it will zig-zag over to the tower and leave the house alone. Have FUN! DearWebby
Dining out one evening I noticed some teenagers celebrating at a nearby table. When one girl pulled out a camera, I offered to take a picture of the group. After one photo I suggested taking another just in case the first one didn't turn out. "That's ok," she said as she took her camera back. "I always get double prints."
| | |
| --- | --- |
| If you can help with the cost of the Humor Letter, please donate what you can! | |
Daily tip from Thriftyfun.com Separate Spatulas When Washing By likekinds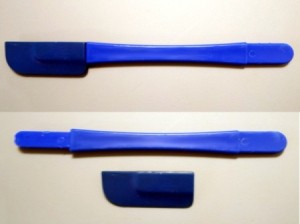 If you have spatulas with removable tips, It's best to separate them from the handles before washing. When washing the spatulas, water can get in the handle slot and remain there for a long time. This makes a good breeding ground for germs. ____________________________________________________
| | |
| --- | --- |
| | Dog is jealous of RoRo's "lovies" |
____________________________________________________ My friend David's colleague at a package-processing center was trapped in a small rest room by a faulty lock. When he was finally discovered, David and another worker were able to open the door with some difficulty. The lock was still jammed, so they blocked the door open while a maintenance worker was called. A bit later, David noticed the door was closed again. He jiggled the doorknob and a voice from inside called, "Get me out!" "Don't worry," David replied, "Maintenance should be sending somebody." "They did," said the voice. ___________________________________________________
| | |
| --- | --- |
| | I've eaten this before, it's good, and we have plenty growing all over our farm. |
Thanks to Kati for this story: To preface this joke: They started "Dumb Blonde jokes" so brunettes & redheads could understand them. I urgently needed a few days off work, but I knew the boss would not allow me to take a leave. I thought that maybe if I acted "CRAZY" then he would tell me to take a few days off. So I hung upside down on the ceiling and made funny noises. My co-worker (who's blonde) asked me what I was doing? I told her that I was pretending to be a light bulb so that the boss would think I was "CRAZY" and give me a few days off. A few minutes later the boss came into the office and asked "What are you doing?" I told him I was a light bulb. He said "You are clearly stressed out. Go home and recuperate for a couple of days." I jumped down and walked out of the office. When my co-worker (the blonde) followed me, the boss asked her "...And where do you think you're going?" She said, "I'm going home too, I can't work in the dark!"
Ophelia Dingbatter's NewsNo sermon and not suitable for church, just jokes and fun for grownups. Read it on-line or subscribe. If you subscribe, look for the double opt-in confirmation request.

____________________________________________________ A History professor was explaining how society's ideal of beauty changes with time. "Take Miss America in 1855," he noted. "She stood 5'1" tall, weighed 108 pounds, and had measurements of 30-25-36. How do you think she'd do in today's beauty contest?" "One student piped up, "Not very well! She'd be way too old!" ____________________________________________________

Today, on June 29, in
1236 Ferdinand III of Castile and Leon took Cordoba in Spain. 

1652 Massachusetts declared itself an independent commonwealth.


1767 The British Parliament approved the Townshend Revenue
Acts. The acts imposed import duties on glass, lead, paint,
paper and tea shipped to America. 

1776 The Virginia constitution was adopted and Patrick Henry
was made governor. 

1804 Privates John Collins and Hugh Hall of the Lewis and Clark
Expedition were found guilty by a court-martial consisting of
members of the Corps of Discovery for getting drunk on duty.
Collins received 100 lashes on his back and Hall received 50. 

1860 The first iron-pile lighthouse was completed at Minotís
Ledge, MA. 

1880 France annexed Tahiti. 

1888 Professor Frederick Treves performed the first
appendectomy in England. 

1903 The British government officially protested Belgian
atrocities in the Congo. 

1905 Russian troops intervened as riots erupted in ports all
over the country. Many ships were looted. 

1917 The Ukraine proclaimed independence from Russia. 

1925 Marvin Pipkin filed for a patent for the frosted electric
light bulb. 

1926 Fascists in Rome added an hour to the work day in an
economic efficiency measure. 

1932 Siamís army seized Bangkok and announced an end to the
absolute monarchy. 

1946 British authorities arrested more than 2,700 Jews in
Palestine in an attempt to end terrorism. 

1950 U.S. President Harry S. Truman authorized a sea blockade
of Korea. 

1951 The United States invited the Soviet Union to the Korean
peace talks on a ship in Wonson Harbor. 

1953 The Federal Highway Act authorized the construction of
42,500 miles of freeway from coast to coast. 

1954 The Atomic Energy Commission voted against reinstating Dr.
J. Robert Oppenheimer's access to classified information. 

1955 The Soviet Union sent tanks to Poznan, Poland, to put down
anti-Communist demonstrations. 

1966 The U.S. bombed fuel storage facilities near the North
Vietnamese cities of Hanoi and Haiphong. 

1967 Israel removed barricades, re-unifying Jerusalem. 

1972 The U.S. Supreme Court ruled that the death penalty could
constitute "cruel and unusual punishment." The ruling prompted
states to revise their capital punishment laws. 

1982 Israel invaded Lebanon. 

1987 Vincent Van Goghís "Le Pont de Trinquetaille" was bought
for $20.4 million at an auction in London, England. 

1995 The shuttle Atlantis and the Russian space station Mir
docked, forming the largest man-made satellite ever to orbit
the Earth. 

2007 The first generation Apple iPhone went on sale. 

2011 The state of Nevada passed the first law that permitted
the operation of autonomous cars on public roads. The law went
into effect on March 1, 2012 and did not permit the use of the
cars to the general public. Google received the first self-
driving vehicle license in the U.S. on May 4, 2012 in Nevada. 

2017  smiled.
[ view entry ]
( 13 views ) |
permalink
|
print article
|
( 3 / 611 )
---
<<First
<Back
| 20 | 21 | 22 | 23 | 24 | 25 | 26 | 27 | 28 | 29 |
Next>
Last>>