Good Morning, ,
Today is Saturday, July 22

Have Fun!
Dearwebby

Todays Bonehead Award:
Florida man loses it over AT&T trucks parked in 
front of house, shoots out their tires, radiator
 Boneheads
______________________________________________________
Today, July 22 in
1376 The legend of the Pied Piper of Hamelin leading 
rats out of town is said to have occurred on this date. 
See More of what happened on this
day in history.
______________________________________________________

| | |
| --- | --- |
| If you can help with the cost of the Humor Letter, please donate what you can! | |
______________________________________________________ It only takes 20 years for a liberal to become a conservative without changing a single idea. --- Robert Anton Wilson The truth is rarely pure and never simple. --- Oscar Wilde (1854 - 1900) A man who has not been a socialist before 25 has no heart. If he remains one after 25 he has no head. --- King Oscar II of Sweden ______________________________________________________ If you like the Humor Letter, please vote!
______________________________________________________ >From Martin: The National Transportation Safety Board recently divulged they had covertly funded a project with the U.S. auto makers for the past five years, whereby the auto makers were installing black box voice recorders in four-wheel drive pickup trucks and SUV's in an effort to determine, in fatal accidents, the circumstances in the last 15 seconds before the crash. They were surprised to find in 49 of the 50 states the recorded last words of drivers in 61.2 percent of fatal crashes were, "Oh Sh*t!" In the state of Texas the words were different, where 89.3 percent of the final words were: "Hold mah beer! Y'all watch this!" _____________________________________________________
______________________________________________________ >From Aron: A new forestry graduate receives his first 5-year posting way out in the middle of a huge forest with no people around for dozens of miles. Much to his surprise, included in the survival gear that they give him, is a recipe for matzo balls. When he asks why he's receiving a matzo ball recipe, he is told, "Sometime, a few years down the road when the solitude *really* starts to get to you, you'll pull out this matzo ball recipe and start to mix it together. "Within five minutes you'll have a half a dozen Jewish women hovering over you telling you what you're doing wrong!" ______________________________________________________
Biloxi, Mississippi _____________________________________________________

If you like the Humor Letter, please vote!
Thanks for your votes!

______________________________________________________ Reported by the Bausell Sailor
An INTERNATIONAL BONEHEAD AWARD has been earned by
Jorge Jove, 64, Hialeah, Florida Florida man loses it over AT&T trucks parked in front of house, shoots out their tires, radiator A Hialeah man who is accused of shooting up two AT&T trucks Wednesday that were parked near his home told police that he went "bananas," an arrest report said. Jorge Jove, 64, who is a retired firefighter, was released from jail at 2:25 a.m. Thursday after posting a $30,000 bond. According to Hialeah police Sgt. Carl Zogby, AT&T trucks were hanging lines on utility poles on a residential street in the 600 block of Southeast Fifth Place when Jove got upset and told the workers to move away from his home. An arrest report states that Jove was angry because he feared that the trucks would damage the pavers on his driveway, even though the trucks were parked in front of the driveway, not on it. Zogby said the workers told Jove that they would move as soon as possible, but needed to finish their work first and that they were parked on a public street. Authorities said Jove came out of his home about an hour after exchanging words with the workers and started shooting at the trucks with a Ruger .357 revolver. According to the arrest report, the shooting happened after the workers had already moved their trucks easterly on Fifth Place while running a cable service above ground. Cellphone video taken from one of the workers shows a man, believed to be Jove, shooting out the tires of the trucks. "He flattened their tires. He shot into the bodies of the trucks. He shot out one of the radiators of the truck," Zogby said. "He seemed to be a quiet man, and something made him snap today." A Hialeah police sergeant who responded to the scene said he witnessed Jove firing a shot at one of the workers who was elevated while working on a cable inside a bucket truck. Police said Jove missed and the worker was not injured. Authorities said Jove caused more than $1,000 in damage to the trucks. One truck had the passenger-side front and rear tires shot out. The other truck had bullet holes in all of its tires and a bullet hole in its radiator, the report said. "We're grateful nobody was hurt, and we're working with law enforcement in their investigation," an AT&T spokeswoman said in an email to Local 10 News. Authorities said police ordered Jove to drop his gun as they arrived, and Jove was taken into custody. Detectives said Jove told them that he "went bananas" and wanted to stop the workers from leaving before police arrived. Police said Jove denied shooting in the direction of the worker who was in the bucket truck or pointing his gun at any of the workers. Jove was arrested on two counts of aggravated assault with a firearm and two counts of felony vandalism. _________________________________ Tech Support Pits From: Daniel Re: censored by ATT.NET Dear Webby, your email site is not going to my email.it ends up on the icon screen. I have tried everything to get it changed to the way I want it.i am the administrator,and the site is not even on the server. to: D.J. email: theold*******@att.net I even canceled and re-subscribed again.that didn't work either. am I missing a setting somewhere? daniel Hi Daniel How many times have I told you that ATT.net is just Yahoo with a phony front for those, who are ashamed of being called "silly yahoos"? I can't fix Yahoo or stop them from censoring your mail. As I have told you many times, either contact att.net support and get them to stop stealing your subscription, or else get a Gmail address on the side, and tell me what that gmail address is. You don`t have to dump your att.net address and can remain a yahoo. Just use the gmail address for important stuff. Have FUN! DearWebby
Two fathers-to-be met in the maternity waiting room. "Can you believe this? The first day of our vacation, and she goes into labor!" The second one looks at the first and says, "What do you have to complain about? This is our honeymoon!"
| | |
| --- | --- |
| If you can help with the cost of the Humor Letter, please donate what you can! | |
Daily tip from Thriftyfun.com Pet Rocks By Robyn Fed [391 Posts, 1,238 Comments] I always get a smile on my face when I see these around the house, their big painted on smiles and google eyes are so adorable. I get all my supplies except for the rocks at Walmart.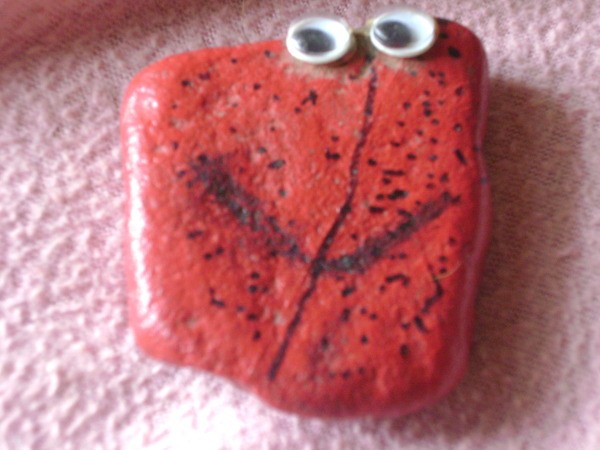 ____________________________________________________
| | |
| --- | --- |
| | Love bird makes new tail |
____________________________________________________ A young Scottish lad and lass were sitting on a low stone wall, holding hands, gazing out over the loch. For several minutes they sat silently, then finally the girl looked at the boy and said, "A penny for your thoughts, Angus." "Well, uh, I was thinkin'...perhaps it's aboot time for a wee kiss." The girl blushed, then leaned over and kissed him lightly on the cheek. Then he blushed. The two turned once again to gaze out over the loch. Minutes passed, then the girl spoke again. "Another penny for your thoughts, Angus." "Well, uh I was thinkin'...perhaps its noo aboot time for a wee cuddle." The girl blushed, then leaned over and cuddled him for a few seconds. Then he blushed. Then the two turned once again to gaze out over the loch. After a while, she again said, "Another penny for your thoughts, Angus." "Well, uh I was thinkin'...perhaps its aboot time you let me pewt ma hand on yer leg." The girl blushed, then took his hand and put it on her knee. Then he blushed. Then the two turned once again to gaze out over the loch before the girl spoke again. "Another penny for your thoughts, Angus." The young man glanced down with a furled brow. "Well, noo," he said, "my thoughts are a wee bit more serious this time." "Really?" said the girl in a whisper, filled with anticipation. "Aye," said the lad, nodding. The girl looked away in shyness, began to blush, and bit her lip in anticipation of the ultimate request. And he said, "Dae ye nae think it's aboot time ye paid me the first three pennies?" ___________________________________________________
| | |
| --- | --- |
| | These wood sculptures look good enough to eat! |
___________________________________________________ If GH can stand for P as in Hiccough If OUGH can stand for O as in Dough If PHTH can stand for T as in Phthisis If EIGH can stand for A as in Neighbor If TTE can stand for T as in Gazette If EAU can stand for O as in Plateau Then the right way to spell POTATO should be: "GHOUGHPHTHEIGHTTEEAU"
Ophelia Dingbatter's NewsNo sermon and not suitable for church, just jokes and fun for grownups. Read it on-line or subscribe. If you subscribe, look for the double opt-in confirmation request.

____________________________________________________ After living in the remote wilderness of Kentucky all his life, an old hillbilly decided it was time to visit the big city. In one of the stores he picked up a mirror and looked in it. Not ever having seen one before, he remarked at the image staring back at him, "How about that! Here's a picture of my daddy." He bought the 'picture', but on the way home he remembered his wife, Lizzy, didn't like his father. So he hung it in the barn, and every morning before leaving for the fields, he would go there and look at it. Lizzy began to get suspicious of these many trips to the barn. One day after her husband left, she searched the barn and found the mirror. As she looked into the glass, she fumed, "So that's the ugly old hussy he's runnin' around with! At least he could find a better looking one!"

____________________________________________________

Today, on July 22, in
1376 The legend of the Pied Piper of Hamelin leading rats
out of town is said to have occurred on this date. 

1587 A second English colony was established on Roanoke
Island off North Carolina. The colony vanished under
mysterious circumstances. 

1796 Cleveland was founded by General Moses Cleaveland. 

1798 The USS Constitution was underway and out to sea for
the first time since being launched on October 21, 1797.

1812 English troops under the Duke of Wellington defeated
the French at the Battle of Salamanca in Spain. 

1926 Babe Ruth caught a baseball at Mitchell Field in New
York. The ball had been dropped from an airplane flying at
250 feet. 

1933 Wiley Post ended his around-the-world flight. He had
traveled 15,596 miles in 7 days, 18 hours and 45 minutes.

1943 American forces led by General George S. Patton
captured Palermo, Sicily. 

1941 Plans for the Pentagon were presented to the House
Subcommittee on Appropriations. 

1955 U.S. Vice-President Richard M. Nixon chaired a
cabinet meeting in Washington, DC. It was the first time
that a Vice-President had carried out the task. 

1975 Confederate General Robert E. Lee had his U.S.
citizenship restored by the U.S. Congress. 

1987 The U.S. began its policy of escorting re-flagged
Kuwaiti tankers up and down the Persian Gulf to protect
them from possible attack by Iran. 

1998 Iran tested medium-range missile, capable of reaching
Israel or Saudi Arabia. 

2000 Astronomers at the University of Arizona announced
that they had found a 17th moon orbiting Jupiter. 

2003 In northern Iraq, Saddam Hussein's sons Odai and
Qusai died after a gunfight with U.S. forces. 

2003 In Paris, France, a fire broke out near the top of
the Eiffel Tower. About 4,000 visitors were evacuated and
no injuries were reported. 

2004 The September 11 commission's final report was
released. The 575-page report concluded that hijackers
exploited "deep institutional failings within our
government." The report was released to White House
officials the day before. 

2009 The longest total solar eclipse of the 21st century,
lasting up to 6 minutes and 38.8 seconds, occurred over
parts of Asia and the Pacific Ocean. 

2017  smiled.
[ view entry ]
( 9 views ) |
permalink
|
print article
|
( 3 / 591 )
---
<<First
<Back
| 19 | 20 | 21 | 22 | 23 | 24 | 25 | 26 | 27 | 28 |
Next>
Last>>