Good Morning, ,
Today is Sunday, August 6

Have Fun!
Dearwebby

Todays Bonehead Award:
Baby sitters arrested for putting flea-infested 
kids in the back of a U-Haul truck
 Boneheads
______________________________________________________
Today, Aug 6 in
1945 The American B-29 bomber, known as the Enola Gay,
dropped the first atomic bomb on an inhabited area. The bomb
named "Little Boy" was dropped over the center of Hiroshima,
Japan. An estimated 140,000 people were killed. (8:16am
Japanese time) 
See More of what happened on this 
day in history.
______________________________________________________

| | |
| --- | --- |
| If you can help with the cost of the Humor Letter, please donate what you can! | |
______________________________________________________ I'll be more enthusiastic about encouraging thinking outside the box when there's evidence of any thinking going on inside it. --- Terry Pratchett Take everything you like seriously, except yourselves. --- Rudyard Kipling The nine most terrifying words in the English language are, 'I'm from the government and I'm here to help.' --- Ronald Reagan ______________________________________________________ If you like the Humor Letter, please vote!
______________________________________________________ More than anything, Bob wanted to be a cowpoke. Taking pity on him, a rancher decided to hire the lad and give him a chance. "This," he said, showing him a rope, "is a lariat. We use it to catch cows." "I see," said Bob, trying to seem knowledgeable as he examined the lariat. "And what do you use for bait?" _____________________________________________________
______________________________________________________ >From Anna The Students in my third-grade class were bombarding me with questions about my newly pierced ears. "Does the hole go all the way through?" "Yes." "Did it hurt?" "Just a little." "Did they stick a needle through your ears?" "No, they used a special gun." Silence followed, and then two solemn voices called out, "How far away did they stand?" "Did they get both ears with one shot?" ______________________________________________________
Great Captain Island Light, Greenwich, Connecticut _____________________________________________________

If you like the Humor Letter, please vote!
Thanks for your votes!

______________________________________________________ Reported by the Bausell Sailor
An INTERNATIONAL BONEHEAD AWARD has been earned by
Jamie Adkins, 25, Brian Dekam, 55, Elyria, Ohio Baby sitters arrested for putting flea-infested kids in the back of a U-Haul truck Two city workers thought something was amiss when they saw five children getting into the back of a U-Haul truck at a gas station. They stopped the driver from leaving and called 911. Elyria police and firefighters arrived Wednesday afternoon and found the children, ranging in age from 2 to 15, soaked with sweat, infested with lice and covered with flea and bedbug bites. A woman who described herself as the children's godmother was in the back of the U-Haul being driven by a 55-year-old man. Her fiance was a passenger in the truck's cab. The woman, 25-year-old Jamie Adkins, explained to officers that she had been caring for the four younger children the last two weeks and that they had left Cleveland early that morning to travel to a flea market in Amherst, a city in Lorain County near Elyria. Adkins said she had called the children's mother, who hadn't seen them for two weeks, and had told her where they were going and how they'd be getting there. Adkins told police the mother said she hoped the kids "would have fun." The 2-year-old, a boy, was taken to an Elyria medical center and then flown to a children's hospital in Cleveland to be treated for heat exhaustion. Elyria is about 30 miles (48 kilometers) west of downtown Cleveland. Adkins and the U-Haul driver, 55-year-old Brian Dekam, both Cleveland residents, were taken into custody and charged with multiple counts of child endangering. They were eventually released for medical reasons, police said. Court records don't indicate whether they have attorneys. The four older children, ages 3, 4, 6 and 15, have been placed in foster care in Cuyahoga County, which includes Cleveland. The 2-year-old also will be placed in county custody after leaving the hospital. Elyria police Capt. Chris Constantino on Friday called the two city workers heroes for having "intervened in the right way." He said the 2-year-old was bright red, nonresponsive and in "serious medical duress" on a day when temperatures rose above 80 degrees. "If they hadn't taken action, it could have been tragic," Constantino said. Luckily they knew that hauling kids in the back of a truck, without seatbelts, is highly illegal. _________________________________ Tech Support Pits From: Carolyn Re: Newsletter Dear Webby, I am not receiving yours or the Angelwinks newsletter. The last one I received was two weeks ago. Also, I'm not getting the new cards either. I tried to re-enter my email address on the frequently asked questions site, but it won't take it. Please Advise Carolyn Dear Carolyn That's just your spam control. You have to manually white-list your subscriptions. Newsletters can't jump through the silly rigamarole and type in whatever passcode is on the Captcha verification graphic. Have FUN! DearWebby
---
Re that shoestore joke: >From Maddy Morgan DO NOT SEND ME ANOTHER ONE OF THESE!!!!!!!!!!!!!!!!!!!!! >From Jessica whats the joke i dont get it >From UncWes: Heck with the internet or work... I am going into the shoe sales business... unk wes
| | |
| --- | --- |
| If you can help with the cost of the Humor Letter, please donate what you can! | |
Daily tip from Thriftyfun.com Woven Bacon Shell Breakfast Taco By attosa [382 Posts, 1,850 Comments] This low carb breakfast taco isn't only super delicious, it looks super cool! Weave the bacon, pop it in the oven, and fill with your favourite breakfast foods. This will be a hit for your family and friends.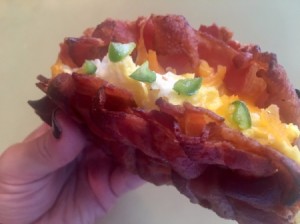 You can do the weaving straight on your baking sheet. I used a coloured silicone mat so you could see what I was doing more clearly and not get a reflection off the baking sheet's shine. Prep Time: 5 minutes Cook Time: 25 minutes Total Time: 30 minutes Yield: 1 huge taco to share Ingredients: 10 pieces raw bacon 1 raw egg 1/4 cup shredded cheddar cheese some chopped jalapeno Steps: Preheat oven to 425 F. Lay 5 strips of bacon across a baking sheet, making sure they are flush up against each other. The fatty sides should all face one direction and meaty sides should all face the other direction. Fold every other strip in half onto itself. Lay one strip of bacon perpendicular to those strips, flush up against the back of the folds.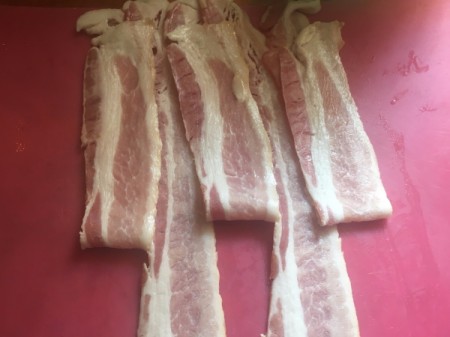 Unfold those flipped strips back over the perpendicular strip of bacon. Now fold every other strip in the alternating columns. Lay one strip of bacon perpendicular to those strips, flush up against the back of the folds. Unfold those strips back down over the perpendicular strip of bacon. Repeat again with the first set of strips. Do the same thing on the upper half of the weave. There should be the same number of strips going down as there are going across.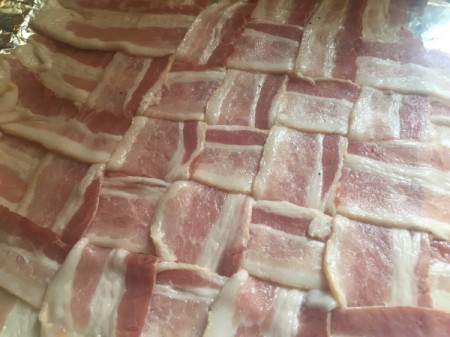 Trim the edges of the woven bacon a bit to resemble a circle. Pop in the preheated oven for 15 minutes. When it's mostly cooked and holding its shape, remove from oven. Take two tin cans and lay metal tongs or a metal knife across the two to make a bridge. Lay the bacon disc over the bridge. Pop back in the oven for 10 minutes or so, until crisped. To make your quick scrambled eggs, crack your egg into a mug and whisk with a fork. Microwave on high for 45 seconds. Fill bacon shell with cheese, then egg, the more cheese. Sprinkle with jalapeno.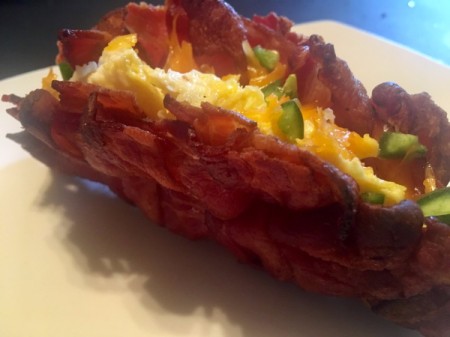 Enjoy! Don't forget the Salsa! ____________________________________________________
| | |
| --- | --- |
| | Boys toys 2 |
____________________________________________________ A family had moved to Seattle from Texas, and each of them missed their old home. That December, when they went to pick up their first-grade son from school, his teacher told them about a conversation she overheard. One boy said, "We're Catholic, and we are going to Christmas Mass." "Were Jewish," said another child. "And we're going to have a Hanukkah celebration. "Madison chimed in, "We're Texans, and were going to have a barbecue." ___________________________________________________
| | |
| --- | --- |
| | Interesting body painting. |
___________________________________________________ I had been called to examine a ten-year-old Irish Wolfhound named Belker. The dog's owners, Ron, Lisa, and their little boy, Shane, were all very attached to Belker and they were hoping for a miracle. I examined Belker and found he was dying of cancer. I told the family there were no miracles left for Belker, and offered to perform the euthanasia procedure for the old dog in their home As we made arrangements, Ron and Lisa told me they thought it would be good for the four-year-old Shane to observe the procedure. They felt as though Shane might learn something from the experience, and realize that Belker would go gently. The next day, I felt the familiar catch in my throat as Belker's Family surrounded him. Shane seemed so calm, petting the old dog for the last time, that I wondered if he understood what was going on. Within a few minutes, Belker slipped peacefully away. The little boy seemed to accept Belker's transition without any difficulty or confusion. We sat together for a while after Belker's death, wondering aloud about the sad fact that animal lives are shorter than human lives. Shane, who had been listening quietly, piped up, "I know why." Startled, we all turned to him. What came out of his mouth next stunned me. I'd never heard a more comforting explanation. He said, "People are born so that they can learn how to live a good life -- like loving everybody all the time and being nice, right?" Everyone shook their heads in agreement. The four-year-old continued, "Well, dogs already know how to do that, so they don't have to stay as long."
Ophelia Dingbatter's NewsNo sermon and not suitable for church, just jokes and fun for grownups. Read it on-line or subscribe. If you subscribe, look for the double opt-in confirmation request.

____________________________________________________ Frisbeetarianism is the belief that when you die, your soul goes up on the roof and gets stuck. --- George Carlin

____________________________________________________

Today, August 6, in 
1787 At the Constitutional Convention in Philadelphia
debate began on the first draft of the U.S. Constitution. 

1806 The Holy Roman Empire went out of existence as
Emperor Francis II abdicated. 

1825 Bolivia declared independence from Peru. 

1879 The first Australian rules football game to be played
at night took place at the Melbourne Cricket Ground. The
game was to promote the introduction of electricity to the
city of Melbourne. 

1914 Austria-Hungary declared war against Russia. Serbia
declared war against Germany. 

1926 Gertrude Ederle became the first American woman to
swim the English Channel. She was 19 years old at the
time. The swim took her 14 1/2 hours. 

1926 Warner Brothers premiered its Vitaphone system in New
York. The movie was "Don Juan," starring John Barrymore. 

1945 The American B-29 bomber, known as the Enola Gay,
dropped the first atomic bomb on an inhabited area. The
bomb named "Little Boy" was dropped over the center of
Hiroshima, Japan. An estimated 140,000 people were killed.
(8:16am Japanese time) 

1960 Nationalization of U.S. and foreign-owned property in
Cuba began. 

1962 Jamaica became an independent dominion within the
British Commonwealth. 

1965 The Voting Rights Act was signed by U.S. President
Lyndon B. Johnson. 

1969 The first fair ball to be hit completely out of
Dodger Stadium occurred. Willie "Pops" Stargell, of the
Pittsburgh Pirates, hit the ball 506 feet from home plate.


1981 Fire fighters in Indianapolis, IN, answered a false
alarm. When they returned to their station it was ablaze
due to a grease fire. 

1981 Lee Trevino was disqualified from the PGA
Championship in Duluth, GA when he had his scorecard
signed by Tom Weiskopf instead of himself. 

1985 The 40th anniversary of the Hiroshima atomic bombing
brought tens of thousands of Japanese and foreigners to
Hiroshima. 

1986 William J. Schroeder died. He lived 620 days with the
Jarvik-7 manmade heart. He was the world's longest
surviving recipient of a permanent artificial heart. 

1989 Jaime Paz Zamora was inaugurated as the president of
Bolivia. 

1990 The U.N. Security Council ordered a worldwide trade
embargo of Iraq. The embargo was to punish Iraq for
invading Kuwait. 

1993 Morihiro Hosokawa was elected prime minister of
Japan. 

1995 Thousands of glowing lanterns were set afloat in
rivers in Hiroshima, Japan, on the 50th anniversary of the
first atomic bombing. 

1996 NASA announced the discovery of evidence of primitive
life on Mars. The evidence came in the form of a meteorite
that was found in Antarctica. The meteorite was believed
to have come from Mars and contained a fossil. 

1997 Apple Computer and Microsoft agreed to share
technology in a deal giving Microsoft a stake in Apple's
survival. 

1998 Former White House intern Monica Lewinsky spent 8 1/2
hours testifying before a grand jury about her
relationship with U.S. President Clinton. 

2012 The Mars rover Curiosity landed on the floor of Gale
Crater. The Mars Science Laboratory/Curiosity spacecraft
launched from Cape Canaveral Air Force Station, FL, on
November 26, 2011.

2017  smiled.
[ view entry ]
( 10 views ) |
permalink
|
print article
|
( 3.1 / 80 )
---
<<First
<Back
| 19 | 20 | 21 | 22 | 23 | 24 | 25 | 26 | 27 | 28 |
Next>
Last>>