Good Morning, ,
Today is Sunday, September 10

Have Fun!
Dearwebby

Todays Bonehead Award:
Cleveland armed robber shot, killed 
by Taco Bell employees 
 Bonehead
______________________________________________________
Today, Sept 10 in
1919 Austria and the Allies signed the Treaty of St.-
Germain-en-Laye. Austria was forced to give up Poland,
Hungary, Czechoslovakia and Yugoslavia. 
See More of what happened on this day in history.
______________________________________________________

| | |
| --- | --- |
| If you can help with the cost of the Humor Letter, please donate what you can! | |
______________________________________________________ Women need a reason to have sex. Men just need a place. --- Billy Crystal (1947 - ) The height of cleverness is to be able to conceal it. --- Francois de La Rochefoucauld (1613 - 1680) ______________________________________________________ If you like the Humor Letter, please vote!
______________________________________________________ The middle-aged married couple finally moved into the Condo of their dreams, but right next door to a very sexy model. The husband had taken to borrowing this or that from their neighbor and it seemed to the wife that it always took him way too long to return. One time the wife had had enough and actually pounded on the wall between the two apartments. There being no response she telephoned, only to get the answering machine. Finally she went to the model's door and just kept ringing the bell. When the model answered, the wife fumed, "I would like to know why it is my husband takes so long to get something over here." "Well sweetie," the model purred, "all these interruptions sure wouldn't be helping, if he was doing what you suspect him of doing. However, he's out on the balcony exchanging fishing lies with my dad." _____________________________________________________
______________________________________________________ A little girl and a little boy were at day care one day. The girl approaches the boy and says, "Hey Tommy, wanna play house?" He says, "Sure! What do you want me to do?" The girl replies, "I want you to communicate your feelings." "Communicate my feelings?" said a bewildered Tommy. "I have no idea what that means." The little girl smirks and says, "Perfect. You can be the husband." ______________________________________________________
_____________________________________________________

If you like the Humor Letter, please vote!
Thanks for your votes!

______________________________________________________
An INTERNATIONAL BONEHEAD AWARD and a Darwin Award has been earned by
De'Carlo Jackson, 24, Cleveland, Ohio Cleveland armed robber shot, killed by Taco Bell employees Three employees at a Cleveland Taco Bell shot and killed a suspect during an attempted robbery, according to police. Officers responded to the restaurant on W. 117th street at 2:45 a.m. Wednesday morning for a report of a robbery with shots fired. When police arrived, they found a suspect with multiple gunshot wounds. Officers administered first aid until EMS arrived. The suspect later died at MetroHealth Medical Center. The medical examiner later identified the suspect as 24-year-old Cleveland resident De'Carlo Jackson. Another man, believed to be Jackson's accomplice, had already taken off by the time officers arrived. Police say a preliminary investigation indicates that three Taco Bell employees, all armed, shot at the two suspects after they came into the restaurant wearing masks and ordered the employees to the ground at gunpoint. Since 2012, Jackson had been convicted three times for "attempted" drug trafficking (Selling to a narc). _________________________________ Tech Support Pits From: Robert Re: gmail to POP Dear Webby, I use gmail mainly to reserve my address for when I move and lose my current address. In the meantime, I want to be able to download the mail from gmail to my regular POP email program (Eudora). Can that be done? Robert Dear Robert I have had a lot of similar questions lately. Yes, sure it can be done. Just go into your gmail settings and set it to ALLOW POP and to forward to your regular POP email address. That's all there is to it, IF you have an ISP or domain based POP address. Takes about 5 seconds to do. For those who don't have an ISP or domain based POP address, go into the gmail settings, set it to ALLOW POP. Then go into Eudora or Thunderbird or whatever you use, and make a new email account. For the incoming POP server name use pop.gmail.com. For the outgoing SMTP server name use smtp.gmail.com For the user name and password use your gmail log in. After that, your email program will check your gmail as if it was a standard POP email account. Have FUN! DearWebby
---
>From Ed I was on vacation, playing the slot machines. It was my first time in a casino, and I wasn't sure how the machines operated. "Excuse me." I said to a casino employee. "How does this work?" The worker showed me how to insert a bill, hit the spin button, and operate the release handle. "And where does the money come out?" I asked. He smiled and motioned to a far wall before saying, "Usually at the ATM machine over there."
| | |
| --- | --- |
| If you can help with the cost of the Humor Letter, please donate what you can! | |
Daily tip from Thriftyfun.com Succulent Plants Make Wonderful Gifts By 15mhhm15 [242 Posts, 702 Comments] Did you know it is very easy to propagate succulents? If you have succulents in your yard, or at your family or friend's home, pull off some leaves, or a leaf with your finger or cut carefully and get the entire leaf than allow the leaves to dry for a few days! When the end (where you pulled the leaf/leaves) has hardened then it is ready to fill a small container with some soil and lay your leaf/leaves on top. Water slowly until you see roots from the leaves sprout. Once the leaves sprout (probably a few weeks) you could separate each leaf into its own container. Below are succulent cuttings from family and all I did was reuse an old dish and put soil to arrange all the succulents together. It looks beautiful and perfect to give as a gift or as a center piece in your home! Little maintenance (water wise) is required for these and it looks beautiful!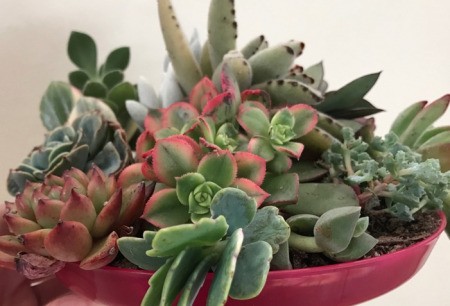 Don't over-water them! Like cacti, they thrive on dedicated neglect. It is not extra water, that makes them grow, but deeper dirt and especially wind. Even if you can't see them move in the wind, it is the invisible, tiny movements when the wind massages them, that pump up nutrients for them. By the way, some succulents produce gorgeous flowers. Have FUN! DerWebby ____________________________________________________
| | |
| --- | --- |
| | Can you guess which is the alpha dog? |
____________________________________________________ A young woman wasn't feeling well, and asked one her co-workers to recommend a physician. "I know a great one in the city, but he is very expensive. Five hundred dollars for the first visit, and one hundred dollars for each one after that." The woman went to the doctor's office and, trying to save a little money, cheerily announced. "I'm back!" Not fooled for a second, the doctor took her $100, quickly examined her and said, "Very good, just continue the treatment I prescribed on your last visit." ___________________________________________________
| | |
| --- | --- |
| | Strength and Beauty |
___________________________________________________ Thanks to Dianne for this confession: The computer in my high school classroom recently started acting up. After watching me struggle with it, one of my students took over. "Your hard drive crashed," he said. I called the computer services office and explained, "My computer is down. The hard drive crashed." "We can't just send people down on your say-so. How do you know that's the problem?" "A student told me," I answered. "We'll send someone over right away."
Ophelia Dingbatter's NewsNo sermon and not suitable for church, just jokes and fun for grownups. Read it on-line or subscribe. If you subscribe, look for the double opt-in confirmation request.

____________________________________________________ Life is like driving a car at night. You can only see as far as the headlights, but you can make the whole trip that way. ____________________________________________________

Today, Sept 10, in 
1608 John Smith was elected president of the Jamestown, VA
colony council. 

1813 The first defeat of British naval squadron occurred in
the Battle of Lake Erie during the War of 1812. The leader
of the U.S. fleet sent the famous message "We have met the
enemy, and they are ours" to U.S. General William Henry
Harrison. 

1845 King Willem II opened Amsterdam Stock exchange. 

1846 Elias Howe received a patent for his sewing machine. 

1862 Rabbi Jacob Frankel became the first Jewish Army
chaplain. 

1897 British police arrest George Smith for drunken driving.
It was the first DUI. 

1899 A second quake in seven days hit Yakutat Bay, AK. It
measured 8.6. 

1913 The Lincoln Highway opened. It was the first paved
coast-to-coast highway in the U.S. 

1919 New York City welcomed home 25,000 soldiers and General
John J. Pershing who had served in the First Division during
World War I. 

1919 Austria and the Allies signed the Treaty of St.-
Germain-en-Laye. Austria was forced to give up Poland,
Hungary, Czechoslovakia and Yugoslavia. 

1921 The Ayus Autobahn in Germany opened near Berlin. The
road is known for its nonexistent speed limit. 

1923 The Irish Free state joined the League of Nations. 

1926 Germany joined the League of Nations. 

1935 "Popeye" was heard on NBC radio for the first time. 

1939 Canada declared war on Germany. 

1940 In Britain, Buckingham Palace was hit by German bomb. 

1942 U.S. President Franklin Roosevelt mandated gasoline
rationing as part of the U.S. wartime effort. 

1943 German forces began their occupation of Rome during
World War II. 

1948 Mildred "Axis Sally" Gillars was indicted for treason
in Washington, DC. Gillars was a Nazi radio propagandist
during World War II. She was convicted and spent 12 years in
prison. 

1951 Britain began an economic boycott of Iran. 

1953 Swanson began selling its first "TV dinner." 

1955 "Gunsmoke" premiered on CBS. 

1955 Bert Parks began a 25-year career as host of the "Miss
America Pageant" on NBC. 

1956 Great Britain performed a nuclear test at Maralinga,
Australia. 

1963 Twenty black students entered public schools in Alabama
at the end of a standoff between federal authorities and
Alabama governor George C. Wallace. 

1979 U.S. President Carter granted clemency to four Puerto
Rican nationalists who had been imprisoned for an attack on
the U.S. House of Representatives in 1954 and an attempted
assassination of U.S. President Truman in 1950. 

1981 Pablo Picasso's mural Guernica was received in the town
of Guernica. 

1989 Hungary gave permission to thousands of East German
refugees and visitors to immigrate to West Germany. 

1990 Iran agreed to resume full diplomatic ties with past
enemy Iraq. 

1990 Iraq's Saddam Hussein offered free (Kuwaiti) oil to
developing nations in an attempt to win their support during
the Gulf War Crisis. 

1992 In Minneapolis, MN, a federal jury struck down
professional football's limited free agency system. 

1998 U.S. President Clinton met with members of his Cabinet
to apologize, ask forgiveness and promise to improve as a
person in the wake of the scandal involving Monica Lewinsky.


1999 A bronze sculpture of a war horse just over 24 feet
high was dedicated in Milan, Italy. 

2002 Florida tested its new elections system. The test
resulted in polling stations opening late and problems
occurred with the touch screen voting machines. 

2002 The "September 11: Bearing Witness to History" exhibit
opened at the Smithsonian's National Museum of American
History. 

2002 Switzerland became the 190th member of the United
Nations. 

2017  smiled.
[ view entry ]
( 9 views ) |
permalink
|
print article
|
( 3 / 670 )
---
<<First
<Back
| 18 | 19 | 20 | 21 | 22 | 23 | 24 | 25 | 26 | 27 |
Next>
Last>>