Good Morning, ,
Today is Wednesday, September 27

Today, after I send out the Wednesday issue, 
I have to go for injections into my eyeballs again.
That means nothing will be sent out Thursday, Friday or
Saturday. Sunday I will be back.

Have Fun!
Dearwebby

Todays Bonehead Award:
Florida man charged with impersonating deputy, 
stealing patrol car
 Bonehead
______________________________________________________
Today, Sept 27 in
1825 George Stephenson operated the first American 
steam locomotive that hauled a passenger train.  
See More of what happened on this
day in history.
______________________________________________________

| | |
| --- | --- |
| If you can help with the cost of the Humor Letter, please donate what you can! | |
______________________________________________________ Millions long for immortality who don't know what to do with themselves on a rainy Sunday afternoon. --- Susan Ertz Everything is funny as long as it is happening to Somebody Else. --- Will Rogers Two wrongs don't make a right, but they make a good excuse. --- Thomas Szasz When everyone is against you, it means that you are absolutely wrong-- or absolutely right. --- Albert Guinon ______________________________________________________ If you like the Humor Letter, please vote!
______________________________________________________ Thanks to Dianne for this story: It was a warm fall morning, and my husband decided to come home from work early to paint our deck. Before I left the house, I located all the necessary supplies and wrote him a note: "I put the paint in the closet downstairs. The brush is on the garage shelf." When I returned that evening, nothing had been done. My husband had left this written explanation: "I found the paint and the brush. Couldn't find the deck. Went fishing." _____________________________________________________ From Susan When I was 29 or so, I was teaching English in a high school where occasionally the faculty and staff were allowed to dress down. One of those days I donned a sweatshirt and slacks. A student came in, and his eyes widened. "Wow!" he exclaimed. "You should wear clothes like that every day. You look, like, twenty years younger. _____________________________________________________
______________________________________________________ Thanks to Ed for the ALZHEIMERS EYE TEST NOTE=>Count first...after reading the EYE TEST... before scrolling down. Count every "F " in the following text: ---- FINISHED FILES ARE THE RE SULT OF YEARS OF SCIENTI FIC STUDY COMBINED WITH THE EXPERIENCE OF YEARS... (SEE BELOW) ---- HOW MANY ? ...................... 3? ***************************** WRONG, THERE ARE 6 -- no joke. READ IT AGAIN ! Really, go Back and Try to find the 6 F's before you scroll down. The reasoning is: An "OF" (Old Fogey) brain cannot process "OF". Incredible or what? Go back and look again!! Anyone who counts all 6 "F's" on the first try, is not an Old Fogey. ______________________________________________________
Mark-Alls are FUN! She is going to be a make-up artist when she grows up! _____________________________________________________

If you like the Humor Letter, please vote!
Thanks for your votes!

______________________________________________________
An INTERNATIONAL BONEHEAD AWARD has been earned by
Isael Lima, 18, Belleview, Florida Florida man charged with impersonating deputy, stealing patrol car A Florida man is facing several charges after he stole a deputy's uniform and patrol car and impersonated him while he was out of town, according to Marion County deputies. Detectives were called to investigate a burglary at a Marion County deputy's home Sept. 24. Deputy Yoandy Miranda told deputies that he left town for a couple of days and when he got home, he noticed someone had entered his locked bedroom. He said someone was also inside his patrol car, but nothing was stolen from the home or car. A day earlier, Belleview police officers were called to a disturbance at a convenience store. Belleview officers say they spoke with a man in a MCSO deputy uniform who identified himself as an off-duty deputy. Isael Lima, 18, introduced himself to MCSO Sgt. Bobby Levay as "Deputy Miranda" and said he witnessed a physical disturbance between two people at the gas station and asked for BPD's assistance, according to police. Levay said he was not personally familiar with Miranda and did not realize Lima was impersonating a deputy at that time. The next day, Miranda contacted Levay to let him know about the possible burglary to his home and car. Levay realized that the "Deputy Miranda" he met the previous day was not the real Deputy Miranda. Using footage from the BPD officer's body camera, detectives and Miranda identified the person at the gas station as Miranda's nephew Lima. Lima lives with Miranda and admitted to breaking into Miranda's room and stealing his uniform and issued equipment while he was away, deputies said. Lima told detectives that he initially put on the uniform and drove to his girlfriend's home because he wanted to impress her. He said he stole Miranda's patrol car, dressed in his MCSO uniform and conducted a traffic stop on a vehicle. Lima told detectives that he picked up a friend who rode with him in the patrol car and that his friend recorded video of the traffic stop. That video was obtained by MCSO detectives. Lima also admitted to impersonating Miranda at the convenience store in Belleview with BPD officers, deputies said. Lima was arrested and charged with grand theft of a motor vehicle, grand theft of a firearm, openly carrying prohibited weapon, theft of law enforcement equipment from an emergency vehicle, burglary of a conveyance, armed burglary of a dwelling, impersonating a law enforcement official, and giving a false name to a law enforcement officer. "I don't think this man realized the danger he put himself in by trying to impersonate a deputy sheriff," Chief Deputy Robert Douglas said. "Our deputies undergo extensive, ongoing training to be able to do their job safely. Ensuring public safety and trust are our priorities and this is why we take this type of crime so seriously." _________________________________ Tech Support Pits From: Ross Re: Site with manuals Dear Webby, Is this a scam or what ? Manuals Ross Dear Ross They are quite legit. Donations go to 4humanrights.org, the organization trying to help people in Belarussia achieve democracy. As you may have read, they live in a very tightly controlled dictatorship and getting funds is extremely difficult for them. Have FUN! DearWebby
---
The passenger sat in the backseat, clutching the door handle and wondering if she could expect to survive the trip. The cabdriver sped through the crowded streets,weaving in and out of traffic. The passenger watched as one pedestrian after another ran to avoid being run down by her lunatic driver. She looked ahead and saw a truck double-parked on the narrow street,but not only did the taxi driver fail to slow down, he actually accelerated as he approached the truck. He slipped his cab through the available space with an inch or two to spare on either side. "Driver!" the passenger screamed,"Are you trying to get us both killed?" "Relax,lady," he said, "just do what I do. Close your eyes."
| | |
| --- | --- |
| If you can help with the cost of the Humor Letter, please donate what you can! | |
Daily tip from Thriftyfun.com Cauliflower Pudding By Judy [368 Posts, 4,486 Comments] Prep Time: 20 minutes Cook Time: 1 hour Total Time: 1 hour and 20 minutes Yield: 6 Source: Nursery School Cookbook Ingredients: 1 large head of cauliflower, cut into florets 1 cup onions, chopped oil 2 eggs 1/4 tsp salt 4 Tbsp butter or margarine, melted 4 Tbsp seasoned bread crumbs Steps: Steam or microwave the cauliflower until tender, but not mushy. Drain the cauliflower and mash it up with a fork. SautÚ the onions until translucent. Mix all the ingredients together in a large bowl. Transfer to an 8-inch square or round pan. Bake for an hour at 400 degrees F.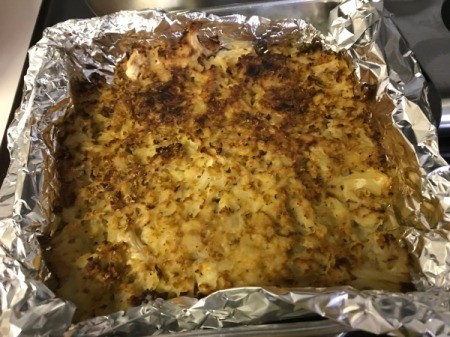 Tip provided by Thriftyfun.com Unless you are a fanatic vegetarian, you can saute a handful of cubed farmer sausage with the onions and really crank up the flavor! Your cauliflour casserole will become a weekly staple. Have FUN! DearWebby ____________________________________________________
| | |
| --- | --- |
| | Rick K and the All-Nighters WipeOut |
____________________________________________________ A customer sent an order to a distributor for a large amount of goods totaling a great deal of money. The distributor, noticing that the previous bill hadn't been paid, instructed the collections manager to contact the customer. The collections manager made the call and left a voice-mail for them saying, "We can't ship your new order until you pay for the last one." The next day the collections manager received a collect phone call from the customer who said, "Please cancel the order. We can't wait that long." __________________________________________________
| | |
| --- | --- |
| | What a fun idea!┬ An art project for train passengers. |
___________________________________________________ President Calvin Coolidge, 30th U.S. president (1923 to 1929) was a man of very few words. One Sunday he went to church, but his wife, Grace, stayed home. When he returned, she asked, "Was the sermon good?" "Yup," was Coolidge's brief reply. "What was it about?" Grace asked. "Sin." "And what did the minister say?" "Seems to be against it."
Ophelia Dingbatter's NewsNo sermon and not suitable for church, just jokes and fun for grownups. Read it on-line or subscribe. If you subscribe, look for the double opt-in confirmation request.

The little girl was sitting in her grandfather's lap as he read her a goodnight story. From time to time, she would take her eyes off the book and reach up to touch his wrinkled cheek. She was alternately stroking her own cheek and his. Finally she spoke. "Granddaddy, did God make you?" "Yes, sweetheart" he answered, "God made me a long time ago." "Oh" she said, then "Granddaddy, did God make me too?" "Yes, indeed honey" he assured her. "God made you just a little while ago." "Oh" she said. Feeling their respective faces again, she observed, "God's getting better at it now isn't he?" ____________________________________________________ From Carl I love your daily letter. It is the best on the net. Todays column was exceptionally good. Love the world's simplest test and the joke about the nuns a while ago was just over the top. I actually have a joke file on my hard drive. I've been saving jokes for years. Most of them are from your column. Maybe I'll be a standup comic after retirement...... Carl

Today, Sept 27, in 
1779 John Adams was elected to negotiate with the British
over the American Revolutionary War peace terms. 

1825 George Stephenson operated the first American steam
locomotive that hauled a passenger train. 

1894 The Aqueduct Race Track opened in New York City, NY. 

1928 The U.S. announced that it would recognize the
Nationalist Chinese Government. 

1938 The League of Nations branded the Japanese as
aggressors in China. 

1939 After 19 days of token resistance, Warsaw, Poland,
surrendered to the Germans after being invaded by the Nazis
and the Soviet Union during World War II. 

1940 The Berlin-Rome-Tokyo Axis was set up. The military and
economic pact was for 10 years between Germany, Italy and
Japan. 

1962 The U.S. sold Hawk anti-aircraft missiles to Israel. 

1968 The U.K.'s entry into the European Common Market was
barred by France. 

1970 "The Original Amateur Hour" aired for the last time on
CBS. It had been on television for 22 years. 

1973 U.S. Vice President Spiro Agnew said he would not
resign after he pled "no contest" to a charge of tax
evasion. He did resign on October 10th. 

1982 Italian and French soldiers entered the Sabra and
Chatilla refugee camps in Beirut. The move was made by the
members of a multinational force due to hundreds of
Palestinians being massacred by Christian militiamen. 

1989 Columbia Pictures Entertainment agreed to buyout Sony
Corporation for $3.4 billion. 

1989 Two men went over the 176-foot-high Niagara Falls in a
barrel. Jeffrey Petkovich and Peter Debernardi were the
first to ever survive the Horshoe Falls. 

1990 The deposed emir of Kuwait addressed the U.N. General
Assembly and denounced the "rape, destruction and terror"
that Iraq had inflicted upon his country. 

1991 U.S. President George H.W. Bush eliminated all land-
based tactical nuclear arms and removed all short-range
nuclear arms from ships and submarines around the world.
Bush then called on the Soviet Union to do the same. 

1994 More than 350 Republican congressional candidates
signed the Contract with America. It was a 10-point platform
they pledged to enact if voters sent a GOP majority to the
House. 

2004 North Korean Vice Foreign Minister Choe Su Hon
announced that North Korea had turned plutonium from 8,000
spent nuclear fuel rods into nuclear weapons. He also said
that the weapons were to serve as a deterrent against
increasing U.S. nuclear threats and to prevent nuclear war
in northeast Asia. The U.S. State Department noted that the
U.S. has repeatedly said that the U.S. has no plans to
attack North Korea. 

2017  smiled.
[ view entry ]
( 7 views ) |
permalink
|
print article
|
( 3 / 768 )
---
<<First
<Back
| 17 | 18 | 19 | 20 | 21 | 22 | 23 | 24 | 25 | 26 |
Next>
Last>>