Good Morning, ,
Today is Sunday, October 1

Have Fun!
Dearwebby

Todays Bonehead Award:
Airbnb guest charged with sexual assault 
after climbing naked into bed of host's 
7-year-old daughter 
 Bonehead
______________________________________________________
Today, Oct 1 in
1569 The Duke of Norfolk was imprisoned by Britain's Queen
Elizabeth for trying to marry Mary the Queen of Scots. 
See More of what happened on this
day in history.
______________________________________________________

| | |
| --- | --- |
| If you can help with the cost of the Humor Letter, please donate what you can! | |
______________________________________________________ The income tax has made more liars out of the American people than golf has. --- Will Rogers (1879 - 1935) There is one thing more exasperating than a wife who can cook and won't, and that's a wife who can't cook and will. --- Robert Frost Well, Robert, you know where the stove is. Quitcherbitchen and start cooking! ______________________________________________________ If you like the Humor Letter, please vote!
______________________________________________________ A man looked at the menu at the airport restaurant, and saw that the sandwiches were named for planes. "I'll have a 'jumbo jet,'" he said. When the order arrived, he was disappointed to see how small his burger was, but he ate it anyway. He called his waiter over. "Was that the 'jumbo jet?'" he asked. "Yeah," the waiter answered. "Went pretty fast, didn't it?" _____________________________________________________ A man was sitting at a bar enjoying an after-work cocktail when an exceptionally gorgeous and sexy young woman entered. She was so striking that the man could not take his eyes away from her. The young woman noticed his overly-attentive stare and walked directly towards him. Before he could offer his apologies for being so rude, the young woman said to him, "I'll do anything, absolutely anything that you want me to do, no matter how kinky, for $100 on one condition." Flabbergasted, the man asked what the condition was. The young woman replied, "You have to tell me what you want me to do in just three words." The man considered her proposition for a moment, withdrew his wallet from his pocket and slowly counted out five $20 bills, which he pressed into the young woman's hand. He looked into her eyes & slowly, meaningfully said, "Paint... my... house." _____________________________________________________
______________________________________________________ A young boy came to Sunday School late one day. His teacher knew that he was usually very prompt and asked him if anything was wrong. The boy said, "No, there is nothing wrong. I was just going to go fishing, but my dad told me that I needed to go to church." The teacher was very impressed and asked the boy if his dad had explained to him why it was more important to go to church than to go fishing. The boy replied, "Yes he did, Dad said he didn't have enough bait for both of us." ______________________________________________________
_____________________________________________________

If you like the Humor Letter, please vote!
Thanks for your votes!

______________________________________________________
An INTERNATIONAL BONEHEAD AWARD has been earned by
Derrick Kinchen, Minnetonka, Minnesota Airbnb guest charged with sexual assault after climbing naked into bed of host's 7-year-old daughter An Airbnb guest was arrested after a Minnesota host found the man naked in bed with his young daughter. The homeowner, who was not identified, called police Sunday night to report that Derrick Aaron Kinchen had allegedly tried to sexually assault his 7-year-old daughter. According to KARE, a criminal complaint states that Kinchen was renting a room in the family's Minnetonka home for a wedding. The homeowner said Kinchen, 28, returned to the residence late Sunday night and at some point entered the parents' bedroom, where the little girl was sleeping, and climbed into the bed. The host said when he noticed the lights were on in the master bedroom he went to investigate and found Kinchen naked next to the girl. The host allegedly told authorities that his daughter's nightgown had been pulled up. The homeowner said he started yelling and Kinchen grabbed his suit jacket, wallet and ran from the house. Kinchen was found hiding in a neighbor's fishing boat. He was hospitalized after being bitten by a police K-9. The little girl was taken to Children's Hospital for an evaluation. According to investigators, she said she woke up when Kinchen entered her parents' bedroom. The girl said Kinchen allegedly whispered something to her and then got in the bed. The criminal complaint states that Kinchen pulled the child's underwear down but she pulled them back up, KARE reports. Airbnb spokesman Benjamin Breit told the Daily News that all guest and hosts are screened "globally against regulatory, terrorist, and sanctions watch lists." Guests and hosts in the U.S. are also checked for sex offender registrations, felony convictions and significant misdemeanors. "The reported abhorrent behavior has no place on Airbnb and we will not tolerate it. We are focused on providing our host family with our full support, we are working with the local police to ensure they have our assistance and we banned this user from our community," he said. "Keeping our community safe is the most important thing we do. None of our hosts should ever have to deal with anything like this." Kinchen was charged with criminal sexual assault and is being held on $250,000 bail. _________________________________ Tech Support Pits From: Angel Re: PDF from Royal Bank Dear Webby, I got this email from the Royal bank: You Have One Security Message From RBC Online Services Center. You will need to open the attached PDF document to proceed. Your attachments are saved to your computer in the default download location set by your browser. That sounds kinda fishy to me. Luckily I got MailWasher and just read the safe preview without letting it download anything to my machine. What do you say? Angel Dear Angel Dump it. That is just a scam carrying a viorus or worse. The Royal bank does not mail out PDF files. They tell you to log in and read your messages. Actually, I think most banks do the same. Just dump it. Don't waste time replying and telling them where to stuff it, since they just forged the sending address anyway. Just be glad you got MailWasher! Otherwise that evil PDF would have automatically downloaded onto your machine. Anybody else, check your download directory and dump any and all PDF files in there, unless you KNOW for sure they are legit. I doubt very much that you find any legit ones, that you still need. If you are not sure, dump them. Have FUN! DearWebby
---
A young man goes to the pet store, looks around, sees a dog he likes somewhat, and asks the manager for help. "I like this breed, but this one's legs are too short" he says to the clerk. And the clerk says, "What do you mean, 'Too short'? They reach the floor, don't they?"
| | |
| --- | --- |
| If you can help with the cost of the Humor Letter, please donate what you can! | |
Daily tip from Thriftyfun.com Napa Cabbage Stir Fry Recipe Napa cabbage is the original Chinese cabbage with crinkled, long leaves. By 15mhhm15 [259 Posts, 749 Comments] Prep Time: 30 minutes Cook Time: 20 minutes Total Time: 40 minutes Yield: 4 people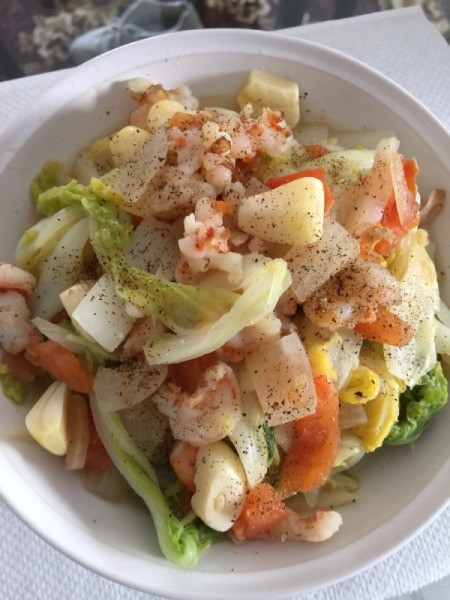 Ingredients: 4 lb napa cabbage 2 tomatoes 1/2 white onions 1 lb shrimp Few Slices ginger 1 Head garlic 12 pieces mushrooms 3 Tbsp olive oil 1/2 tsp salt dash pepper 2 tsp oyster sauce Steps: Prep ingredients. Wash napa cabbage and cut into smaller pieces of your choice. Slice tomatoes, white onions, mince garlic, peel garlic (optional leave whole if you like a lot of garlic). Slice mushrooms. Wash shrimp and cut into smaller pieces or leave whole. In a large sauce pan, on high heat add 1 tablespoon olive oil and the garlic for a few minutes. Add napa cabbage until cooked. Then add tomatoes and salt. Turn off heat and set aside. In another pan on high heat, add 1 tablespoon olive oil and lightly caramelize white onions. Then add the shrimp and stir around until cooked. Add minced ginger and cook for a few more minutes until shrimp is fully cooked. In a small pot, add 1 tablespoon olive oil and sliced mushrooms. Stir around for a couple minutes and add oyster sauce. Now put all pans in one, combine together and its ready to serve. Tip provided by Thriftyfun.com If you don't like shrimp, just add a sliced pepperoni stick and instead of oyster sauce use a TBSP salsa. The recicpe is very flexible and any experiment will turn out just fine. If you shred the Chinese cabbage, add a heaping TBSP of leftover mashed potatoes or instant mashed potatoes, a bit of milk or water, and two or three eggs, mix well and form into patties and fry them in oil or butter, you get a really fantastic treat. My mom used to make those Chinese Cabbage patties. There were no shrimps in the mountains. She used bits of farmer sausage instead. Those patties and a zesty potato salad were always a meal to look forward to. Have FUN! DearWebby ____________________________________________________
| | |
| --- | --- |
| | Rick K and the All-Nighters WipeOut |
____________________________________________________ Thanks to Darlene for this story: Some time back, my cousin, Steve moved to a new apartment. Steve had a business commitment out of town that weekend and so I and my three brothers all chipped in to help his wife move the furniture. The new apartment was on the third floor. We hauled everything up the three flights of stairs and around the tight corner through the kitchen put them where they belonged. Finally, we came to the large couch. After hauling it up three flights to the top of the stairs, we discovered it would not go around the corner through the kitchen. We took it back out into the hall and turned it and tried again. It still wouldn't fit. Finally all of us boosted the couch from the back of the truck up the side of the building. From the third floor, we passed the couch up and over the railing of the tiny balcony and in through the sliding doors into the living room. We all collapsed on the couch to catch our breath and made a pact that we would not tell Steve how we got the couch into the apartment. "The next time he moves," we conspired, "he will have to figure out how to get the couch out of there on his own. It will be our little secret. He will have to take a saw to it!" As luck would have it, Steve found a place he liked better about three months later. It really was a busy weekend at work, and none of us were available to help move. We waited eagerly to hear from Steve but there was nothing. Finally, after several days of waiting, I asked Steve, "So, did you get everything moved OK?" "Sure," he replied. "Did you run into any problems?" "No." "Now, wait a minute, we had to drag the couch up the outside of the building and haul it over the railing! How did you get it out of the living room? It didn't fit through the kitchen!" Steve looked at me with total disbelief and said, "Geez, you idiots! The legs unscrew!" __________________________________________________
| | |
| --- | --- |
| | Highlights from the 2017 Nat Geo Nature Photographer of the Year Contest |
___________________________________________________ Thanks to Kathie for bringing back this classic: He didn't like the casserole And he didn't like my cake. He said my biscuits were too hard, Not like his mother used to make. I didn't perk the coffee right He didn't like the stew, I didn't mend his socks The way his mother used to do. I pondered for an answer I was looking for a clue. Then I turned around and smacked him Like his mother used to do.
Ophelia Dingbatter's NewsNo sermon and not suitable for church, just jokes and fun for grownups. Read it on-line or subscribe. If you subscribe, look for the double opt-in confirmation request.

Thanks to Sandie for this story: Attending a wedding for the first time, a little girl whispered to her mother, "Why is the bride dressed in white?" Well, the mother did not really want to get into a deep discussion about innocence and virginity, especially since this was the fourth wedding of the bride, so she fibbed: "Because white is the color of happiness, and today is one of the happiest days of her life." The child thought about this for a moment, then said, "Mom, why is the groom wearing black?" ____________________________________________________ From Nora Thanks for all the laughs!!!!It makes EVERYDAY a little easier when you can laugh!!!! I really enjoy the jokes!!! THANKS for putting a smile on my face!!!! NORA

Today, October 1, in 
1569 The Duke of Norfolk was imprisoned by Britain's Queen
Elizabeth for trying to marry Mary the Queen of Scots. 

1800 Spain ceded the territory of Louisiana back to France.
Later the property would be purchased by the U.S.
effectively doubling its size. 

1880 Thomas Edison began the commercial production of
electric lamps at Edison Lamp Works in Menlo Park. 

1885 Special delivery mail service began in the United
States. The first routes were in West Virginia. 

1890 The U.S. Congress passed the McKinley Tariff Act. The
act raised tariffs to a record level. 

1896 Rural Free Delivery was established by the U.S. Post
Office. 

1903 The first modern World Series took place between the
Boston Pilgrims and the Pittsburgh Pirates. 

1908 The Model T automobile was introduced by Henry Ford.
The purchase price of the car was $850. 

1918 Damascus was captured from the Turks during World War I
by a force made up of British and Arab forces. 

1936 General Francisco Franco was proclaimed the head of the
Spanish state. 

1938 German forces re-enter Czechoslovakia and seized
control of the German speaking Sudetenland. The Munich Pact
had been signed two days before. 

1940 The Pennsylvania Turnpike opened as the first toll
superhighway in the United States. 

1943 Naples was captured by the Allied forces during World
War II. 

1946 The International War Crimes Tribunal in Nuremberg
sentenced 12 Nazi officials to death. Seven others were
sentenced to prison terms and 3 were acquitted. 

1946 The first baseball play-off game for a league
championship was played. The St. Louis Cardinals defeated
the Brooklyn Dodgers, 4-2. 

1949 Mao Tse-tung raised the first flag of the People's
Republic of China when the communist forces had defeated the
Nationalists. The Nationalist forces fled to Taiwan. 

1962 Johnny Carson began hosting the "Tonight" show on NBC-
TV. He stayed with the show for 29 years. Jack Paar was the
previous host. 

1964 The Free Speech Movement was started at the University
of California at Berkeley. 

1968 "Night of the Living Dead" premiered in Pittsburgh, PA.


1971 Walt Disney World opened in Orlando, FL. 

1972 The Chinese government approved friendly relations with
the United States. 

1979 The United States handed control of the Canal Zone over
to Panama. 

1980 Robert Redford became the first male to appear alone on
the cover of "Ladies' Home Journal." He was the only male to
achieve this in 97 years. 

1982 EPCOT (Experimental Prototype Community of Tomorrow)
Center opened in Florida. The concept was planned by Walt
Disney. 

1984 U.S. Labor Secretary Raymond Donovan announced that he
was taking a leave of absence following his indictment on
charges of larceny and fraud. He was later acquitted. 

1985 The PLO's headquarters in Tunisia was raided by Israeli
jet fighters. 

1988 Mikhail Gorbachev assumed the Soviet presidency. 

1989 The authorized Charles Schulz biography, Good Grief,
was published. 

1989 7,000 East Germans were welcomed into West Germany
after they were allowed to leave by the communist
government. 

1990 U.S. President George H.W. Bush addressed the U.N.
General Assembly and once again condemned Iraq's takeover of
Kuwait. 

1990 In Croatia, minority Serbs proclaimed autonomy. 

1991 U.S. President Bush condemned the military coup in
Haiti that removed President Jean-Bertrand Aristide from
power. U.S. economic and military aid was suspended. 

1991 The U.S. trust territory of Palau became independent. 

1992 The Strategic Arm Reduction Treaty was approved by the
U.S. Senate. 

1994 The U.S. and Japan avoided a trade war by reaching a
series of trade agreements. 

1994 The National Hockey League (NHL) team owners began a
lockout of the players that lasted 103 days. 

1995 Sheik Omar Abdel-Rahman and nine other defendants were
convicted in New York of conspiring to attack the U.S.
through bombings, kidnappings and assassinations. 

1996 Lucent Technologies became an independent company. 

1998 The U.S. government posted a $2.2 million reward for
the capture of Augustin Vasquez Mendoza. He is accused of
killing an undercover U.S. agent during a drug purchase in
1994. 

1999 The 50th anniversary of the founding of the Peoples
Republic of China was celebrated in Beijing. 

2001 San Francisco's Board of Supervisors voted unanimously
to ban Internet filters designed to keep pornography away
from children at city libraries. The board left the decision
up to the Library Commission to decide whether to install
filtering software in children's areas. A federal law in the
U.S. mandated the use of the filters. 

2009 In the United Arab Emirates, the exterior construction
of the Burj Khalifa skyscraper was completed. 

2017  smiled.
[ view entry ]
( 9 views ) |
permalink
|
print article
|
( 3 / 786 )
---
<<First
<Back
| 17 | 18 | 19 | 20 | 21 | 22 | 23 | 24 | 25 | 26 |
Next>
Last>>