Good Morning, ,
Today is Thursday, October 12

Have Fun!
Dearwebby

Todays Bonehead Award:
Amateur actress arrested for trying to 
push random woman off subway platform
 Bonehead
______________________________________________________
Today, Oct 12 in
1492 Christopher Columbus, an Italian explorer, sighted
Watling Island in the Bahamas. He believed that he had
found Asia while attempting to find a Western ocean
route to India. The same day he claimed the land for
Isabella and Ferdinand of Spain. 
See More of what happened on this
day in history.
______________________________________________________

| | |
| --- | --- |
| If you can help with the cost of the Humor Letter, please donate what you can! | |
______________________________________________________ Anyone who goes to a psychiatrist ought to have his head examined. --- Samuel Goldwyn (1882 - 1974) You get fifteen democrats in a room, and you get twenty opinions. --- Senator Patrick Leahy If all the girls who attended the Yale prom were laid end to end, I wouldn't be a bit surprised. --- Dorothy Parker ______________________________________________________ If you like the Humor Letter, please vote!
______________________________________________________ Two elderly women were out driving in a large car; both ladies could barely see over the dashboard. As they were cruising along they came to an intersection. The stoplight was red but they just went on through. The woman in the passenger seat thought to herself, "I must be losing it, I could have sworn we just went through a red light." After a few more minutes they came to another intersection and the light was again red, and again they went right through. This time the woman in the passenger seat was almost sure that the light had been red but was really concerned that she was losing it. She was getting nervous and decided to pay very close attention at the next intersection to see what was going on. At the next intersection, sure enough, the light was definitely red and they went right through. At this point she turned to her friend and said, "Mildred! Do you know we just ran through three red lights in a row? You could get killed us!" Mildred turned to her and said, "Holy Moly! Am I driving?" _____________________________________________________ The only survivor of a shipwreck was washed up on a small, uninhabited island. He prayed feverishly for God to rescue him, and every day he scanned the horizon for help, but none seemed forthcoming. Exhausted, he eventually managed to build a little hut out of driftwood to protect him from the elements, and to store his few possessions. But then one day, after scavenging for food, he arrived home to find his little hut in flames, the smoke rolling up to the sky. The worst had happened; everything was lost. He was stunned with grief and anger. "God, how could you do this to me!" he cried. Early the next day, however, he was awakened by the sound of a ship that was approaching the island. It had come to rescue him. "How did you know I was here?" asked the weary man of his rescuers. "We saw your smoke signal," they replied. _____________________________________________________
______________________________________________________ Mom had been teaching her 3-year-old daughter to recite the Lord's Prayer. The youngster dutifully repeated it after her mother at bed time for several nights. One night, the girl insisted she was ready to pray "solo," so her mother listened with pride as she carefully enunciated every word. The mother was a bit exasperated and knew they needed to work on it some more as her daughter ended the prayer: "And lead us not into temptation," the youngster prayed, "but deliver us some email. Amen." ______________________________________________________
_____________________________________________________

If you like the Humor Letter, please vote!
Thanks for your votes!

______________________________________________________
An INTERNATIONAL BONEHEAD AWARD has been earned by
Keira Keeley, 35, New York, New York Amateur Actress arrested for trying to push random woman off subway platform A 35-year-old actress who has starred in off-Broadway shows and played bit parts on TV allegedly tried to push a fellow straphanger into the path of a subway train at Union Square over the weekend, law enforcement sources told The Post. Keira Keeley's random target was 57-year-old Leonore Gonzalez of the Bronx, who was waiting on the 4, 5 and 6 train platform. Keeley allegedly walked up and shoved her from behind at 12:15 a.m. Saturday. Gonzalez grabbed a pillar and narrowly avoided falling from the platform onto the tracks, police sources said. A cop heard screaming on the platform, and was told by a witness that Keeley intentionally pushed her victim toward the tracks as a train was pulling in, according to the sources. Gonzalez explained to cops that she didn't see Keeley move toward her, but felt a push and quickly grabbed a pillar so she wouldn't fall in front of the northbound train, according to sources. She suffered a bruise on her right elbow and wrist, as well as back pain after the push, sources said. The actress was arrested at the station, and initially claimed she'd simply bumped into Gonzalez, with whom she'd had no prior interaction — and even tried to grab her before she fell. Keeley later told police she'd been out boozing with her boyfriend, Jeff, at the 12th Street Ale House in the East Village, where she threw back four glasses of wine before heading home to the Bronx, according to sources. She admitted feeling "wiggly" and buzzed while waiting in the subway station, but denied pushing Gonzalez, sources said. Keeley, who has no prior arrests, was charged with attempted assault with intent to injure with a weapon. Her bail was set at $7,500, which she posted Monday, records show. Police sources said the incident was not caught on camera, but cops were planning to interview the train operator. Keeley has performed in off-Broadway productions according to her website. _________________________________ Tech Support Pits From: Helen Re: What mail to use for travelling Dear Webby, What kind of mail program is best for travelling? I heard that some hotels won't let you use POP mail? Is that true? Dear Helen That depends entirely on your choice of hotels. Most hotels block the regular email port, (25), but you can sneak around that and get out via port 587 or 465. You can usually get out OK with web mail. If you don't have a domain and webmail, get a Gmail account. Very few hotels block Gmail. Have FUN! DearWebby
---
A drunk is attracted by the food and stumbles along a baptismal service on Sunday afternoon down by the river. He proceeds to walk into the water and stand next to the preacher. The minister notices the old drunk and says, "Mister, are you ready to find Jesus?" The drunk looks back and says, "Yes, preacher, I sure am." The minister dunks the fellow under the water and pulls him right back up. "Have you found Jesus?" the preacher asks. "Nooo, I didn't!" said the drunk. The preacher then dunks him under for quite a bit longer, brings him up, and says, "Now, brother, have you found Jesus?" "Noooo, I have not, reverend." The preacher, in disgust, holds the man under for at least 30 seconds this time, brings him out of the water, and says in a harsh tone, "My God, man, have you found Jesus yet?" The old drunk wipes his eyes and says to the preacher, "Are you sure this is where he fell in?"
| | |
| --- | --- |
| If you can help with the cost of the Humor Letter, please donate what you can! | |
Daily tip from Thriftyfun.com Upcycled Light Bulb Terrarium This is a fun way to use a burnt out incandescent bulb that would otherwise be thrown out. Approximate Time: 30 minutes Supplies: 1 hollowed out incandescent bulb moss, dirt, pebbles, or any fun findings from outside a pencil or other long, narrow tool a screw string or thread Instructions: Start with an incandescent light bulb that has been previously hollowed out. There are some excellent tutorials online showing how to do this. Take the screw and start twisting it into the threads on one side of the bulb's aluminum cap to make a small hole. Twist it back out and make another hole across from the first on the opposite side. Fill the bulb carefully with your pebbles, then your dirt, and finally your moss and treasures. Use the pencil to move and push things so they are arranged to your liking. Using the holes you made in the cap of the bulb, thread your string through and tie it into a knot. By Shawna G. from Ann Arbor, MI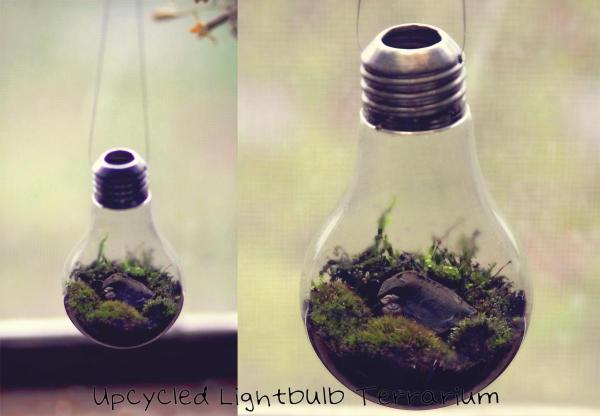 Tip provided by Thriftyfun.com She didn't list where you can learn how to hollow out a lightbulb, so I looked it up on Google. Here is one site that shows you how to do it: How to hollow out a lightbulb Have FUN! DearWebby ____________________________________________________
| | |
| --- | --- |
| | Italian School Lunch |
____________________________________________________ Morris complained to his doctor, "I've been to three other doctors and none of them agreed with your diagnosis." The doctor calmly replied, " BS ! Just wait until the autopsy, then you'll see that I was right!" __________________________________________________
| | |
| --- | --- |
| | The art of James Castle, created with spit, scraps and soot. |
___________________________________________________ Her husband had passed on and the new widow was so distraught that she sought out a spiritualist who told her that her husband was just fine. She added further that he was eagerly awaiting a reunion with her. "Is there anything he needs ?" the distraught woman asked, between tears. The spiritualist went into a trance state, then replied, "He says he'd love a package of cigarettes." "I'll send a carton immediately." the woman said joyfully. "But did he say where I should send them ?" "No." replied the Seer somberly. "But he didn't ask for matches."
Ophelia Dingbatter's NewsNo sermon and not suitable for church, just jokes and fun for grownups. Read it on-line or subscribe. If you subscribe, look for the double opt-in confirmation request.

A teacher in Los Angeles asked one of her pupils, "What's the nation's capital?" The reply was, "Washington DC." After the teacher asked the pupil what 'DC' stood for, the student added, "Dot com!" ____________________________________________________

Today, October 12, in 
1492 - Christopher Columbus, an Italian explorer, sighted
Watling Island in the Bahamas. He believed that he had
found Asia while attempting to find a Western ocean route
to India. The same day he claimed the land for Isabella and
Ferdinand of Spain. 

1792 - The first monument honoring Christopher Columbus was
dedicated in Baltimore, MD. 

1810 - Bavarian Crown Prince Ludwig married Princess
Therese of Saxony-Hildburghausen. The royalty invited the
public to attend the event which became an annual
celebration that later became known as Oktoberfest. 

1892 - In celebration of the 400th anniversary of the
Columbus landing the original version of the Pledge of
Allegiance was first recited in public schools. 

1895 - In Newport, RI, the first amateur golf tournament
was held. 

1915 - Former U.S. President Theodore Roosevelt criticized
U.S. citizens who identified themselves by dual
nationalities. 

1920 - Construction of the Holland Tunnel began. It opened
on November 13, 1927. The tunnel links Jersey City, NJ and
New York City, NY. 

1933 - The U.S. Department of Justice acquired Alcatraz
Island from the U.S. Army. 

1937 - "Mr. Keen, Tracer of Lost Persons" debuted on radio.


1938 - Production began on "The Wizard of Oz." 

1942 - During World War II, Attorney General Francis Biddle
announced that Italian nationals in the United States would
no longer be considered enemy aliens. 

1945 - Private First Class Desmond T. Doss was presented
with the Congressional Medal of Honor for outstanding
bravery as a medical corpsman. He was the first
conscientious objector in American history to win the
award. 

1960 - Soviet premier Nikita Khrushchev pounded a shoe on
his desk during a dispute at a U.N. General Assembly. 

1961 - The first video memoirs by a U.S. president were
made. Walter Cronkite interviewed Dwight D. Eisenhower. 

1964 - The Soviet Union launched Voskhod 1 into orbit
around the Earth. It was the first space flight to have a
multi-person crew and the first flight to be performed
without space suits. 

1972 - During the Vietnam War, a racial brawl broke out
aboard the U.S. aircraft carrier Kitty Hawk. Nearly 50
sailors were injured. 

1976 - China announced that Hua Guo-feng was named to
succeed the late Mao Tse-tung as chairman of the Communist
Party. 

1988 - Federal prosecutors announced that the Sundstrand
Corp. would pay $115 million dollars to settle with the
Pentagon for overbilling airplane parts over a five-year
period. 

1989 - The U.S. House of Representatives approved a
statutory federal ban on the destruction of the American
flag. 

1993 - The play "Mixed Emotions" opened at the John Golden
Theatre. 

1994 - Haitian military leader Raoul Cedras was granted
political asylum by Panama. 

1994 - The Magellan space probe ended its four-year mission
to Venus for the purpose of mapping. 

1997 - The St. Francis Basilica and 15th-century bell tower
above Foligno city hall in Italy were damaged by 3
earthquakes. 

1998 - The U.S. House of Representatives passed the Online
Copyright Bill. 

1999 - Rob Reiner received a star on the Hollywood Walk of
Fame. 

1999 - In Pakistan, Pervez Musharraf seized power in a
bloodless coup that toppled Prime Minister Nawaz Sharif.
The Supreme Court ruled that the coup was legal but
insisted that a civilian government be restored within
three years. 

2001 - A special episode of America's Most Wanted was aired
that focused on 22 wanted terrorists. The show was
specifically requested by U.S. President George W. Bush. 

2006 - The Dow Jones industrial average advanced over
11,900 for the first time. 

2015 - It was announced that Dell was buying EMC for around
$67 billion.

2017  smiled.
[ view entry ]
( 8 views ) |
permalink
|
print article
|
( 2.9 / 745 )
---
<<First
<Back
| 17 | 18 | 19 | 20 | 21 | 22 | 23 | 24 | 25 | 26 |
Next>
Last>>