Good Morning, ,
Today is Friday, October 13
Time to wear a bit of red to show your support for the troops!


Have Fun!
Dearwebby

Todays Bonehead Award:
22-year-old woman shot dead by police 
after running down officer with car
 Bonehead
______________________________________________________
Today, Oct 13 in
2010 Near Copiapó, Chile, 33 miners were trapped
underground in San José Mine. The miners were 
rescued after 69 days underground. 
See More of what happened on this
day in history.
______________________________________________________

| | |
| --- | --- |
| If you can help with the cost of the Humor Letter, please donate what you can! | |
______________________________________________________ The place where optimism most flourishes is the lunatic asylum. --- Havelock Ellis (1859 - 1939) or FaceBook? ______________________________________________________ If you like the Humor Letter, please vote!
______________________________________________________ Following some duty overseas, the officers at the Fort were planning a welcome home party and dance for the unit. Being an all male combat force, they decided to request coeds from some of the surrounding colleges to attend. The Captain called Vassar and was assured by the Dean that arrangements could be made to send over a dozen of their most trustworthy students. The Captain hesitated, then said, "Would it also be possible to send a dozen or so of the regular kind?" _____________________________________________________ By the time the sailor pulled into a little town, every hotel room was taken. "You've got to have a room somewhere," he pleaded with a proprietor, "or just a bed, I don't care where." "Well, I do have a double room with one occupant -- an Air Force guy," admitted the manager, "and he might be glad to split the cost. But to tell you the truth, he snores so loudly that people in adjoining rooms have complained in the past. I'm not sure it'd be worth it to you." "No problem," the tired Navy man assured him, "I'll take it." The next morning the sailor came down to breakfast bright- eyed and bushy-tailed. "How'd you sleep?" asked the manager. "Never better." The manager was impressed. "No problem with the other guy snoring?" "Nope, I shut him up in no time," said the Navy guy. "How'd you manage that?" asked the manager. "He was already in bed, snoring away, when I came in the room," the sailor explained. "I went over, gave him a kiss on the cheek, and said, 'Goodnight, beautiful,' and he sat up all night watching me." _____________________________________________________
______________________________________________________ Having just moved into his new office, a pompous, new colonel was sitting at his desk when an airman knocked on the door. Conscious of his new position, the colonel quickly picked up the phone, told the airman to enter, then said into the phone, "Yes, General, I'll be seeing him this afternoon and I'll pass along your message. In the meantime, thank you for your good wishes, sir." Feeling as though he had sufficiently impressed the young enlisted man, he brusquely asked, "What do you want?" "Nothing important, sir," the airman replied, "just here to hook up your telephone." ______________________________________________________
_____________________________________________________

If you like the Humor Letter, please vote!
Thanks for your votes!

______________________________________________________
An INTERNATIONAL BONEHEAD AWARD and a Darwin Award has been earned by
Cariann Hithon, 22, Miami, Florida 22-year-old woman shot dead by police after running down officer with car A 22-year-old woman who was shot and killed by police after crashing into an officer with her car was an aspiring lawyer, her father said. Cariann Hithon had been celebrating her birthday when she crashed her fancy black BMW into three vehicles in Miami. As a crowd gathered around her smashed car, Ms Hithon floored the accelerator and sped forwards, knocking a Florida police officer to the ground before another one quickly fired three shots at her before she could hit more people. Her car then swerved across the road and crashed. Ms Hithon was taken to a nearby hospital where she died of her wounds. In social media footage of the shooting, one bystander can be heard saying the driver was "drunk as sh**." The police officer she hit, David Cajuso, has been released from hospital and is recovering at home, the Miami Beach police department said. According to the Miami Herald, investigators believe Hithon and her friend, who got out of the car before she accelerated, had been drinking, however, the aggressive action of trying to kill the officer points more towards methamphetamine than alcohol. She had recently transferred from Hampton University in Virginia to Temple University in Philadelphia and was expected to graduate with a degree in political sciences. Hithon had an extensive criminal record including assault and drug charges. _________________________________ Tech Support Pits From: Sue Re: Is it a scam ? Dear Webby, I have rcvd e-mail from a credit card company----may or may not be valid----would like to forward to you for your opinion....i would prefer to forward WITH PERMISSION. Am not concerned so much with critters imbedded or or or....am more concerned 1)that it is bogus and 2)someone ELSE might fall into the trap----you have a tremendous following and could potentially help a buncha dolts and not just me........and no-----I am not just pandering to your ego----you are highly rated for a good reason..... Thanks in advance Sue Dear Sue When in doubt, trash it. There is always more spam and scam coming. If you forward it to me, most likely my MailWasher will recognize it as a scam and trash it anyway. With anything credit card related: If it tells you to stop by your local bank, then it's legit. If it asks for ANY input whatsoever, it's a scam. Feel free to enter the name and email address of your favorite politician, but never enter anything related to you, especially not bank account or PIN numbers. Have FUN! DearWebby
---
A private is on duty in the motor pool when the phone rings: "Soldier, can you tell me what equipment is available for use immediately?" The voice on the other end asked. "Well, sir, we have two tanks, a half dozen half-tracks, two armored personnel carriers, a couple of motorcycles, and fat-ass Johnson's command jeep." "Soldier? Do you know who you are speaking to?" "No sir." "This is Major Johnson, your commander!" "Uh Sir? Do you know who you are speaking to?" "Not yet!" "That's good! Bye, bye Fat-Ass!"
| | |
| --- | --- |
| If you can help with the cost of the Humor Letter, please donate what you can! | |
Daily tip from Thriftyfun.com Leaf Foxes By tiffanytallent1981 [97 Posts, 47 Comments] What does the fox say? If you decide to incorporate a winter animal theme into your classroom, foxes would fit perfectly. It seems that they tend to make more appearances during the colder months. It is probably because foxes do not hibernate and are looking for shelter to stay warm. One craft that is very easy to make is the leaf fox. You don't need many supplies and they turn out just adorable! If you want to read a book prior to making the craft, try The Winter Fox, by Timothy Knapman or Foxes in the Snow, by Jonathan Emmett. There are also numerous non-fiction books on every species of fox, if you want something educational.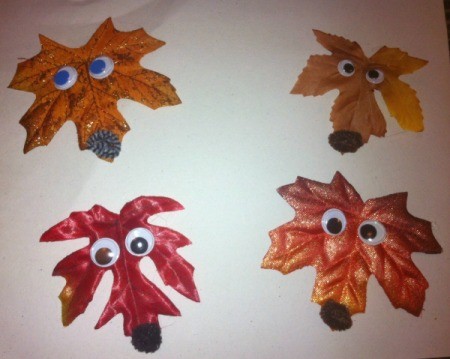 Total Time: 10 minutes Yield: 3 Supplies: 3 maple craft leaves (fox colors) 6 wiggle eyes 3 pipe cleaner pieces 2-3 inches long (black, brown, pink or gray) hot glue gun 1 hot glue stick 1 piece white cardstock 3 magnet strips (optional) Steps: If you don't want to make your foxes into magnets, glue them to the white card stock. Make sure the longest point is facing down. I found it looks better not to glue the leaves down flat. If you put glue in middle only, the sides stick up making the foxes pop! Hot glue two wiggle eyes on each leaf. Cut a pipe cleaner into 2-3 inch pieces. Roll each piece into an round ball and hot glue one to the tip of each leaf. If you want leaf fox magnets, cut the magnet strips in half. Place a line of glue on each one and add to the back of the leaves. Then you can display them on the fridge! Tip provided by Thriftyfun.com ____________________________________________________
| | |
| --- | --- |
| | Italian School Lunch |
____________________________________________________ The young Ensign approached the crusty old Chief and asked him about the origin of the commissioned office insignias. "Well, Ensign, it's history and tradition. First, we give you a gold bar representing that you're valuable BUT malleable. The silver bar of a Lieutenant Junior Grade represents value, but less malleable. When you make Lieutenant, you're twice as valuable so we give you two silver bars. As a Captain, you soar over military masses, hence the eagle. As an Admiral, you're obviously a star. That answer your question?" "Yeah, but what about Commanders and Lieutenant Commanders?" "Now that goes waaaaaay back in history. Back to the Garden of Eden even. You see, we've always covered our ....... with leaves." __________________________________________________
| | |
| --- | --- |
| | What a great idea! The town that eats together stays together |
___________________________________________________ Officer: Soldier, do you have change for a dollar? Soldier: Sure, buddy. Officer: That's no way to address an officer! Now let's try it again. Officer: Do you have change for a dollar? Soldier: No, SIR! =========================================== A Navy Chief and an Admiral were sitting in the barbershop. They were both just getting finished with their shaves-the barbers were reaching for some after-shave to slap on their faces. The admiral shouted, "Hey, don't put that stuff on me! My wife will think I've been in a whorehouse!" The chief turned to his barber and said, "Go ahead and put it on. MY wife doesn't know what the inside of a whorehouse smells like.
Ophelia Dingbatter's NewsNo sermon and not suitable for church, just jokes and fun for grownups. Read it on-line or subscribe. If you subscribe, look for the double opt-in confirmation request.

Family leaving Church after services: Father; "That was the longest driest, least informative sermon I've ever heard." Mother; "The choir was terrible. I never heard some of those hymns before, and they were singing them off key." Little Tommy; "I don't know, all in all it wasn't a bad show. Three of us for a dollar." ____________________________________________________

Today, October 13, in 
1775 The U.S. Continental Congress ordered the construction
of a naval fleet. 

1792 The cornerstone of the Executive Mansion was laid in
Washington, DC. The building became known as the White
House in 1818, when it was restored and whietwashed after
the Canucks had burned it in the war of 1812. 

1812 American forces were defeated at the Battle of
Queenstown Heights. The British victory effectively ended
any further U.S. invasion of Canada. 

1843 B'nai B'rith, the Jewish organization, was founded by
Henry Jones and eleven others in New York City, NY. 

1854 The state of Texas ratified a state constitution. 

1943 During World War II, Italy switched sides to the
winning side and signed an armistice with the Allies and
declared war on Germany. 

1944 American troops entered Aachen, Germany, during World
War II. 

1944 During World War II, British and Greek advance units
landed at Piraeus. 

1951 In Atlanta, GA, a football with a rubber covering was
used for the first time. Georgia Tech beat Louisiana State
25-7. 

1953 An ultrasonic burglar alarm was patented by Samuel
Bagno. 

1957 Bing Crosby and Frank Sinatra introduced the Ford
Edsel on an hour long special. 

1962 "Who's Afraid of Virginia Woolf?" opened on Broadway. 

1981 Egyptian voters elected Vice President Hosni Mubarak
as the new president one week after Anwar Sadat was
assassinated. 

1989 U.S. President George H.W. Bush called for an
overthrow of the Panamanian ruler Manuel Antonio Noriega. 

1992 A commercial flight record was set by an Air France
supersonic jetliner for circling the Earth in 33 hours and
one minute. 

1998 The National Basketball Association (NBA) canceled
regular season games, due to work stoppage, for first time
in its 51-year history. 

1999 The U.S. Senate rejected the ratification of the
Comprehensive Test Ban Treaty (CTBT). 

2010 Near Copiapó, Chile, 33 miners were trapped
underground in San José Mine. The miners were rescued after
69 days underground. 

2017  smiled.
[ view entry ]
( 6 views ) |
permalink
|
print article
|
( 3.1 / 908 )
---
<<First
<Back
| 17 | 18 | 19 | 20 | 21 | 22 | 23 | 24 | 25 | 26 |
Next>
Last>>