Good Morning, ,
Today is Monday, October 16
Have Fun!
Dearwebby

Todays Bonehead Award:
GA man used ax during robbery; 
wore high visibility Pokémon backpack
 Bonehead
______________________________________________________
Today, Oct 16 in
1793 During the French Revolution, Queen Marie Antoinette
was beheaded after being convicted of treason. 
See More of what happened on this
day in history.
______________________________________________________

| | |
| --- | --- |
| If you can help with the cost of the Humor Letter, please donate what you can! | |
______________________________________________________ Things are more like they are now than they ever were before. --- Dwight D. Eisenhower (1890 - 1969) Of all forms of caution, caution in love is perhaps the most fatal to true happiness. --- Bertrand Russell ______________________________________________________ If you like the Humor Letter, please vote!
______________________________________________________ Jones came into the office, an hour late for the third time in one week and found the boss waiting for him. "What's the story this time, Jones?" his boss asked sarcastically. "Let's hear a good excuse for a change." Jones sighed, "Everything went wrong this morning, Boss. The wife decided to drive me to the station. She got ready in ten minutes, but then the drawbridge got stuck. Rather than let you down, I swam across the river -- look, my suit´s still damp -- ran out to the airport, got a ride on Mr. Thompson´s helicopter, landed on top of Radio City Music Hall, and was carried here piggyback by one of the Rockettes." "You'll have to do better than that, Jones," said the boss, obviously disappointed. "No woman can get ready in ten minutes." _____________________________________________________
______________________________________________________ Thanks to Gina for this story: When my youngest daughter was three, she begged to be allowed to attend a concert with her older sister and brother. She assured me she was a big girl and would behave herself. As we took our seats in the orchestra hall, I handed programs to the kids. Following the lead of her older siblings, my three-year-old opened her program, and in her most grown-up voice said, "Mommy, I'll have the chicken, please." ______________________________________________________
Onion Harvest in Nevada _____________________________________________________

If you like the Humor Letter, please vote!
Thanks for your votes!

______________________________________________________
An INTERNATIONAL BONEHEAD AWARD has been earned by
Funzail Woods, 29, Atlanta GA GA man used axe during robbery; wore high visibility Pokémon backpack Funzail Woods was arrested after using an axe as a weapon at the Target store on Piedmont Road in Buckhead, according to police. Investigators said the man walked over to the electronics section, "where he took a cell phone out of a package and proceeded to put it in his pocket. When he was approached by the manager, he actually presented an axe. The manager, of course, backed off," said Officer Lisa Bender, Atlanta Police Department. Woods then ran out the store. The 911 alert went out to Zone 2 officers. By then, Woods had changed his shirt. "But he didn't change his backpack. So, I think that's what got him," said Officer Bender. "The man took off running when he saw police. And he did have a Pokémon backpack, so those are normally a bright color and typically easy to spot." Woods allegedly showed his weapon to one of the officers, but apparently figured that wasn't such a good idea. Close by on Sidney Marcus, Atlanta Police said he tossed the backpack into the street. It was too late to make a getaway. By then several officers surrounded him and took him into custody. _________________________________ Tech Support Pits From: Thomas Re: Can you sort bookmarks in Chrome? Dear Webby, Can you sort bookmarks in Chrome? Thanks Thomas Dear Thomas Yes, you can, but it is top secret. Open your web browser. CTRL SHIFT o That is the Bookmarks Manager. Click on the Organise button Reorder by title. Chrome unfortunately is rather incompetent when it comes to sorting bookmarks. They want you to google for new stuff, not go to where you have already been, and especially not where you have been recently, before you got rudely interrupted by your boss. You can NOT sort the bookmarks by date or by URL. If you want that, you need the Dewey The Dewey is actually a program, that you add as an extension to Chrome. It is a complete bookmarks manager. You will probably never use all the features it has, but the quick sorting by date or URL is very handy. You can even add tags like PRAYER to bookmarks, and then have searches limited to bookmarks, that have a chosen tag. Have FUN! DearWebby
---
A woman with a baby came into the doctor's office. She was told to go into a room and wait for the doctor. After arriving, the doctor examined the baby and asked the woman, "Is he breast fed or on the bottle?" "Breast fed" she replied. "Well, strip down to your waist,"the doctor ordered. She did. He pressed, kneaded and pinched both breasts for a while in a detailed examination. Motioning to her to get dressed he said, "No wonder this baby is hungry. You don't have any milk." "Naturally," she said, "I'm his Grandma. But I'm glad I came...."
| | |
| --- | --- |
| If you can help with the cost of the Humor Letter, please donate what you can! | |
Daily tip from Thriftyfun.com Fake books for Halloween decoration By lalala... [848 Posts, 108 Comments]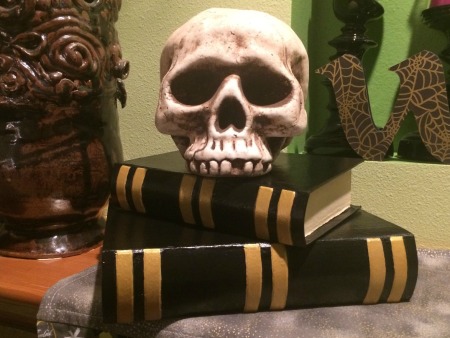 I wanted a stack of old books as a prop with my Halloween decorations, but all of the ones I found were too expensive. Then I saw these at the craft store, they are actually boxes. They are perfect and easily customizable. Faux Books for Halloween By lalala... [848 Posts, 108 Comments] I wanted a stack of old books as a prop with my Halloween decorations, but all of the ones I found were too expensive. Then I saw these at the craft store, they are actually boxes. They are perfect and easily customizable. Supplies: paper mache book boxes black paint white paint gold paint paint brushes clear coat, optional Steps: Paint the outside of books (skipping the pages area and the spine details). Once the paint is dry, paint the inside of the box. I recommend doing 2 coats of paint. Paint the spine details with the gold paint. For the pages, I mixed white and gold paint together to give them an aged look. Stack your faux books and use them as part of your Halloween decorations. You can also store treats or small items in them too. Tip provided by Thriftyfun.com ____________________________________________________
| | |
| --- | --- |
| | We fall to pieces |
____________________________________________________ Thanks to kati for this story: Fifty-one years ago Herman James, a Tennessee Mountain Man, was drafted by the Army. On his first day in Basic, the Army issued him a comb. That afternoon the Army barber sheared off all his hair. On his second day, the Army issued Herman a toothbrush. That afternoon the Army dentist yanked seven of his teeth. On the third day, the Army issued him a jock strap. The Army has been looking for Herman for 51 years. __________________________________________________
| | |
| --- | --- |
| | Line Rider Perfectly Synced to Edvard Grieg's Mountain King |
___________________________________________________ A graduate in economics who completed his degree in the 1950's returned to his old university for a visit. He was amazed to see that the examination questions were identical to the ones asked in his day. When he pointed this out to a member of staff, he replied, "That's true, but, of course, the answers are completely different now." ___________________________________________________ >From Ida My dry cleaner very generously provides a stack of free newspapers for his customers. As I took my copy, I told him, "I hope the business grows enough to offset the cost of the papers." "Oh, don't worry about us," he chuckled... "Nothing dirties clothes more than newsprint."
Ophelia Dingbatter's NewsNo sermon and not suitable for church, just jokes and fun for grownups. Read it on-line or subscribe. If you subscribe, look for the double opt-in confirmation request.

A woman stopped by unannounced at her recently married son's house. She rang the doorbell and walked in. She was shocked to see her daughter-in-law lying on the couch, totally naked, soft music was playing and the aroma of perfume filled the room. "What are you doing?" she asked. "I'm waiting for my husband to come home from work," the daughter-in-law answered. "But you're naked!" the mother-in-law exclaimed. "This is my love dress," the daughter-in-law explained. "Love dress? But you're naked!" "My husband loves me to wear this dress," she explained. "It excites him to no end. Every time he sees me in this dress, he instantly becomes romantic and ravishes me for hours on end. He can't get enough of me." The mother-in-law left. When she got home, she undressed, showered,put on her best perfume, dimmed the lights, put on a romantic CD, and laid on the couch waiting for her husband to arrive. Finally her husband came home. He walked in and saw her lying there so provocatively. "What are you doing?" he asked. "This is my love dress," she whispered, sensually. "Needs ironing," he said. "What's for dinner?" His funeral will be held next Thursday ____________________________________________________

Today, October 16, in 
1701 The Collegiate School was founded in Killingworth, CT.
The school moved to New Haven in 1745 and changed its name
to Yale College. 

1793 During the French Revolution, Queen Marie Antoinette
was beheaded after being convicted of treason. 

1829 In Boston, MA, the first modern hotel in America
opened. The Tremont Hotel had 170 rooms that rented for $2
a day and included four meals. 

1859 Abolitionist John Brown led a raid on Harper's Ferry,
VA (now located in West Virginia). 

1869 A hotel in Boston became the first in the U.S. to
install indoor plumbing. 

1916 Margaret Sanger opened the first birth control clinic
in New York City, NY. 

1923 Walt Disney contracted with M.J. Winkler to distribute
the Alice Comedies. This event is recognized as the start
of the Disney Company. 

1928 Marvin Pipkin received a patent for the frosted
electric light bulb. 

1941 The Nazis advanced to within 60 miles of Moscow.
Romanians entered Odessa, USSR, and began exterminating
150,000 Jews. 

1943 Chicago's new subway system was officially opened with
a ribbon cutting ceremony. 

1955 Mrs. Jules Lederer replaced Ruth Crowley in newspapers
using the name Ann Landers. 

1962 U.S. President Kennedy was informed that there were
missile bases in Cuba, beginning the Cuban missile crisis. 

1964 China detonated its first atomic bomb becoming the
world's fifth nuclear power. 

1967 NATO headquarters opened in Brussels. 

1970 Anwar Sadat was elected president of Egypt to succeed
Gamal Abdel Nassar. 

1973 Henry Kissinger and Le Duc Tho were named winners of
the Nobel Peace Prize. The Vietnamese official declined the
award. 

1978 Poland's Karol Josef Wojtyla was elected Pope John
Paul II. 

1982 China announced that it had successfully fired a
ballistic missile from a submarine. 

1987 Rescuers freed Jessica McClure from the abandoned well
that she had fallen into in Midland, TX. She was trapped
for 58 hours. 

1989 U.S. President George H.W. Bush signed the Gramm-
Rudman budget reduction law that ordered federal programs
be cut by $16.1 billion. 

1990 Comedian Steve Martin and his wife Victoria Tennant
visited U.S. soldiers in Saudi Arabia. 

1993 The U.N. Security Council approved the deployment of
U.S. warships to enforce a blockade on Haiti to increase
pressure on the controlling military leaders. 

1994 German Chancellor Helmut Kohl was re-elected to a
fourth term. 

1995 The "Million Man March" took place in Washington, DC. 

1997 Charles M. Schulz and his wife Jeannie announced that
they would give $1 million toward the construction of a D-
Day memorial to be placed in Virginia. 

2000 It was announced that Chevron Corp. would be buying
Texaco Inc. for $35 billion. The combined company was
called Chevron Texaco Corp. and became the 4th largest oil
company in the world. 

2002 It was reported that North Korea had told the U.S.
that it had a secret nuclear weapons program in violation
of an 1994 agreement with the U.S. 

2002 The Arthur Andersen accounting firm was sentenced to
five years probation and fined $500,000 for obstructing a
federeal investigation of the energy company Enron. 

2008 The iTunes Music Store reached 200 billion television
episodes sold.

2017  smiled.
[ view entry ]
( 15 views ) |
permalink
|
print article
|
( 3.1 / 866 )
---
<<First
<Back
| 17 | 18 | 19 | 20 | 21 | 22 | 23 | 24 | 25 | 26 |
Next>
Last>>