Good Morning, ,
Today is Saturday, December 2

Have Fun!
Dearwebby

Todays Bonehead Award:
5 boneheads arrested trying to break into home 
while police are inside investigating their earlier
break-in.
 Bonehead
______________________________________________________
Today, December 2 in
1927 The Ford Motor Company unveiled the Model A automobile.
It was the successor to the Model T. 
See More of what happened on this day in history.

---


______________________________________________________

| | |
| --- | --- |
| If you can help with the cost of the Humor Letter, please donate what you can! | |
______________________________________________________ Water, taken in moderation, cannot hurt anybody. --- Mark Twain (1835 1910) If you don't know where you are going, any road will take you there. --- Lewis Carroll (1832 1898) ______________________________________________________ If you like the Humor Letter, please vote!
______________________________________________________ >From Leesa On his way home from work recently, my husband came upon a 'Road Closed' sign. Undeterred, he maneuvered his truck around it and continued on. But he didn't get very far. The pavement ended, giving way to another, larger sign: "What Part of 'Road Closed' Didn't You Understand?" _____________________________________________________
______________________________________________________ >From Al Some people REALLY love Christmas. Me, I love Thanksgiving. Last year I had my chance to do the traditional thing of shooting my own turkey. Man, you should have seen the people scatter in the meat department! ______________________________________________________
Supermoon! Catch it tonight. _____________________________________________________

If you like the Humor Letter, please vote!
Thanks for your votes!

_____________________________________________________ >From Theresa I was addressing some mail when I noticed that my card file of frequently used addresses was missing. Thinking it must have fallen from my typing table into the wastebasket, I called the office janitor. "I've lost my Rolodex," I told him. "It may have been picked up with the trash. Is there any way you could find it?" He said he would conduct a search. When the janitor informed me he had searched every trash container for my Rolodex, with no luck, I thanked him for his trouble. As I left work that evening, the janitor met me at the door. "Good night," he said smiling apologetically. "Sorry I couldn't find your watch." _____________________________________________________
An INTERNATIONAL BONEHEAD AWARD has been earned by
(Clockwise) Penny, Culbreath, Long, Cathcart, Wallace (Source: Mecklenburg County Sheriff's Office) Charlotte, NC 5 boneheads arrested trying to break into home while police are inside investigating their earlier break-in. Five people were arrested Friday night after trying to break into an uptown Charlotte townhouse twice, but the second time police were inside investigating the first break-in. Friday evening, a man reportedly came home to find people inside his townhouse on Garden District Drive, in the middle of a burglary. He was able to back out of his home, without them noticing he was there, and call 911, according to officers. Charlotte-Mecklenburg police arrived while the two were still in the house and arrested them. Police identified the two as 33-year-old Johnny Penny and 24-year-old Javonte Cathcart. Without knowing that police were still inside the townhouse investigating the break-in, three more people returned to try to break into the home about two hours later. Officers said the three tried to run away, but were quickly apprehended. Malik Long, 20, Khalil Wallace, 22, and Jamaka Culbreath, 16, face charges in the second attempted break-in. Penny and Cathcart both face felony breaking and enter and attempted larceny charges. Long also faces felony breaking and entering charges as well as possession of stolen goods charges. Culbreath was charged with possession of stolen goods. Wallace was charged with breaking and entering, possession of stolen goods, larceny of a firearm, possession of a firearm by a convicted felon and possession of marijuana. The homeowner was not hurt. _________________________________ Tech Support Pits From: Janice Re: quiet and washable keyboard Dear Webby, I am a home care nurse and spend a large part of my time "just being there" with terminally ill patients. I know some of them are overly sensitive or just want to complain about something, but the noise from my laptop when I write my reports or whatever, caused a few complaints. Is there a really quiet keyboard that I could use? Janice Dear Janice Yes, there sure is! The flexible Indestructible keyboard is totally quiet, and you can safely disinfect or wash it without worrying about damaging it. They even have a version with a faint luminescent glow, so that you can work in the dark. There will still be the light from the screen, but at least you won't have to turn any lights on to be able to type. Most laptops let you dim the screen, some dim automatically, when you unplug the charger. They are full size 52 cm (20") keyboards, but you can roll them up to fit into a purse, or for cleaning, to fit into even the smallest sink or disinfectant basin. Best place for it is at http://www.grandtec.com/ They are not free, of course: $35, but are virtually indestructible. You can step on them, drive over them with a wheel chair, throw them into a tub, put them into a dishwasher after a patient throws up onto it. You can, of course, use them outside, in the rain, or while in a hot-tub. They are indestructible, unless you shoot a hole through one. I got one many years ago for use outdoors. Have FUN! DearWebby
Automatically move ALL your settings and programs. No need to re-install them. The only mover recommended by Intel and Microsoft.
---
During my brother's wedding, my mother managed to keep from crying---until she glanced at my grandparents. My grandmother had reached over to my grandfather's wheelchair and gently touched his hand. That was all it took to start my mother's tears flowing. After the wedding, Mom went over to my grandmother and told her how that tender gesture triggered her outburst. "Well, I'm sorry to ruin your moment," Grandmother replied, "but I was just checking his pulse."
| | |
| --- | --- |
| If you can help with the cost of the Humor Letter, please donate what you can! | |
>From Bill One night at about 3am my wife was getting up from the toilet to return to bed when she heard a little noise. It was a suspiciously rodent like sound that seemed to be right in the bathroom with her. She, of course, froze and listened attentively for any further sign of invaders. After a moment, satisfied that she was alone, she took a step for the door. Rodent scratchy sounds again! She froze, not breathing. Silence. Her heart beat fast as she once again tried to retreat from the bathroom. This time the noise was accompanied by something touching the back of her leg! That was too much to bear. She literally flew the 8 feet to the bed, clearing the foot board by a couple feet, to land screaming by my side. The culprit was right there in plain sight, a trail of toilet paper neatly marked the path from bed to the bath- room. ____________________________________________________ Daily tip from Thriftyfun.com Photo Christmas Keepsake Ornament I had photo made on transparency film at Kinko's. Then I cut it out in a 3" circle. Rolled it up and inserted into the top of clear glass ball. It flattens out by itself. I added some angel (or glitter) hair, poking it down with a pencil, on each side of the film. Then I replaced the top, added some "snowflakes" the names and date with a white marker. These are our two oldest great grandsons. Have to make another since there are 3 of them now.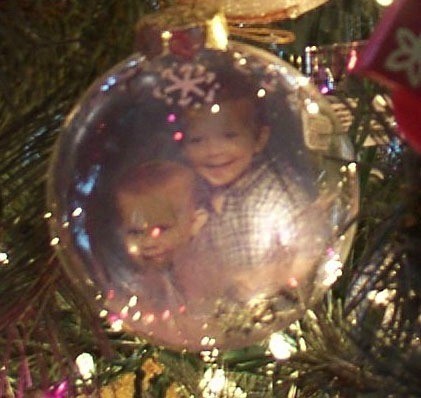 By Great Granny Vi Tip provided by Thriftyfun.com font> ____________________________________________________ At the construction site of a new church, the contractor stopped to chat with one of his workmen. "Paddy," he asked casually, "didn't you once tell me that you had a brother who was a bishop?" "That I did, sir." "And you are a bricklayer! It sure is a funny old world. Things in life aren't divided equally, are they?" "No, that they ain't sir," agreed Paddy, as he proudly slap- ped the mortar along the line of bricks. "My poor brother is such a miserable klutz, he couldn't do this to save his life!"
| | |
| --- | --- |
| | Historical photos that have been colored. Enlarge them to get the full benefit. |
Murphy's Technology Laws Murphy's Technology Law #1 -- You can never tell which way the train went by looking at the track. Murphy's Technology Law #2 -- Logic is a systematic method of coming to the wrong conclusion with confidence. Murphy's Technology Law #3 -- Technology is dominated by those who manage what they do not understand. Murphy's Technology Law #4 -- If builders built buildings the way programmers wrote programs, then the first woodpecker that came along would destroy civilization. Murphy's Technology Law #5 -- All great discoveries are made by mistake. Murphy's Technology Law #6 -- Nothing ever gets built on schedule or within budget. Murphy's Technology Law #7 -- All's well that ends... period. Murphy's Technology Law #8 -- A meeting is an event at which minutes are kept and hours are lost. Murphy's Technology Law #9 -- The first myth of management is that it exists. Murphy's Technology Law #10 -- A failure will not appear until a unit has passed final inspection. Murphy's Technology Law #11 -- New systems generate new problems. Murphy's Technology Law #12 -- Any given program, when running, is obsolete. Murphy's Technology Law #13 -- A computer makes as many mistakes in two seconds as 20 men working 20 years make. ___________________________________________________
Ophelia Dingbatter's NewsNo sermon and not suitable for church, just jokes and fun for grownups. Read it on-line or subscribe. If you subscribe, look for the double opt-in confirmation request.

____________________________________________________

Today, December 2, in 
1804 Napoleon was crowned emperor of France at the Cathedral
of Notre Dame in Paris. 

1823 U.S. President James Monroe outlined his doctrine
opposing European expansion in the Western Hemisphere. 

1901 Gillette patented the KC Gillette Razor. It was first
razor to feature a permanent handle and disposable double-
edge razor blades. 

1917 During World War I, hostilities were suspended on the
eastern front. 

1927 The Ford Motor Company unveiled the Model A automobile.
It was the successor to the Model T. 

1939 New York's La Guardia Airport began operations as an
airliner from Chicago landed at 12:01 a.m. 

1942 A self-sustaining nuclear chain reaction was
demonstrated by Dr. Enrico Fermi and his staff at the
University of Chicago. 

1954 The U.S. Senate voted to condemn Sen. Joseph R.
McCarthy for what it called "conduct that tends to bring the
Senate into dishonor and disrepute." The censure was related
to McCarthy's controversial investigation of suspected
communists in the U.S. government, military and civilian
society. 

1961 Cuban leader Fidel Castro declared in a nationally
broadcast speech that he was a Marxist-Leninist and that he
was going to lead Cuba to communism. 

1969 The Boeing 747 jumbo jet got its first public preview
as 191 people flew from Seattle, WA, to New York City, NY.
Most of the passengers were reporters and photographers. 

1980 The Central Committee of Poland's Communist Party
announced major Politburo changes. The changes were aimed at
coping with labor unrest. 

1982 Doctors at the University of Utah implanted a permanent
artificial heart in the chest of retired dentist Barney
Clark. He lived 112 days with the device. The operation was
the first of its kind. 

1990 Chancellor Hekmut Kohl's coalition won the first free
all-German elections since 1932. 

1990 The Midwest section of the U.S. prepared for a massive
earthquake predicted by Iben Browning. The earthquakes did
not occur. 

1992 Germany's lower house of parliament voted in favor of
the Maastricht Treaty on European unity. 

1993 The space shuttle Endeavor blasted off on a mission to
fix the Hubble Space Telescope. 

1994 The U.S. government agreed not to seek a recall of
allegedly fire-prone General Motors pickup trucks. A deal
was made with GM under which the company would spend more
than $51 million on safety and research. 

1995 NASA launched a U.S.-European observatory on a $1
billion dollar mission intended to study the sun. 

1997 U.S. Attorney General Janet Reno declined to seek an
independent counsel investigation of telephone fund-raising
by President Clinton and Vice President Gore. She had
concluded that they had not violated election laws. 

1998 Microsoft Corp. chairman Bill Gates donated $100
million to help immunize children in developing countries. 

1999 The British government transferred political power over
the province of Northern Ireland to the Northern Ireland
Executive. 

2001 Enron Corp. filed for Chapter 11 reorganization. The
filing came five days after Dynegy walked away from a $8.4
billion buyout. It was the largest bankruptcy in U.S.
history. 

2010 NASA announced the discovery of a new arsenic-based
life form. 

2017  smiled.
[ view entry ]
( 6 views ) |
permalink
|
print article
|
( 3.1 / 1359 )
---
<<First
<Back
| 15 | 16 | 17 | 18 | 19 | 20 | 21 | 22 | 23 | 24 |
Next>
Last>>