Good Morning, ,
Today is Wednesday, December 20

Tonight, while  walking, it was light out!
Just light pollution reflecting from fog and light snowing.

After years of bitching they finally converted the high
wattage street lights, that wasted 3/4 of the light shining
sideways and up, with low wattage lights with at least
partial reflectors, but enough light pollution still made
the sky light enough, that you could read headlines on
papers and brand names on tossed away kid`s lunches.

However, light snow was gently falling and burying all the
garbage. 

The Christmas lighting revealed their owner`s frugality.
The old fashioned incandescent lights melted the snow off
them and they shone brightly. The more modern LED lights
had snow on them and looked twice as nice shining through
the snow. And used 1/20 the amount of electricity.

Have Fun!
Dearwebby

Todays Bonehead Award:
Husband caught school teacher 
in bed with 15 year old student
 Bonehead
______________________________________________________
Today, December 20 in
1803 The United States Senate ratified a treaty that
included the sale of Louisiana Territories from France for
$15 million. The transfer was completed with formal
ceremonies in New Orleans. 

1820 The state of Missouri enacted legislation to tax
bachelors between the ages of 21-50 for being unmarried.
The tax was $1 a year. 

1990 The world's first website and server go live at CERN.
The first website was
http://info.cern.ch/hypertext/WWW/TheProject.html. It still
works!

See More of what happened on this day in history.

---


______________________________________________________

| | |
| --- | --- |
| If you can help with the cost of the Humor Letter, please donate what you can! | |
______________________________________________________ No matter what side of the argument you are on, you always find people on your side that you wish were on the other. --- Jascha Heifetz (1901 - 1987) Abstract art is a product of the untalented, sold by the unprincipled to the utterly bewildered. --- Al Capp (1909 - 1979) ______________________________________________________ If you like the Humor Letter, please vote!
______________________________________________________ Woman phones up her husband at work for a chat. HIM "I'm sorry dear but I'm up to my neck in work today." HER "But I've got some good news and some bad news for you dear." HIM "OK darling, but as I've got no time now, just give me the good news." HER "Well, the air bag worked." _____________________________________________________
______________________________________________________ An orchestra is playing Beethoven's 9th Symphony. There is a passage in the middle when, for about 20 minutes, the bass violinists have nothing to do. So they decide to slip out to a bar and drink a few beers. After a while one says, "Hey, we better get going." But another says, "No, wait. I tied several pages of the conductor's sheet music together, so we'll have a couple of extra minutes while he sorts it out." So they stay for another round. Finally when they go staggering back to their places. It was the bottom of the ninth, the score was tied, and the bassists were loaded. ______________________________________________________
Body Language! ____________________________________

If you like the Humor Letter, please vote!
Thanks for your votes!

_____________________________________________________ An old man in Mississippi was sitting on his front porch watching the sun rise. He sees the neighbor's kid walk by carrying something big under his arm. He yells out "Hey boy, whatcha got there?" Boy yells back "Roll of chicken wire." Old man says "What you gonna do with that?" Boy says "Gonna catch some chickens." Old man yells "You damn fool, you can't catch chickens with chicken wire!" Boy just laughs and keeps walking. That evening at sunset the boy comes walking by and to the old man's surprise he is dragging behind him the chicken wire with about 30 chickens caught in it. Same time next morning the old man is out watching the sun rise and he sees the boy walk by carrying something kind of round in his hand. Old man yells out "Hey boy, whatcha got there?" Boy yells back "Roll of duck tape." Old man says "What you gonna do with that?" Boy says back "Gonna catch me some ducks." Old man yells back, "You damn fool, you can't catch ducks with duck tape!" Boy just laughs and keeps walking. That night around sunset the boy walks by coming home and to the old man's amazement he is trailing behind him the unrolled roll of duck tape with about 35 ducks caught in it. Same time next morning the old man sees the boy walking by carrying what looks like a long reed with something fuzzy on the end. Old man says "Hey boy, whatcha got there?" Boy says "It's a pussy willow." Old man says "Wait up.... I'll get my hat...." _____________________________________________________
An INTERNATIONAL BONEHEAD AWARD has been earned by
Andrea Nicole Barber, 29, Cottage Grove, Oregon Husband caught school teacher in bed with 15 year old student A now former Christian school teacher faces charges after her husband reportedly busted her having an affair with a 15-year-old student. Andrea Nicole Barber, 29, was arrested Friday at her home in Cottage Grove, Oregon, just days after her spouse allegedly walked in on her and the student in bed, The News-Review reported. He must have heard their noise and had a camera. Soon after they were caught, the teen's father received an anonymous email asking whether he knew his son and the Logan Christian Academy teacher were in a sexual relationship, authorities said. In the Dec. 12 message, photos were attached of the boy in bed with the English teacher. The anonymous email was reported to authorities who determined that Barber allegedly had sex "on a regular basis" with the student, according to The Register-Guard. Deputies said that Baber began a relationship in 2016 with the teen and often provided him with alcohol and pot. She was booked Friday at Douglas County Jail on charges including sodomy, rape and contributing to the sexual delinquency of a minor. Authorities said that Baber was no longer employed at Logan Christian Academy, but her staff biography remained Monday on the school website. _________________________________ Tech Support Pits From: Steve Re: Folder options Dear Webby, I really enjoy your humor page. I make sure I read it every day. I have a question about folders. Some folders seem to just stay organized in the way things are added to them, but others alphabetize themselves. I have tried making a folder with songs that I want to burn to a CD, but am still trying to work out the order. Unfortunately, every time I close the folder, it alphabetizes itself. I've tried unchecking the "Auto Arrange", but that doesn't work. Steve Dear Steve At the top you see the column headings. If you click on DATE or MODIFIED, then they get ordered by date. If you click on NAME, then it sorts them by name, If you rename your files with a number at the front, then NAME will have them sorted by those numbers. Some versions of Windows will sort numbers literally, and show the files like this: 1,10,11,12,...19,2,20,21,... I know, it is rather goofy, but you can get used to it. You can, of course use letter prefixes like aa_music.mp4, ab_musicale.mp4, etc. Think about which method you want to use for the rest of your life, and then stick to that. You'll get used to it. Have FUN! DearWebby
---
Automatically move ALL your settings and programs. No need to re-install them. The only mover recommended by Intel and Microsoft.
Harry was describing a 30 pound bass he'd caught recently after fighting it for three hours. Bill interrupted the story saying, "I saw the picture you took of that fish. You're lucky if it even weighed 10 pounds." Harry replied, "Well . . . a fish can lose an awful lot of weight during three hours of fighting."
| | |
| --- | --- |
| If you can help with the cost of the Humor Letter, please donate what you can! | |
Tired of having to stare at the luscious young kitten on the other side of the chain link fence, bold Tommy Tomcat decided to visit her one day. Settling back on his haunches, he gave a mighty leap and landed on the other side; impressed, the lovely cat sauntered over. "That was quite a leap," she remarked. "Want to go somewhere and cuddle?" "Afraid not," said Tommy, a pained expressions on his face. "The fence was higher than I thought." ____________________________________________________ Daily tip from Thriftyfun.com Pasta Christmas Ornaments By attosa [483 Posts, 2,616 Comments] I am in love with making these ornaments out of dry pasta. Some of my favourite pasta shapes to create with are penne and rotelle, but any variety can be used. Go ahead and experiment! Pasta Christmas Ornaments - ornaments against a wood backgroundI am in love with making these ornaments out of dry pasta. Some of my favourite pasta shapes to create with are penne and rotelle, but any variety can be used. Go ahead and experiment! Total Time: 90 minutes Yield: 3 ornaments Supplies: dry penne and rotelle pasta hot glue gun with glue paints paintbrush glitter string Total Time: 90 minutes Yield: 3 ornaments Supplies: dry penne and rotelle pasta hot glue gun with glue paints paintbrush glitter string Steps: To make the large snowflake ornament, glue 2 pieces of penne pasta together so it makes a downward pointing arrow shape. glue 2 pieces of penne pasta Continue to make more so you have four arrows in total. Only the backsides should have glue all over them. make 4 Take some rotelle pasta and glue them together in the shape of a cross. Now glue the penne arrows in the spaces between the rotelle. To make the small snowflake ornament, evenly glue 6 pieces of rotelle around 1 in the center. Glue 6 more pieces of rotelle evenly around the outside. To make the Christmas tree ornament, glue together 6 rows of rotelle with the top row having 1 rotelle, the bottom having 6 rotelle. Glue one under the last line as the tree trunk. To make the Christmas tree's ornaments, gently press on your hot glue gun to make tiny little balls of glue. Gently pick up all the ornaments to see if there are any areas that need more glue. Remember that only the backsides should have the hot glue on them; keep the front areas clean. If you're using paint with a brush, use the side of the brush to dab downwards on the pasta. Paint the tiny balls of glue and attach them to the tree as ornaments. If you're using spray paint, lay down some newspaper outside and spray from angles to get inside the the holes. Sprinkle on some glitter when the paint is almost dry. When fully dry, attach strings to the tops of the ornaments. Hang in your tree and enjoy!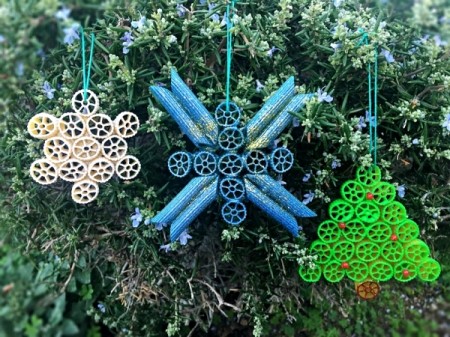 Tip provided by Thriftyfun.com font> You can get dozens of different shapes of pasta at the Bulk Barn quite cheaply. Make a kid safe glue from flour and water, and let the kids go nuts with gluing ornaments together. They can, of course, also add shells and anything interesting. The best fisnish for pasta ornaments is spray or dip in chrome, silver color or bright zink paint, then when that is good and dry, a light coat of Candy Apple spray paint. Candy Apple can be faked by mixing clear acrylic varnish with a bit of wine red acrylyc paint. That makes the project washable. Have FUN! DearWebby ____________________________________________________ While down south on a visit, the young Yankee made a date with a local lovely. When he called for her, she was clad in a low-cut, tight-fitting, short dress. He remarked, "That's certainly a beautiful dress." "Sho 'nough?" she asked sweetly. "Yes, it does," he replied.
| | |
| --- | --- |
| | The 2017 Nat Geo Nature Photographer of the Year Winners are Here and Amazing! |
It's true that we don't know what we've got until we lose it, but it's also true that we don't know what we've been missing until it arrives. ___________________________________________________
Ophelia Dingbatter's NewsNo sermon and not suitable for church, just jokes and fun for grownups. Read it on-line or subscribe. If you subscribe, look for the double opt-in confirmation request.

____________________________________________________

Today, December 20, in 
1606 The "Susan Constant," "Godspeed" and "Discovery" set
sail from London. Their landing at Jamestown, VA, was the
start of the first permanent English settlement in America.


1699 Peter the Great ordered that the Russian New Year be
changed from September 1 to January 1. 

1790 The first successful cotton mill in the United States
began operating at Pawtucket, RI. 

1803 The United States Senate ratified a treaty that
included the sale of Louisiana Territories from France for
$15 million. The transfer was completed with formal
ceremonies in New Orleans. 

1820 The state of Missouri enacted legislation to tax
bachelors between the ages of 21-50 for being unmarried.
The tax was $1 a year. 

1860 South Carolina became the first state to secede from
the American Union. 

1864 Confederate forces evacuated Savannah, GA as Union
Gen. William T. Sherman continued his "March to the Sea." 

1879 Thomas A. Edison privately demonstrated his
incandescent light at Menlo Park, NJ. 

1880 New York's Broadway became known as the "Great White
Way" when it was lighted by electricity. 

1892 Alexander T. Brown and George Stillman patented the
pneumatic tire. 

1928 Mail delivery by dog sled began in Lewiston, ME. 

1933 The film "Flying Down to Rio" was first shown in New
York. 

1938 Vladimir Kosma Zworykin patented the iconoscope
television system. 

1946 In Indochina (Vietnam), full-scale guerrilla warfare
between Vietnam partisans and French troops began. 

1954 Buick Motor Company signed Jackie Gleason to one of
the largest contracts ever entered into with an
entertainer. Gleason agreed to produce 78 half-hour shows
over a two-year period for $6,142,500. 

1963 The Berlin Wall was opened for the first time to West
Berliners. It was only for the holiday season. It closed
again on January 6, 1964. 

1973 The Spanish premier Carrero Blanco was assassinated in
Madrid. 

1987 More than 3,000 people were killed when the Dona Paz,
a Philippine passenger ship, collided with the tanker
Vector off Mindoro island, setting off a double explosion. 

1989 General Noriega, Panama's former dictator, was
overthrown by a United States invasion force invited by the
new civilian government. The project was known as Operation
Just Cause. 

1990 The world's first website and server go live at CERN.
The first website was
http://info.cern.ch/hypertext/WWW/TheProject.html. It still
works!

1991 Ante Markovic resigned as federal Prime Minister of
Yugoslavia. 

1994 Marcelino Corniel, a homeless man, was shot and
mortally wounded by White House security officers. He had
brandished a knife near the executive mansion. 

1995 An American Airlines Boeing 757 en route to Cali,
Colombia, crashed into a mountain, killing all but four of
the 163 people aboard. 

1996 Doctors reported that a Cypriot woman who had taken
fertility drugs was carrying about 11 embryos. 

1998 In Houston, TX, a 27-year-old woman gave birth to the
only known living set of octuplets. 

1999 The Vermont Supreme Court ruled that homosexual
couples were entitled to the same benefits and protections
as wedded couples of the opposite sex. 

1999 Sovereignty over the colony of Macao was transferred
from Portugal to China. 

2001 The U.S. Congress passed a $20 billion package to
finance the war against terrorism taking place in
Afghanistan. 

2001 Argentina's President Fernando De la Rua resigned
after two years in power. 

2001 The first British peacekeepers arrived in Afghanistan
to help the nation heal after decades of war.

2017  smiled.
[ view entry ]
( 7 views ) |
permalink
|
print article
|
( 3.1 / 479 )
---
<<First
<Back
| 15 | 16 | 17 | 18 | 19 | 20 | 21 | 22 | 23 | 24 |
Next>
Last>>