Good Morning, ,
Today is Wednesday, January 3

Have FUN!
Dearwebby

Todays Bonehead Award:

Palm Coast man accused of trying to 
electrocute pregnant ex-wife

Bonehead
______________________________________________________
Today, January 3 in
1962 Pope John XXIII excommunicated Cuban prime minister
Fidel Castro because he was a communist. Because poor people
donate more to the church, the current pope is more communist
than the current Cuban leader, Raol Castro. 

See More of what happened on this day in history.

---


______________________________________________________

| | |
| --- | --- |
| If you can help with the cost of the Humor Letter, please donate what you can! | |
______________________________________________________ The aging process has you firmly in its grasp if you never get the urge to throw a snowball. --- Doug Larson Money doesn't always bring happiness. People with ten million dollars are no happier than people with nine million dollars. --- Hobart Brown ______________________________________________________ If you like the Humor Letter, please vote!
______________________________________________________ Thanks to Martin for this story: We went to breakfast at a restaurant where the \ "seniors's special" was two eggs, bacon, hash browns and toast for $1.99. "Sounds good," my wife said. "But I don't want the eggs." Then I'll have to charge you two dollars and forty-nine cents because you're ordering a la carte," the waitress warned her. "You mean I'd have to pay for not taking the eggs?" My wife asked incredulously. "YES!!" "I'll take the special." "How do you want your eggs?" "Raw and in the shell," my wife replied. She took the two eggs home and used them in a cake. ____________________________________________________ After the christening of his baby brother in church, little five-year-old Johnny sat in the back seat, unusually quiet. Very softly he started to cry until his father noticed him sobbing. "What's wrong, little Johnny?" asked his father. Between sniffles little Johnny replied, "That priest said he wanted us brought up in a good Christian home, but, but, but I want to stay with you guys!" _____________________________________________________
______________________________________________________
Ferocactus-hamanthacanthus. It is now 30 years old and 25 cm (10") diameter. ____________________________________

If you like the Humor Letter, please vote!
Thanks for your votes!

_____________________________________________________ Di Ann had been divorced for a few years and very lonely, and finally consented to going out on a date with Tony, the gentleman her daughter fixed her up with. Tony picked her up and they went on a picnic in a very secluded spot. Tony also had been divorced for a long time and found himself very attracted to Di Ann, and despite her resistance to his advances at first, he finally was able to make love to her. Later, Di Ann was mortified at her lack of self control and sobbed "I don't know how I can face my daughter, knowing in a time of weakness, I sinned twice!" Tony said "What do you mean "twice" we only did it once?" Di Ann looked at Tony and said, "Well, we are going to stop at my place for a coffee, arent we?" _____________________________________________________ Thanks to Walter, the Stonecarver, for reporting this:
An INTERNATIONAL BONEHEAD AWARD has been earned by
Michael Scott Wilson, 32, Knoxville, Tennessee Palm Coast man accused of trying to electrocute pregnant ex-wife A Palm Coast man faces charges of attempted aggravated battery and grand theft after authorities say he rigged a door in order to electrocute his pregnant wife. Deputies from the Flagler County Sheriff's Office arrested Michael Scott Wilson, 32, Thursday in Knoxville, Tennessee, after they issued an arrest warrant for him. On Dec. 26, deputies responded to 110 White Hall Drive in Palm Coast to conduct a security check after the homeowner reported suspicious statements made by his son-in-law, who told a child in the home not to touch the front door. Man accused of raping woman in Jacksonville Beach condo worked at 3rd Street Diner Deputies said the front door appeared to be barricaded and noted burn marks near the door handle. A deputy kicked the door, which caused a large spark, authorities added. After a thorough investigation, deputies said Wilson rigged the door in an attempt to cause great bodily harm to his estranged wife. Deputies also reported that Wilson stole a firearm belonging to his father-in-law from the house. Wilson is charged with two counts of attempted aggravated battery on a pregnant person and one count of grand theft of a firearm. He is being held on $150,000 bond and will be extradited to the Flagler County Detention Facility to face charges. "This is one of the most bizarre domestic violence cases I have seen in my career," Sheriff Rick Staly said. "Not only did this man plan to electrocute his wife, but he could have injured a deputy or any person attempting to enter this residence. Thankfully, this man was found and taken into custody before he could cause the harm he intended." This is an ongoing investigation, and additional charges are pending. _________________________________ Tech Support Pits From: Daniel Re: Medium-Low Dear Webby, i want to change the security setting under internet options from medium to medium low,but it keeps going back to medium.is there a way to keep it at medium low? thanks again, the pest Dear Daniel It's not recommended to go below medium, except for brief and very carefully monitored exceptions. Just be glad that something in your machine returns the setting to a more reasonable one for you. Have FUN! DearWebby
---
Automatically move ALL your settings and programs. No need to re-install them. The only mover recommended by Intel and Microsoft.
Two youngsters were closely examining bathroom scales on display at the department store. "Have you ever seen one of these before?" one asked. "Yeah, my mom has one," the other replied. "What's it for?" "It's a cussing machine," the second boy answered. "Every time she stands on it she gets really mad and starts cussing at me or dad."
| | |
| --- | --- |
| If you can help with the cost of the Humor Letter, please donate what you can! | |
Leroy was visiting a friend in the hospital. He was trying to stop smoking and was chewing on an unlit cigar when he got on the elevator. A lady said to him with a snarl, 'Sir, there's no smoking in here.' "Leroy said, "Lady, I'm not smoking." "But you have a cigar in your mouth!", the woman said. "'Lady", Leroy answered, "I'm wearing Jockey shorts, too, but I don't ride horses indoors either." ____________________________________________________ Daily tip from Thriftyfun.com Refurbishing A Faded Patio Umbrella By Carol from Iowa [14 Posts, 40 Comments] patio table with umbrella downOur deck table needed an umbrella and someone threw one out. It was faded but otherwise in pretty good shape. I decided to spray paint it using an indoor/outdoor paint that is good for wood, metal, and more. It worked perfectly and I have had no problems with the paint running or fading. The umbrella is a little lopsided in the photo but it really isn't crooked!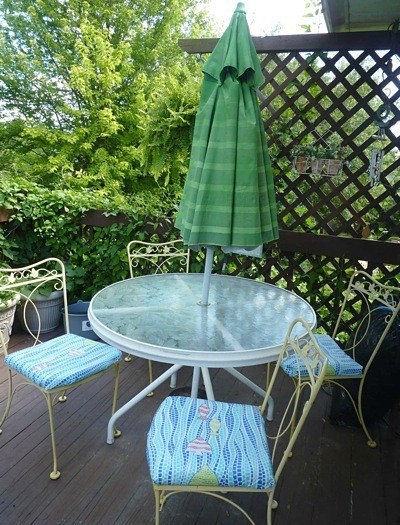 Tip provided by Thriftyfun.com font> ____________________________________________________ My little boy sometimes had difficult bowel movements. One day, we were browsing together in a novelty and gift store. There were many wooden signs of "words of encouragement" hanging on display. Suddenly, he pointed to one of the signs and said to me, "Mum, I think we should get this one and hang it in the toilet." I looked at the sign he was indicating. It read: P. U. S. H. "Pray Until Something Happens."
| | |
| --- | --- |
| | At least they don't have to mow their lawns or shovel snow. |
Being a teenager and getting a tattoo seem to go hand in hand. I wasn't surprised when a friend of my daughter showed me a Japanese symbol on her hip. "Please don't tell my parents," she begged. "I won't," I promised. "By the way, what does that stand for?" She replied, "Honesty." ___________________________________________________
Ophelia Dingbatter's NewsNo sermon and not suitable for church, just jokes and fun for grownups. Read it on-line or subscribe. If you subscribe, look for the double opt-in confirmation request.

____________________________________________________

Today, January 3, in 
1496 References in Leonardo da Vinci notebooks suggested that
he tested his flying machine. The test didn't succeed and he
didn't try to fly again for several years. 

1521 Pope Leo X excommunicated Martin Luther. 

1777 The Battle of Princeton took place in the War of
Independence, in which George Washington defeated the British
forces, led by Cornwallis. 

1815 By secret treaty, Austria, Britain, and France formed a
defensive alliance against Prusso-Russian plans to solve the
Saxon and Polish problems. 

1823 Stephen F. Austin received a grant from the Mexican
government and began colonization in the region of the Brazos
River in Texas. 

1825 The first engineering college in the U.S. , Rensselaer
School, opened in Troy, NY. It is now known as Rensselaer
Polytechnic Institute. 

1833 Britain seized control of the Falkland Islands in the
South Atlantic. About 150 years later, Argentina seized the
islands from the British, but Britain took them back after a
74-day war. 

1868 The Shogunate was abolished in Japan and Meiji dynasty
was restored. 

1871 Henry W. Bradley patented oleomargarine. 

1888 The drinking straw was patented by Marvin C. Stone. 

1924 English explorer Howard Carter discovered the
sarcophagus of Tutankhamen in the Valley of the Kings, near
Luxor, Egypt. 

1925 In Italy, Mussolini announced that he would take
dictatorial powers. 

1938 The first broadcast of "Woman in White" was presented on
the NBC Red network. The program remained on radio for 10
years. 

1938 The March of Dimes was established by U.S. President
Franklin Delano Roosevelt. The organization fights
poliomyelitis. The original name of the organization was the
National Foundation for Infantile Paralysis. 

1947 In Trenton, NJ, Al Herrin, passed away at age 92. He had
claimed that he had not slept at all during his life. 

1957 The Hamilton Watch Company introduced the first electric
watch. 

1959 In the U.S., Alaska became the 49th state. 

1961 The U.S. severed diplomatic relations with Cuba. 

1962 Pope John XXIII excommunicated Cuban prime minister
Fidel Castro because he was a communist. Because poor people
donate more to the church, the current pope is more communist
tha the current Cuban leader, Raol Castro.

1967 Jack Ruby died in a Dallas, TX, hospital. 

1973 The Columbia Broadcasting System (CBS) sold the New York
Yankees to a 12-man syndicate headed by George Steinbrenner
for $10 million. 

1984 A woman died at Disneyland after falling from a ride.
She had apparently unfastened her seatbelt while on the
Matterhorn bobsled. 

1990 Ousted Panamanian leader Manuel Noriega surrendered to
U.S. forces, 10 days after taking refuge in the Vatican's
diplomatic mission. 

1991 The British government announced that seven Iraqi
diplomats, another embassy staff member and 67 other Iraqis
were being expelled from Britain. 

1993 U.S. President George H.W. Bush and Russian President
Boris Yeltsin signed the second Strategic Arms Reduction
Treaty (START) in Moscow. 

1998 China announced that it would spend $27.7 billion to
fight erosion and pollution in the Yangtze and Yellow river
valleys. 

2000 Charles M. Schulz's final original daily comic strip
appeared in newspapers. 

2001 The ATF (Bureau of Alcohol, Tobacco and Firearms)
charged the "Texas 7" with weapons violations. An autopsy
showed that Officer Aubrey Hawkins, killed by the convicts,
had been shot 11 times and run over with a vehicle. 

2004 NASA's Spirit rover landed on Mars. The craft was able
to send back black and white images three hours after
landing.

2017  smiled.

[ view entry ]
( 6 views ) |
permalink
|
print article
|
( 3.1 / 175 )
---
<<First
<Back
| 14 | 15 | 16 | 17 | 18 | 19 | 20 | 21 | 22 | 23 |
Next>
Last>>