Good Morning, ,
Today is Saturday, March 31


Easter


Tonight there will be a Blue Moon.

Have FUN!
Dearwebby

Todays Bonehead Award:
Autistic boy, 11, raped by dad and girlfriend 
in Alabama 'because they thought he was gay'
Bonehead
______________________________________________________
Today, March 31 in
1949 Newfoundland entered the Canadian confederation as its 
10th province. 
See More of what happened on this day in history.

---


______________________________________________________

| | |
| --- | --- |
| If you can help with the cost of the Humor Letter, please donate what you can! | |
______________________________________________________ A censor is a man who knows more than he thinks you ought to. --- Granville Hicks (1901 - 1982) Oregano is the spice of life. --- Henry J. Tillman _____________________________________________________ If you like the Humor Letter, please vote!
______________________________________________________ One day, a man got drunk in a bar and started a fight. The police came and took the drunk man to jail. The next day the man went before the judge. The judge asked him, "Where do you work?" The man said, "Here and there." The judge asked the man, "What do you do for a living?" The man said, "This and that." Then the judge said, "Take him away." The man said, "Wait, judge, when will I get out?" The judge laughed and said, "Sooner or later" ______________________________________________________ "Did your wife have much to say when you got home last night?" "No, but that didn't keep her from yelling for two hours." _____________________________________________________
______________________________________________________
<<<<<<<<<<<<< >>>>>>>>>>>>>>> Learn to fly here Learn to land there <<<<<<<<<<<<< >>>>>>>>>>>>>>> _____________________________________________________

If you like the Humor Letter, please vote!
Thanks for your votes!

_____________________________________________________ "Are you saying that your wife is outspoken?" "Not by anyone I know of." _____________________________________________________
An INTERNATIONAL BONEHEAD AWARD has been earned by
Sean Cole, 29, Khadeijah Moore, 21 Huntsville, Alabama Autistic boy, 11, raped by dad and girlfriend in Alabama 'because they thought he was gay' Sean Cole, 29, and Khadeijah Moore, 21, face life in jail after being found guilty of the horrific crimes in Huntsville, Alabama. The 11-year-old, who lives with his mother in Georgia, had been visiting his father for Thanksgiving in 2016, when the sexual assault took place. The court heard how Cole found him in what he considered a 'compromising position' with another boy and became angry. In response, he made Moore have sex with the boy. Cole then instructed him to carry a sex act out on Moore. Tim Douthit, the prosecutor on the case, told AL.com: 'It was solely that he was worried that his son was gay, or might become gay. There was no evidence he had a sexual attraction to his son or children. 'He just thought he could, for lack of better words, 'straighten him out'. The boy's mother became suspicious when the boy returned to Georgia and began asking questions about sex. He eventually told her what had happened and she drove immediately to Huntsville to contact local police. The couple was arrested in January 2017. Douthit said that when a forensic interviewer asked the boy about the rape, the boy said he thought at the time: 'Why is my dad doing this to me?' Tech Support Pits From: Maggie Re: Family Tree Maker Dear Webby, do you have a family tree maker? maggie Dear Maggie Unfortunately, I don't. There are lots of them available on the web, but I don't know which ones are good. But that reminds me of a story my dad told me about 50 years ago. Seems he overheard some kid telling his father that he had learned in school that people were descendants of apes. Apparently the father blew up and yelled at his kid: "Nonsense! YOU might have decended from an ape, but I sure didn't!" Have FUN DearWebby
Being a husband is like any other job. It helps a lot if you like the boss.
---
Automatically move ALL your settings and programs. No need to re-install them. The only mover recommended by Intel and Microsoft.
---
Thanks to Chris for this story: My wife and her friend were talking about their labor-saving devices as they pulled into our driveway. Her friend said, "I love my new garage-door opener." "I love mine too," my wife replied, and she honked the horn three times. That was the signal for me to come out and open the garage!
| | |
| --- | --- |
| If you can help with the cost of the Humor Letter, please donate what you can! | |
A Girl Guide troop leader suddenly came upon a clearing where a couple was engaged in an activity that had their heads pointing in different dirctions. "Back ladies, back!" cried the leader. "There's a very dangerous beast out there!" But it was too late, as several of her girls had more-or-less seen the deed happening. They asked their leader what it was the couple was doing. "Well, err.... if you must know, uh, they were practicing a brand new form of artificial respiration... yeah, that's it, it's artificial respiration!" "WOW!" exclaimed the oldest of the group. "I know which merit badge I'm gonna try for next!" ____________________________________________________ Daily tip from Thriftyfun.com Standing Ninja Eggs By attosa [568 Posts, 3,046 Comments]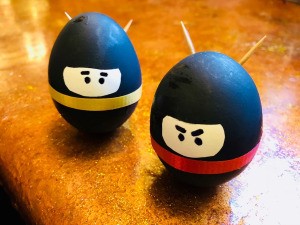 Tip provided by Thriftyfun.com ____________________________________________________ A doting father used to sing his little children to sleep until he overheard the four-year-old tell the three-year-old, "If you pretend you're asleep, he stops."
| | |
| --- | --- |
| | The Shirk Report |
___________________________________________________ A customer moves away from a bank window, counts his change, and then goes back and says to the cashier, "Hey, you gave me the wrong change!" Cashier: "Sir, you stepped away from the counter. We don't make corrections after you leave. There's nothing I can do about it now. That's the policy of this bank!" Customer: "Well, okay. Just thought you'd like to know you gave me hundred dollars too much. Bye. " ___________________________________________________
Ophelia Dingbatter's NewsNo sermon and not suitable for church, just jokes and fun for grownups. Read it on-line or subscribe. If you subscribe, look for the double opt-in confirmation request.

____________________________________________________

Today, March 31 in
1492 King Ferdinand and Queen Isabella of Spain issued the
Alhambra edict expelling Jews who were unwilling to convert to
Christianity. 

1779 Russia and Turkey signed a treaty concerning military action
in Crimea. 

1854 The U.S. government signed the Treaty of Kanagawa with Japan.
The act opened the ports of Shimoda and Hakotade to American
trade. 

1862 Skirmishing between Rebels and Union forces took place at
Island 10 on the Mississippi River. 

1870 In Perth Amboy, NJ, Thomas Munday Peterson became the first
black to vote in the U.S. 

1880 Wabash, IN, became the first town to be completely
illuminated with electric light. 

1885 Binney & Smith Company was founded in New York City. The
company later became Crayola, LLC. 

1889 In Paris, the Eiffel Tower officially opened. 

1900 The W.E. Roach Company was the first automobile company to
put an advertisement in a national magazine. The magazine was the
"Saturday Evening Post". 

1900 In France, the National Assembly passed a law reducing the
workday for women and children to 11 hours. 

1901 In Russia, the Czar lashed out at Socialist-Revolutionaries
with the arrests of 72 people and the seizing of two printing
presses. 

1902 In Tennessee, 22 coal miners were killed by an explosion. 

1904 In India, hundreds of Tibetans were slaughtered by the
British. 

1905 Kaiser Wilhelm arrived in Tangier proclaiming to support for
an independent state of Morocco. 

1906 The Conference on Moroccan Reforms in Algerciras ended after
two months with France and Germany in agreement. 

1908 250,000 coal miners in Indianapolis, IN, went on strike to
await a wage adjustment. 

1909 Serbia accepted Austrian control over Bosnia-Herzegovina. 

1917 The U.S. purchased and took possession of the Virgin Islands
from Denmark for $25 million. 

1918 For the first time in the U.S., Daylight Saving Time went
into effect. 

1921 Great Britain declared a state of emergency because of the
thousands of coal miners on strike. 

1923 In New York City, the first U.S. dance marathon was held.
Alma Cummings set a new world record of 27 hours. 

1932 The Ford Motor Co. debuted its V-8 engine. 

1933 The U.S. Congress authorized the Civilian Conservation Corps
to relieve rampant unemployment. 

1933 The "Soperton News" in Georgia became the first newspaper to
publish using a pine pulp paper. 

1939 Britain and France agreed to support Poland and start another
world war if Germany threatened invasion. 

1940 La Guardia airport in New York officially opened to the
public. 

1941 Germany began a counter offensive in North Africa. 

1945 "The Glass Menagerie" by Tennessee Williams opened on
Broadway. 

1946 Monarchists won the elections in Greece. 

1947 John L. Lewis called a strike in sympathy for the miners
killed in an explosion in Centralia, IL, on March 25, 1947. 

1948 The Soviets in Germany began controlling the Western trains
headed toward Berlin. 

1949 Winston Churchill declared that the A-bomb was the only thing
that kept the U.S.S.R. from taking over Europe. 

1949 Newfoundland entered the Canadian confederation as its 10th
province. 

1958 The U.S. Navy formed the atomic submarine division. 

1959 The Dalai Lama (Lhama Dhondrub, Tenzin Gyatso) began exile by
crossing the border into India where he was granted political
asylum. Gyatso was the 14th Daila Lama. 

1960 The South African government declared a state of emergency
after demonstrations led to the death of more than 50 Africans.

1966 An estimated 200,000 anti-war demonstrators march in New York
City. (New York) 

1966 The Soviet Union launched Luna 10, which became the first
spacecraft to enter a lunar orbit. 

1967 U.S. President Lyndon Johnson signed the Consular Treaty, the
first bi-lateral pact with the Soviet Union since the Bolshevik
Revolution. 

1970 The U.S. forces in Vietnam down a MIG-21, it was the first
since September 1968. 

1980 U.S. President Carter deregulated the banking industry. 

1981 In Bangkok, Thailand, four of five Indonesian terrorists were
killed after hijacking an airplane on March 28. 

1985 ABC-TV aired the 200th episode of "The Love Boat." 

1986 167 people died when a Mexicana Airlines Boeing 727 crashed
in Los Angeles. 

1987 HBO (Home Box Office) earned its first Oscar for "Down and
Out in America". 

1989 Canada and France signed a fishing rights pact. 

1991 Albania offered a multi-party election for the first time in
50 years. Incumbent President Ramiz Alia won. 

1991 Iraqi forces recaptured the northern city of Kirkuk from
Kurdish guerillas. 

1994 "Nature" magazine announced that a complete skull of
Australopithecus afarensis had been found in Ethiopia. The finding
is of humankind's earliest ancestor. 

1998 U.N. Security Council imposed arms embargo on Yugoslavia. 

1998 For the first time in U.S. history the federal government's
detailed financial statement was released. This occurred under the
Clinton administration. 

1999 Three U.S. soldiers were captured by Yugoslav soldiers three
miles from the Yugoslav border in Macedonia. 

2000 In Uganda, officials set the number of deaths linked to a
doomsday religious cult, the Movement for the Restoration of the
Ten Commandments, at more than 900. In Kanungu, a March 17 fire at
the cult's church killed more than 530 and authorities
subsequently found mass graves at various sites linked to the
cult. 

2004 Air America Radio launched five stations around the U.S. 

2004 Google Inc. announced that it would be introducing a free e-
mail service called Gmail. 

2018  smiled.

[ view entry ]
( 5 views ) |
permalink
|
print article
|
( 3 / 797 )
---
<<First
<Back
| 12 | 13 | 14 | 15 | 16 | 17 | 18 | 19 | 20 | 21 |
Next>
Last>>