"

Good Morning, ,

Today is Monday, August 29

Have FUN!
DearWebby

Todays Bonehead Award:

Details at Boneheads
______________________________________________________
Today, August 29, in 
1842 The Treaty of Nanking was signed by the British and the
Chinese. The treaty ended the first Opium War. gave England
the monopoly for selling Opium to the Chinese and gave the
island of Hong Kong to Britain. 

More of what happened on this day in history.


| | |
| --- | --- |
| If you can help with the cost of the Humor Letter, please donate what you can! | |
______________________________________________________ If everything seems under control, you're not going fast enough --- Mario Andretti (1940 - ) ______________________________________________________ If you like the Humor Letter, please vote!
______________________________________________________ A soldier was asked to report to headquarters for assignment. The sergeant said: "We have a critical shortage of typists. I'll give you a little test. Type this," he ordered, giving him a pamphlet to copy and a sheet of paper, and pointing to a desk across the room that held a typewriter and an adding machine. The soldier, quite reluctant to become a clerk typist, made a point of typing very slowly, and saw to it that his work contained as many errors as possible. The sergeant gave the typed copy only a brief glance. "That's fine," he said. "Report for work at 8 tomorrow." "But aren't you going to check the test?" the prospective clerk asked. The sergeant grinned. "You passed the test when you sat down at the typewriter instead of at the adding machine." ______________________________________________________ A guy was known among his friends to be very brief an to the point - he really never said too much. One day, a saleswoman promoting a Avon knocked his door and asked to see his wife, so the guy told her that she wasn't home. "Well," the woman said, "could I please wait for her?" The man directed her to the drawing room and left her there for more than three hours. After feeling really worried, she called out for him and asked, "May I ask where your wife is?" "Cemetery," he replied. "And when is she coming back?" "Don't know," he said. "She's been there eleven years now." ______________________________________________________
Mud is no exxcuse! ______________________________________________________
An INTERNATIONAL BONEHEAD AWARD has been earned by
Rodney Earl Sanders 46, Kosciusko, Mississippi Rodney Earl Sanders confesses murdering two nuns A man arrested over the murder of two Mississippi nuns has reportedly confessed to the killings. Sister Margaret Held and Sister Paula Merrill, both 68, were found dead on Thursday at a residence within the community they served. Rodney Earl Sanders, 46, of Kosciusko, Mississippi, was detained by the Mississippi Bureau of Investigation on Friday evening. Holmes Country sheriff Willie March said Sanders has now confessed to police, but has given no reason for the crimes. The bodies of the nuns were discovered after they failed to show up for work at a health clinic in Lexington, Mississippi. Both were nurse practitioners, dispensing flu shots, insulin and other medical care for those who could not afford it in the poorest county in the poorest US state. Authorities have not disclosed a motive, or said how the women were killed. But the Rev Greg Plata, of St Thomas Catholic Church in Lexington, said police had told him they were stabbed. The nuns' stolen car was found abandoned a mile from their home in Durant, and police said there were signs of a break- in. Their deaths have left a gaping hole in the community. Joe Morgan, who was a diabetes patient of Sister Merrill, said he cannot forgive the perpetrator, even though he knows the nuns would have wished him to do so. The 58-year-old former factory worker said he wants to see the killer executed. "She doesn't deserve to die like this, doing God's work," Mr Morgan said. BL&M ______________________________________________________ Tech Support Pits From: Barb RE: W 10 terrorizes me! Dear Webby, I'm so mad at this moment I could chew nails! The kind driven into things with a hammer! This piece of shit Windows 10 locked me out of my computer until I downloaded all the latest updates. Except I have it set so I don't have to download the so called Anniversary update because it's causing too many problems for people. It took away my Classic Shell that you sent me a link to and said it was not compatible with Windows 10. I downloaded it again to my Firefox library and when I tried to install it, Windows 10 wouldn't let me because it's not compatible! I fired off a letter telling them exactly what I thought of WINDOWS 10 and where they could stick it! I guess I'm venting to you because I knew you would understand and maybe have a solution. Every time I say anything to my husband he tells me to be quiet because I'm interfering with his ball game. I'm not giving him the hard time that I could because he's going through too many health problems at this time. HELP! If you put this in the Humor Letter please clean it up! Barb Dear Barb Write to the Classic Shell about W10 blocking them. They might have already heard about it and built a way around the problem. Apparently Micros*** (or one of their minions) hacked Classic Shell on August 2 and put a hacked version up. Go onto their forum and paste your letter there. No need to clean it up for them. However, read what is already on the forum about that, so that you don't exactly repeat what others have already said. Help for recovering from that hack is at http://www.classicshell.net/forum/viewforum.php?f=22&sid =ddcc42bf3a447ad6005b9c6c771284bf Hack hotline: Get help recovering from the Classic Shell hack Also check out win 10 anniversary update killed computer One way to tell if you have the infected ClassicShell on the same forum. Good Luck! DearWebby Dear Webby I got Classic Shell back! I went to the classic shell.net forum and read the comments and recommendations. Classic Shell is safe once again to download. The main download is currently from another hosting service called MediaFire which was not hacked. To get it back go to: http://www.classicshell.net/downloads/latest make sure the Verified Publisher is Ivaylo Beltchev. This is the latest version of Classic Shell. Thanks Barb Dear Barb Glad that worked. Forums are often the best place to get good info. Does that mean you are not going to nuke Micros***? Have FUN! DearWebby LOL! Thanks to you Microslop is safe for tonight. But if I have the same problem tomorrow when I turn my computer on they better watch out! Thanks again old friend Barb Have FUN! DearWebby _____________________________________________________
___________________________________________________ Grandpa and granddaughter were sitting talking when she asked, "Did God make you, Grandpa?" "Yes, God made me," the grandfather answered. A few minutes later, the little girl asked him, "Did God make me too?" "Yes, God made you," the older man answered. For a few minutes, the little girl seemed to be studying her grandpa, as well as her own reflection in a nearby mirror, while her grandfather wondered what was running through her mind. At last she spoke up. "You know, Grandpa," she said, "God's doing a lot better job lately." ___________________________________________________ If you can help with the cost of the Humor Letter, please donate what you can!
______________________________________________________ Daily tip from Thriftyfun.com Summer Fresh Tomato Pie for One By ~gloria [95 Posts, 152 Comments] This is a very juicy pie. It's tomatoes after all, so be prepared for drippage! If you don't care for tomato skins like me, they pull right off with your fork. Just double the recipe and use a regular pie plate, if you want a big pie to share. Hope you will love this as much as I do. All you need to make this scrumptious summer treat is pictured below. Prep Time: Approx. 30 minutes Cook Time: 30 minutes Total Time: Approx. 1 hour Yield: 1 or 2 servings Ingredients: 4 -5 unbaked crescent rolls. 1-2 fresh tomatoes, sliced 1/4" thick. 1/2 cup mayonnaise 1/2 cup shredded sharp cheddar crumbled bacon bits (optional) finely sliced basil (optional, but who wouldn't?) Kosher salt fresh ground pepper Steps: Coat a #3 (the little guy) cast iron skillet with cooking spray. Press the crescent roll dough onto the bottom and sides of the skillet; joining any gaps with your fingertips. Layer tomato slices to cover the bottom. Sprinkle the basil, salt and pepper over the tomato. Add bacon, or not, as you choose. Mix the mayo and cheese together and plop on top of the tomatoes. Spread to completely cover the tomatoes. Bake at 375 degrees F. on the rack just below middle for about 30 mins. Watch for browning of crescent edges and cheesy top. That's when you know it's ready. Allow to cool maybe 15 mins. if you can stand the wait. I usually enjoy the first half right there at the counter.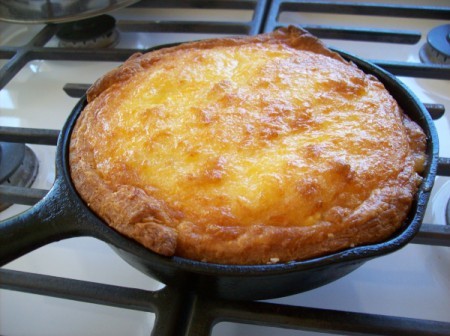 ______________________________________________________
Ophelia Dingbatter's News
No sermon and not suitable for church, just jokes and fun for grownups. Read it on line or subscribe. If you subscribe, look for the double opt-in confirmation request.

___________________________________________________ The first German serviceman killed in WWII was killed by the Japanese, in China, 1937. The first American serviceman killed was killed by the Russians, in Finland, 1940. The highest ranking American killed was Lt. Gen. Lesley McNair, killed by the US Army Air Corps. Following a massive naval bombardment 35, 000 US and Canadian troops stormed ashore at Kiska Island. 21 troops were killed in the firefight. It might have been even worse if there had been any Japanese on the island. ___________________________________________________
| | |
| --- | --- |
| | Eagle vs chamois |
____________________________________________________ A man's best friend dies, so he calls the nearest flower shop to order a wreath of flowers to be displayed at the wake. "Put an extra-wide ribbon on it," he tells the clerk. "Print 'Rest in Peace' on both sides and, if there is room, 'We Shall Meet in Heaven.'" The clerk assures him that his order will be carried out and the wreath promptly delivered to the funeral home. Sure enough, the wreath arrives and is set up next to the casket. But the mourners are stunned when they see it. On the extra-wide ribbon is the inscription, "Rest in peace on both sides", and, "If there is room, we shall meet in Heaven." ____________________________________________________ A bunch of guys decided one morning that they would go deer hunting. So they all piled into the station wagon with their guns and took off down the road looking for a place to go hunting. After driving awhile they came across an old farm house with a large spread of woods behind it. One of the guys went to the door and asked the farmer if they could hunt in his woods. When asked, the farmer said "yes, sure, but would you do me a favor? The ol' cow in the barn yard is on her last legs and I know she is sufferin', would you kindly put her down for me, I don' have the heart to." As the hunter walked back to the station wagon, he decided to play a prank on his fellow hunters. So when he got back to the station wagon he pulled out his rifle and shouted "..I'll teach that old coot for not letting us hunt on his property!" and shot the old cow. After he fired the shot, he heard another shot and one of the other hunters proclaim, "Yea, we'll show him... I got his tractor!" ____________________________________________________
| | |
| --- | --- |
| | This would make a rather heavy necklace. Just saying... |
____________________________________________________

Today on August 29 in
1828 A patent was issued to Robert Turner for the self-
regulating wagon brake. 

1833 The "Factory Act" was passed in England to settle child
labor laws. 

1842 The Treaty of Nanking was signed by the British and the
Chinese. The treaty ended the first Opium War. gave England
the monopoly for selling Opium to the Chinese and gave the
island of Hong Kong to Britain. 

1885 The first prizefight under the Marquis of Queensberry
Rules was held in Cincinnati, OH. John L. Sullivan defeated
Dominick McCaffery in six rounds. 

1886 In New York City, Chinese Ambassador Li Hung-chang's
chef invented chop suey. 

1892 Pop (Billy) Shriver (Chicago Cubs) caught a ball that
was dropped from the top of the Washington Monument in
Washington, DC. 

1944 During the continuing celebration of the liberation of
Paris from the Nazis, 15,000 American troops marched down
the Champs Elysees in Paris. 

1945 U.S. General Douglas MacArthur left for Japan to
officially accept the surrender of the Japanese. 

1949 At the University of Illinois, a nuclear device was
used for the first time to treat cancer patients. 

1957 Senator Strom Thurmond of South Carolina set a
filibuster record in the U.S. when he spoke for 24 hours and
18 minutes. 

1962 The lower level of the George Washington Bridge opened.


1965 Gemini 5, carrying astronauts Gordon Cooper and Charles
("Pete") Conrad, splashed down in the Atlantic Ocean after
eight days in space. 

1983 Two U.S. marines were killed in Lebanon by the militia
group Amal when they fired mortar shells at the Beirut
airport. 

1983 The anchor of the USS Monitor, from the U.S. Civil War,
was retrieved by divers. 

1990 Iraqi President Saddam Hussein, in a television
interview, declared that America could not defeat Iraq. 

1991 The Communist Party in the Soviet Union had its bank
accounts frozen and activities were suspended because of the
Party's role in the failed coup attempt against Mikhail
Gorbachev. 

1991 The republics of Russia and Ukraine signed an agreement
to stay in the Soviet Union. 

1992 The U.N. Security Council agreed to send troops to
Somalia to guard the shipments of food. 

1994 Mario Lemieux announced that he would be taking a
medical leave of absence due to fatigue, an aftereffect of
his 1993 radiation treatments. He would sit out the National
Hockey Leagues (NHL) 1994-95 season. 

1998 Northwest Airlines pilots went on strike after their
union rejected a last-minute company offer. 

2004 India test-launched a nuclear-capable missle able to
carry a one-ton warhead. The weapon had a range of 1,560
miles.

2016  smiled.

" Go to TOP


If you can help with the cost of the
Humor Letter, please donate what you can!


Well, , that's all for today.


Have FUN !
Dear Webby from Webby.com
Please give a friend a subscription to the Humor Letter



If the greeting on top does NOT have your first name, or at least
your favorite nickname, please tell me. I can correct that in two
seconds and greet you properly from then on.

If you want to give a gift subscription to a friend, but don't have time to
subscribe her or him, just hit REPLY and tell me. I will gladly enter them
for you and send them a confirmation request.

To reply to me personally, just hit REPLY
or write to humor@webby.com

If you don't want to receive the Webby Humor Letter,
please unsubscribe by clicking the link below:
You are currently subscribed with this address:

---
Unsubscribe from the regular HTML version:
UNSUBSCRIBE from the regular version
---
Unsubscribe from the LARGE FONT HTML version
UNSUBSCRIBE from the Large Font version
---
|
Recommended Resources
---

Protect up to 3 PCs with NEW Malwarebytes Anti-Malware Premium!
---
Find a human
Bypass voice menus
---
Web Tools
handy program downloads

---
---
Babelfish Translator
---
¥ £ $ ?
Currency Converter

---
Urban Legends
Truth or Hoax?
Check before believing chain letters

---
Virus Hoaxes
---
Virus / Trojan / Malware Info
Straight from McAfee Threat Center

---
FREE HTML Course !
---
Get the REAL McAfee
at incredible discount!
used and
Highly recommended
by Dear Webby



---
This
Undeleter
will easily and securely recover deleted files from hard drives, flash drives, USB external drives, Zip drives, Firewire drives, digital camera cards, and more. This powerful recovery software can recover deleted files from most data loss scenarios.
Is your data worth recovery?
---
---
---
Roboform, still the best password manager.
Still FREE
Highly recommended by DearWebby
FREE, no fuss download!

---
Domain Name
Registration
$10 for .com, .net, .org, .biz, .us, .ca
(.ca $10, if you also order hosting, otherwise .ca is $20, still cheaper than elsewhere)
---
YOUR OWN
Postcard Site ! You too can easily have a postcard site for business or fun.


---
If you like the Dear Webby Daily Humor Letter, please vote for it at the Cumuli Ezine Finder:
---
---

Ads are $50 per week for subscribers only.
$250 per month for anybody else.

---
---
Dear Bubba
All is forgiven. I still love you. Please come back!
Ps. Congratulations on your lottery win!
Your Betty-Sue
---
That could be YOUR ad for $50 per week.
Subscribers only!

---
Nudist Colony of Alberta
Closed for the season

---
Space Weather
Solar storms, Auroras

---
Thesaurus
---
---
Sky Map: the interactive planetarium of the Web

---
Sky Watch: Calendar of celestial events

---
Weather Underground
Maps and Satellite

---

Click a meal to a homeless vet!

---
HungerSite
A free click donates a cup of food to a hungry person.


---
The number of mammograms donated thanks to clicks has dropped quite noticeably when these two ladies went away. So here they are back, working hard to get you to click. Donate by clicking on them!

BreastCancer Site
A free click helps to donate mammograms to women who can not afford one.

---
Feed the Animals!
Animal Rescue
---
---
---
Privacy Policy
---
Unique visitors since 1/1/11
---

Have FUN
Dear Webby
CEO of Webby, Inc
DearWebby @ webby.com
Box 646
Black Diamond, AB T0L 0H0
Canada